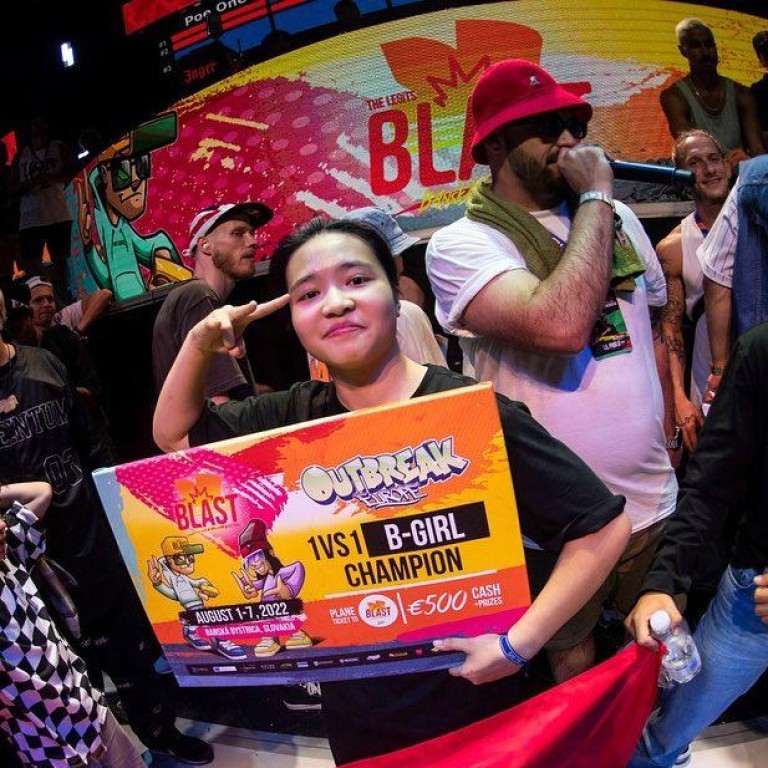 Chinese teenager Liu Qingyi wins world's top breaking competition
The 16-year-old from Central China's Henan Province beat 124 competitors to claim the country's first major breaking championship
In the men's event, Chinese dancer Shang Xiaoyu made a historical breakthrough for China after making it through to the final four
Liu Qingyi, a 16-year-old from China's Henan Province, won the global breaking tournament Outbreak Europe in Slovakia on Sunday, the first Chinese B-Girl to win a world breaking championship.
Liu beat out a field of some 124 female breakers, including Dutch veteran India to claim the women's singles tournament.
The event, held in Banska Bystrica in central Slovakia from Thursday to Sunday, featured more than 600 people from 30 countries. The Chinese teen defeated a handful of the world's top female breakers, including Italian dancer Anti and German veteran Jilou, to reach the final.
Against famous Dutch veteran India, a 2022 Dutch Championships B-Girl winner, Liu was unstoppable, taking a 2-1 win in a battle described by many as setting a new bar for young female breakers.
"The pride of Henan," said one commenter on Chinese social media platform Weibo. "The 2024 Olympic Games is your next step."
While breaking's presence at the Olympics was initially divisive, the popularity of other urban sports like skateboarding, surfing and sport climbing at the Tokyo 2020 Games has spurred a new wave of momentum for breaking.
Locally the sport has found hundreds of new fans, thanks to the first round of
Olympic trials held in June
. Two additional qualifying rounds will take place for Hong Kong breakers at Olympian City on September 25, with the final at Queen Elizabeth Stadium on November 5.
Liu first took up street dancing when she was just 10 years old, deeply attracted by the performer's dynamic moves. Liu said her parents have always been supportive of her interest in breaking culture, along with other sports like taekwondo and boxing.
"I've been engaged in many sports and hobbies, but only found hip-hop is my true love after I started learning it," Liu told the media.
In the competition for the men's event, Chinese dancer Shang Xiaoyu also made a historical breakthrough for China by making it through to the semi-finals.