Post-pregnancy weight loss is a concern for every mother, and like every woman who has endured the physical and mental strains of giving birth, Lena Tsang Ling-ling wished she could turn back time on her body.
"My figure before I was pregnant was pretty normal, but after I gave birth [to my second son] I felt like I was gaining weight and it seemed like people would comment on that," said the 42-year-old full-time administrative manager. "I thought why, after having a child, do I have to be like this – why can't I just be like before?"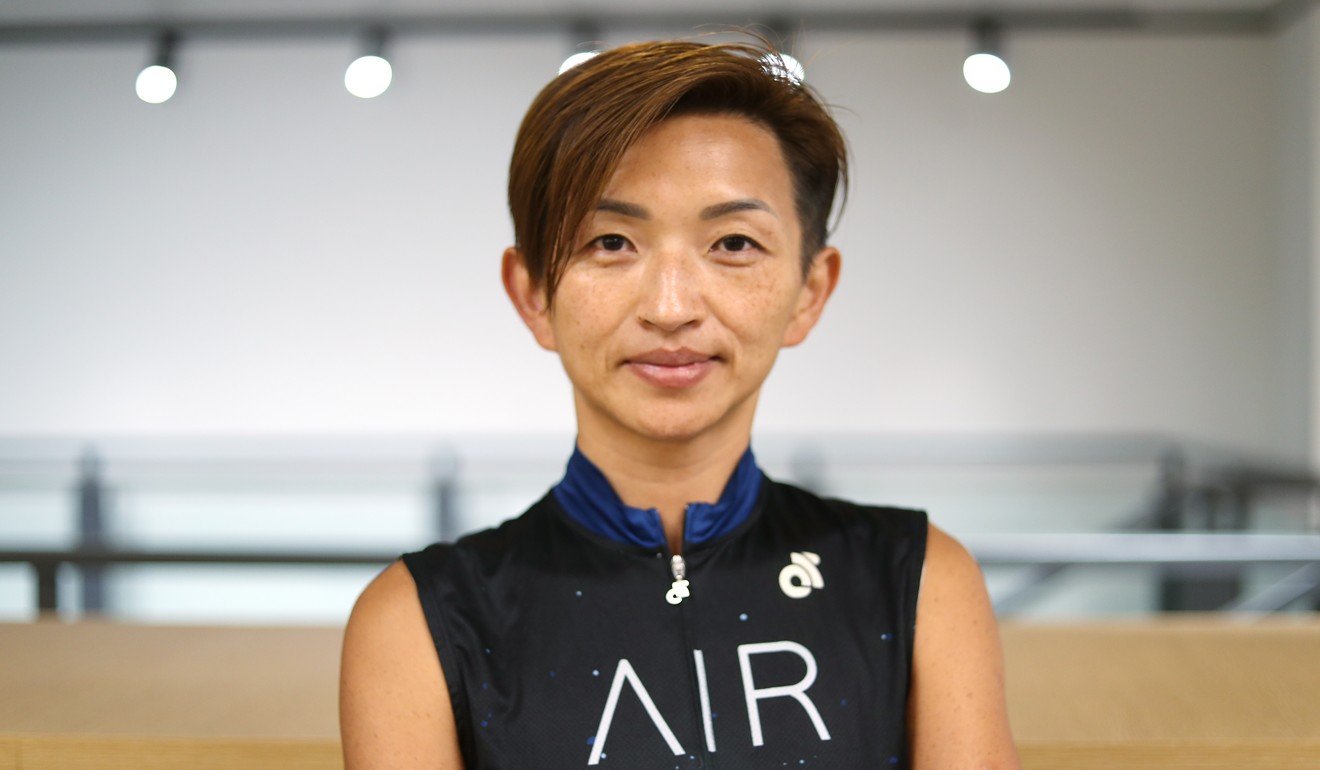 In just three years, Tsang has not only lost over forty pounds but has become one of Hong Kong's top-ranked obstacle course racers, a Spartan Race ambassador and an avid trail-runner. She finished second in the 2017 Spartan Asia-Pacific Championship female masters category and has collected awards from long-distance events along the way.
So how did a mother-of-two – whose only previous exercising experience was from "PE class in high school" – undergo such a drastic turnaround?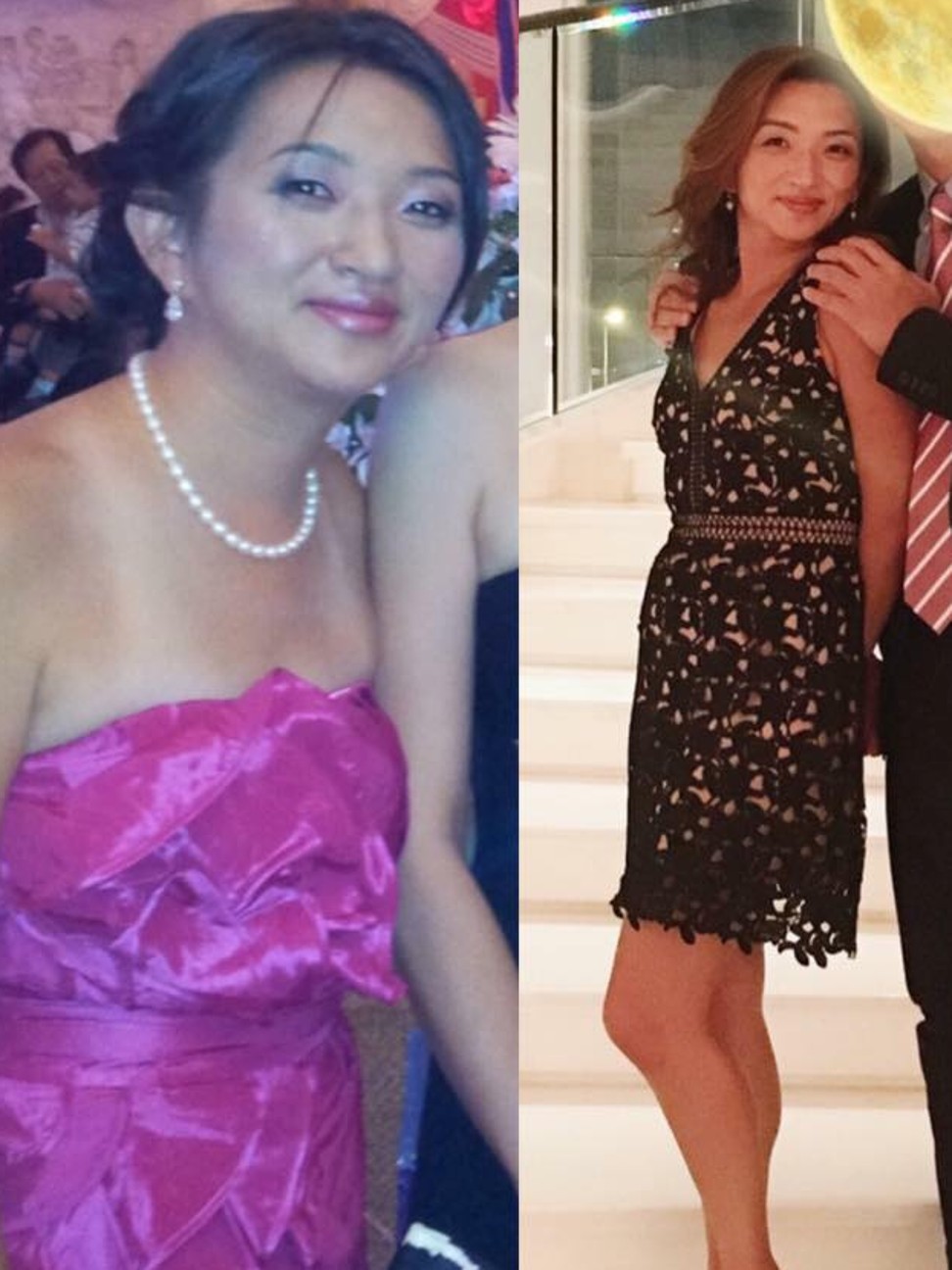 "I never would have thought I could do this," said Tsang, known as 'Lena Mama' on her popular Facebook account documenting her weight loss and tournament progress. "I wanted to lose 10 to 20 pounds but on the path to improving my figure, I saw my performance improve.
"After a while I signed up for my first Spartan Race with a friend in Malaysia and my finishing time wasn't that bad. I thought if I put more time and effort into training, I could get better."
As an ambassador for the sport, particularly in the Hong Kong women's scene, Tsang wants to address any stigmas surrounding obstacle racing.
"It's really necessary," said Tsang, who clinched Spartan gold in Shanghai last month and looks to do the same in Taiwan this weekend. "Sports in general should not have age or gender limitations, especially in Hong Kong which doesn't have many outstanding women [athletes]. I want to show people that even if you think 'I'm a mum' or 'I'm fat', you can change.
"This is a cultural problem. Hong Kong women either think it's unhygienic with all the mud or worry they have to prepare a lot.
"Actually, it's the opposite. Even if you haven't prepared, you can feel what it's like and see what your weaknesses are. It's only then that you can get better and up the intensity."
And once that constant desire to improve kicks in, athletes like Tsang look to daily routines and diets to shave time off their personal bests.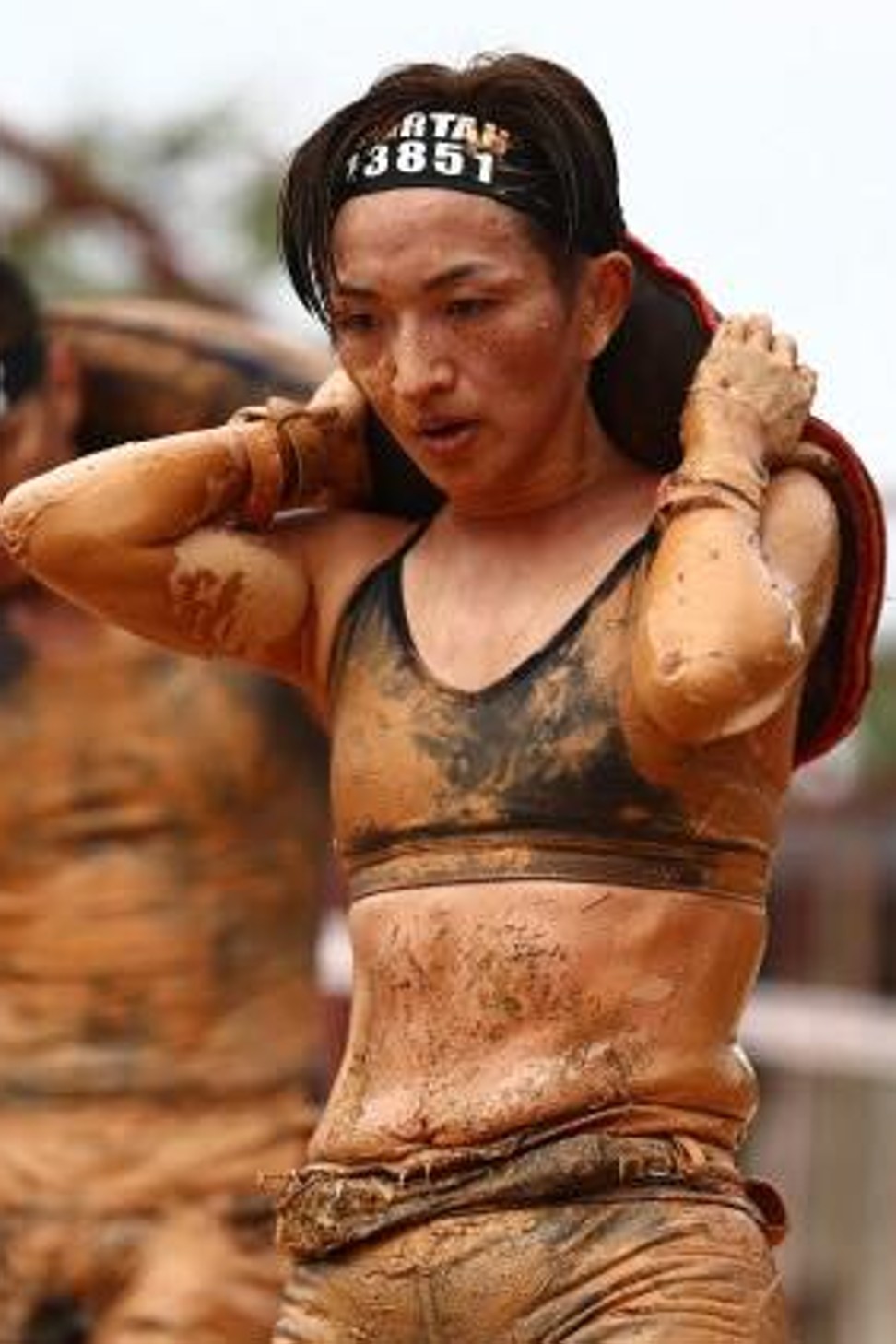 She wakes up at quarter-to-six every morning, eating one small sweet potato before her pre-work gym session. She eats muesli and almonds for breakfast; chicken breast, vegetables and brown rice for lunch; and fruit or boiled eggs for an afternoon snack. She leaves the office at six and undergoes intensive training with a personal trainer before returning home for a light dinner at eight. She makes sure she is in bed by nine.
Aussie couple come back to conquer at Hong Kong Spartan Race – after using last year's prize money to tie the knot
"I sleep at the same time as my boys. I don't have much time to watch TV or meet friends," said Tsang. "Some people might think I'm not from this planet, but this routine gives me a lot of safety.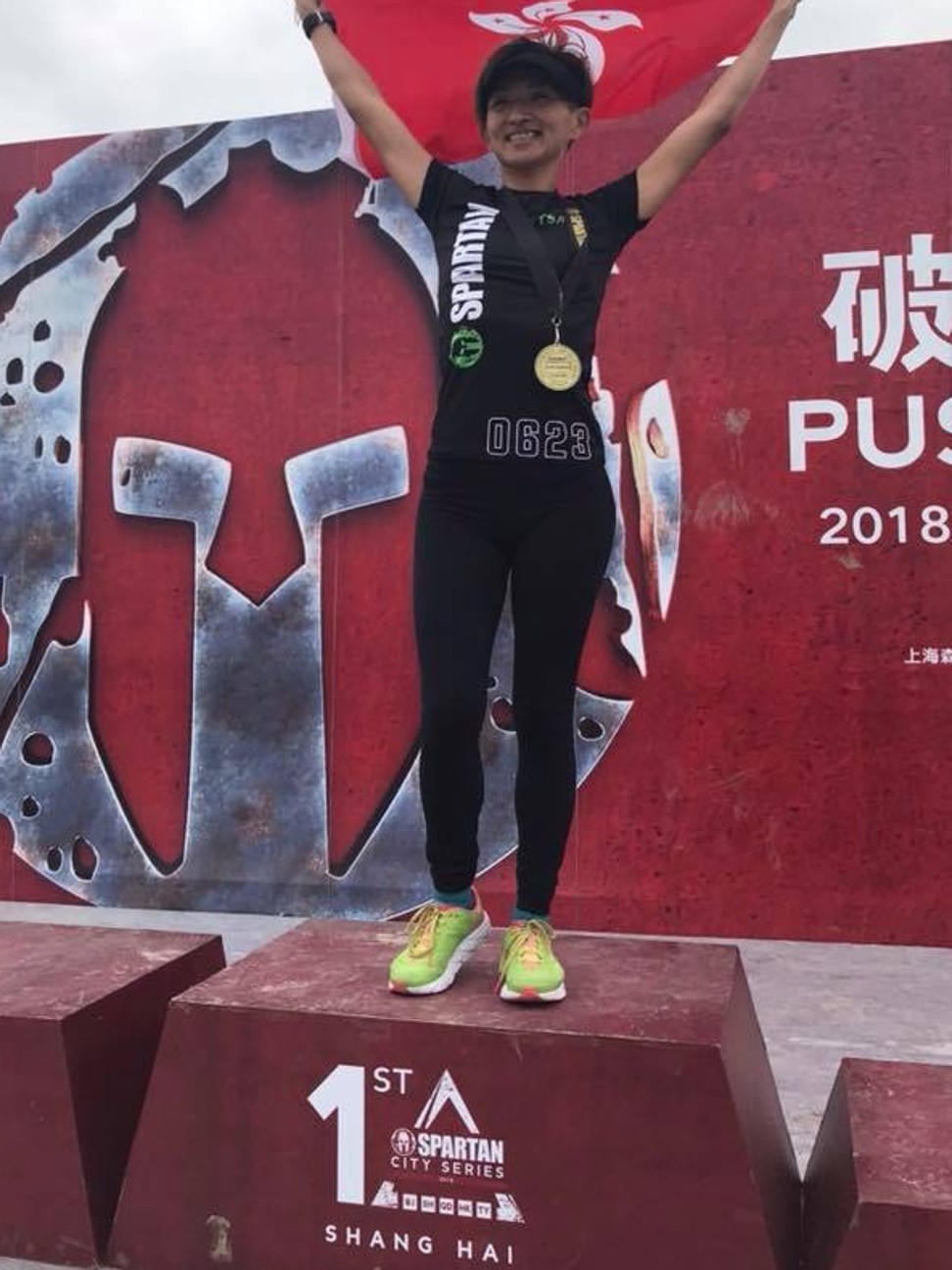 "This is the most confident I've felt in my life," she added. "Before I got married, I liked to eat, drink, shop, play Mahjong, smoke ... I thought I was happy, but thinking back it's actually now that I'm living the real life.
"I realised there's no secret recipe to being an athlete. People ask why Hong Kong doesn't [produce] many athletes, and it's because they study and sleep late and eat processed foods like instant noodles and luncheon meat – it's not good for your performance."
Hong Kong Spartan Race under fire for leaving litter at ecologically sensitive site
Tsang has since encouraged her husband David and two sons – five-year-old Daniel and eight-year-old Javis – to compete in local Spartan events together and maintain healthier lifestyles.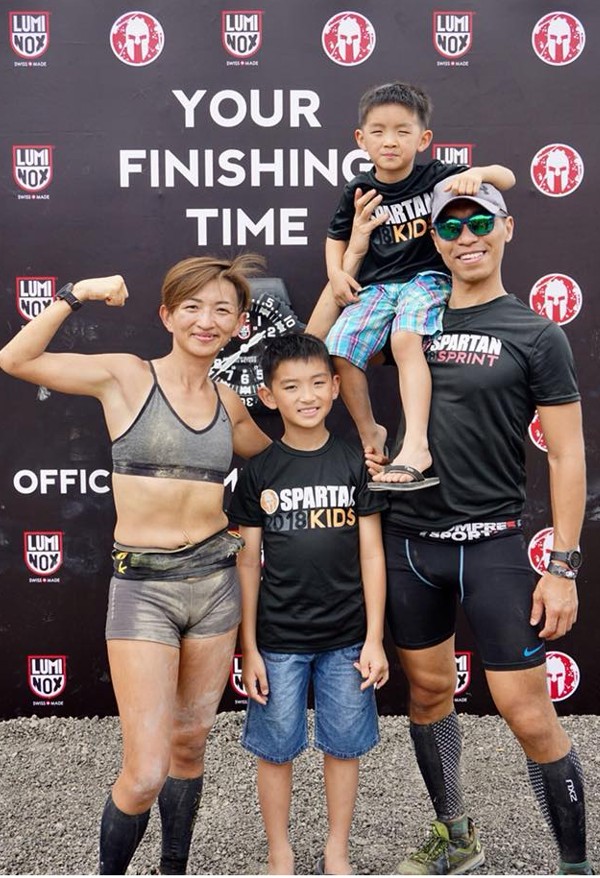 "It's only when it's almost too late that you realise you have to teach them young," she said. "My kids now know why they have to exercise, why it's not good to eat too much sugar, and why phones get boring after a while. They are halfway there."
Now the proud owner of abs that would make any age group jealous, Tsang hopes her rather late blossoming can inspire more Hong Kong women in future.
"As a high school student I would see beautiful girls with muscles. I thought it was just genetics because I didn't have much knowledge about fitness.
"I didn't know it was all training and now that I have the opportunities to do that, I hope to keep it up at least until my own kids get to high school. You have to love yourself and influence the people around you to be healthier."