Patrick Vellner and Tia-Clair Toomey sit atop the men's and women's leader boards at Wodapalooza after shining on day one in Miami – but their leads are slim ones.
Two-time defending women's champion Toomey is the front-runner to book an early ticket to the 2019 CrossFit Games this summer, and was consistency personified over the first three workouts.
The Australian finished second in all three of Friday's events to earn herself 282 points. Hot on her heels is Norway's Kristin Holte, who won the opening "Bay Watch" beach run and swim in 19 minutes, 24 seconds.
Third overall is Kari Pearce. The American won "Double Vision" – where athletes completed a 15-12-9-12-15 sequence of double dumbbell snatches (22 kilograms for men/16kg for women) followed by box-facing burpee box jump overs (30 inches/24 inches) – in 07:33 ahead of Toomey and Holte, who finished joint-second in 07:54.
Wodapalooza schedule, workouts for CrossFit Games qualifier in Miami – Rich Froning, Sara Sigmundsdottir, Tia Toomey star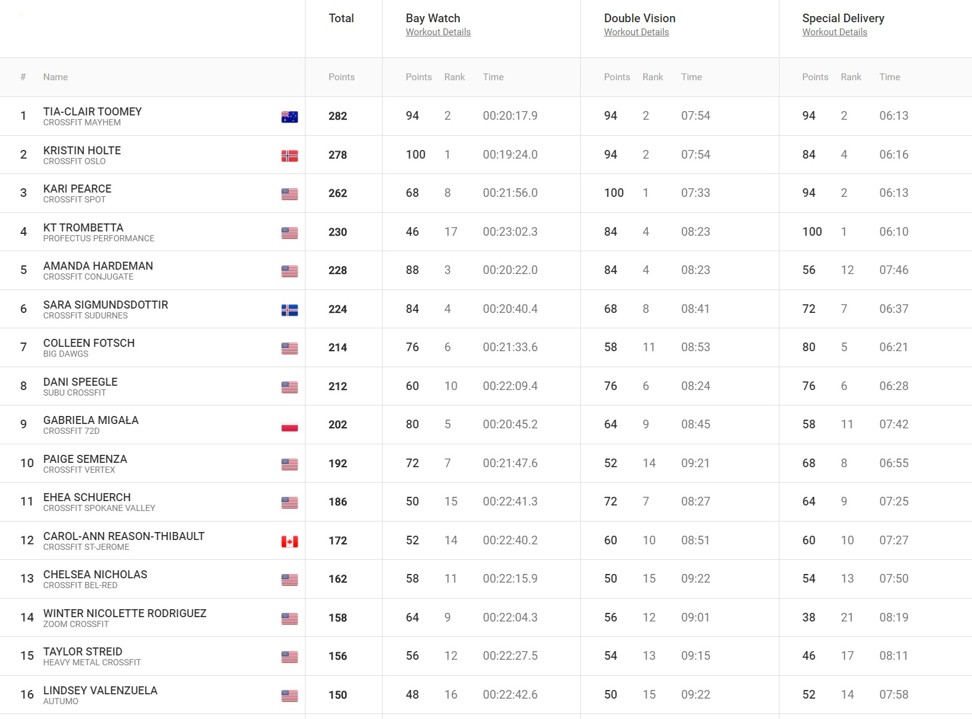 "It's going really well," Holte told the Morning Chalk Up. "I love these workouts on the first day, it's just good to be back competing. I haven't competed as an individual since the Games. It's good to be able to have fun here, it's an amazing atmosphere.
"We ran barefoot and that's a little different, and it was super cool with the water entrances because it changed it up a little bit. People really didn't know what to do, to swim or run or walk.
CrossFit founder Greg Glassman on transgender policy, China expansion and its new rules
"I was going to follow the leading pack in the beginning, I knew running on soft sand would be better for me because I'm light, and I love running.
"I was looking forward to the last stretch and just making sure I was up there in the leading pack. I followed Tia until the last buoy and then I was like, 'OK, I can go faster', and I found my pace."
KT Trombetta of the USA topped the standings in Friday's third and final event, "Special Delivery", which featured sequences of rope climbs, sandbag carries and thrusters. Trombetta finished in 06:10, with Toomey and Pearce neck and neck in joint-second place (06:13).
Iceland's Sara Sigmundsdottir, a two-times CrossFit Games champion, had to make do with sixth-place overall behind Amanda Hardeman, with finishes of fourth, eighth and seventh.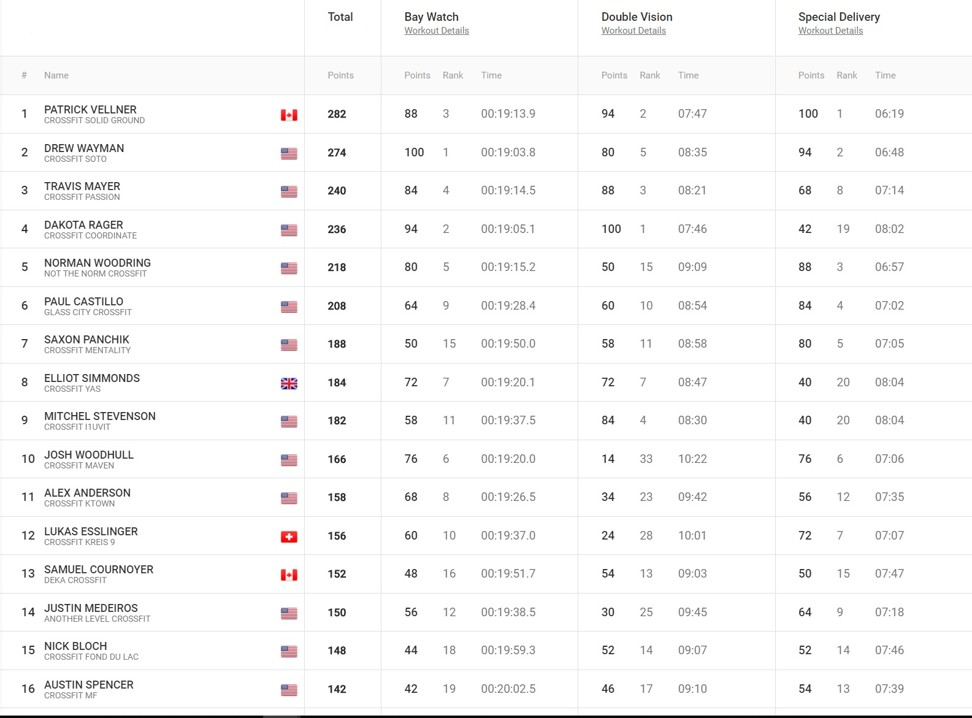 Vellner, who was runner up to Mat Fraser in Madison last summer and also on the podium in 2016 and 2017, is out in front on 284 points in the men's standings.
The Canadian finished third in Bay Watch (19:13.9), second in Double Vision (07:47) and first in Special Delivery (06:19).
CrossFit Games says transgender athletes can compete in category they identify with – online community has mixed reaction
American Drew Wayman is four points behind Vellner in second, taking victory in Bay Watch (19:03.8) and second in Special Delivery (06:48).
Wayman looks set to duel it out with Vellner for the men's title, with Travis Mayer a distant 34 points off second place in third.