At the age of 24, Nambour, Queensland-native Tia-Clair Toomey won the 2017 CrossFit Games, capping an extraordinary run that saw her finish runner-up twice in a row in heartbreaking fashion.
She followed that up by winning last year as well, cementing herself as the premier female CrossFitter. She recently won the Wodapalooza CrossFit Sanctional, booking her ticket to this year's Games, and currently sits ninth in the 2019 CrossFit Open after the 19.4 workout.
CrossFit Open 19.5: Mat Fraser and Tia-Clair Toomey face-off for the first time in epic showdown
Toomey's story to world champion is one of redemption, as she finished second at both the 2015 and 2016 CrossFit Games. Her story and personal transformation was featured heavily in both of Netflix's CrossFit documentaries – 2017's Fittest on Earth: A Decade of Fitness and The Redeemed and the Dominant: Fittest on Earth, as Toomey went from recurring bouts of self-doubt to a champion's mentality.
Toomey is also a Commonwealth gold medallist in weightlifting, and is currently in Miami, Florida along with men's four-time defending champion Mat Fraser for the 2019 CrossFit Open 19.5 live workout announcement, which is on March 21.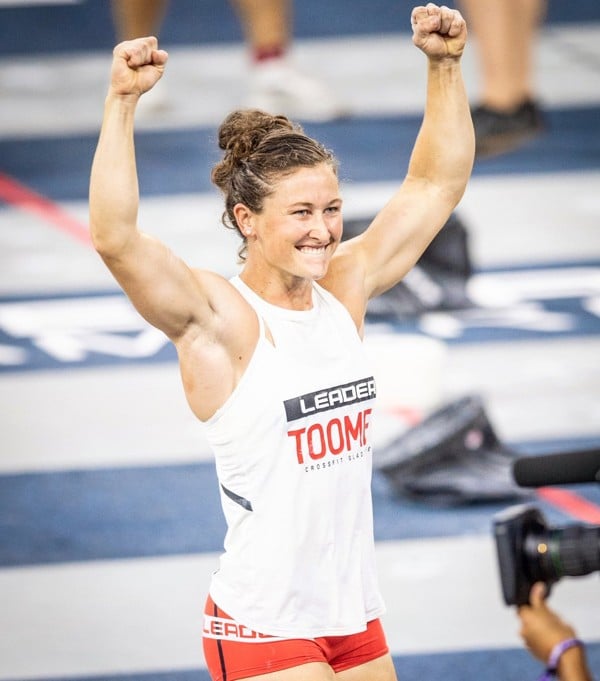 CrossFit Open 2019: What is Workout 19.5?
In a sport filled with larger than life characters, Toomey, now 25, is known for her down to earth personality and somewhat quiet demeanour. As she gears up for Madison, Wisconsin and another title defence, she took some time to chat with South China Morning Post about her book, training and mental game:
Q: Can you tell us about your book, How I Became The Fittest Woman On Earth: My Story So Far, why you wrote it and what people can expect from it?
My book is exactly what the title reads; it shares with the readers the journey that I had taken to get to the top. The main reason why I wrote the book was to inform the readers that, with consistency and strong desire you are capable of anything.
You're now the "Fittest Women on Earth" twice over. Do you ever stop and go, "Wow, this is a bit crazy"? Is it a term you've become comfortable with now?
The first year was such a crazy buzz! Though, I have come to certainly embrace the title and I am very proud to be the fittest women on earth. The ladies competition is so fierce at present and that makes the title even more meaningful.
It's been interesting to watch the last two Netflix documentaries on the CrossFit Games. You really went through a huge mental shift from start to finish. Where is your mental game at now? Anything you do on a daily basis to stay mentally strong and sharp?
What I believe is that experience trumps confidence. The more I competed and gained experience, the more confident I became and the more I understood my abilities.
There's going to be a lot of people who will want to beat you this year at the Games. What are your thoughts heading into the competition? Anything different from last year?
Everyone is competing for the title and I respect them all and will never underestimate them as a competitor. However, I can only control what I do so this year's goal is to be fitter and better than I was last year.
What are your thoughts on CrossFit's various rule changes (doing away with regionals and focusing on health and wellness)?
I really believe with all the changes the sport will grow bigger and better, it will just need some time to iron out the creases. That said, I don't want to get caught up in all of the likes or dislikes because that will not do me any favours. As long as they are searching or testing to find the fittest on earth, I'll certainly partake in the events.
CrossFit Open 2019: What is Workout 19.5?
Your relationship with your partner Shane Orr obviously comes into the spotlight given he is also your coach. How do you guys navigate your professional and personal lives, do you have any rules with him or things you follow to make sure things stay smooth?
Shane and I are so blessed that we get to "work" and travel the world together. From the very beginning of our relationship, Shane has helped me with my training: track and field, triathlons, weightlifting and CrossFit. He enjoys helping me and I certainly enjoy him by my side.
Anything interesting about your diet or workout regime these days?
The biggest change this year with training is that Mat Fraser and I train together, he has been a tremendous teammate and I am absolutely pumped for the year ahead.
When they make a movie about your life, who would you want to play you?
That made me laugh, great question. I just did a quick search on a few actresses to see ... I am not sure, who do you think? They may need to add some muscle though.