While the top of the leader board didn't change on day two of the first-ever Asia CrossFit Championship (ACC), you can bet the athletes at the top are feeling the heat heading into the final day.
Iceland's Eik Gylfadottir led the field in the first half of the second event of day two, but women's leader Kristin Holte was able to pull out a come-from-behind victory at Luwan Gymnasium in Shanghai on Sunday.
Gylfadottir said she was nursing a wrist injury which didn't allow her to max out near the end of the event, which featured thrusters, muscle ups and snatches.
"I didn't want to push it on the snatches," said the 30-year-old. "But I'm pretty good at muscles ups so I thought I could make up some time there. But I did slow down a little bit."
After Holte and Gylfadottir, the top women are rounded out with Chelsea Guardado and Hong Kong's Victoria Campos, who holds a Brazilian passport.
Gylfadottir said the CrossFit Games aren't atop her priority list in terms of fitness goals, but she definitely pondered the idea heading into the ACC.
"It was in the back of my mind a little bit, but it may be tough to pull off now."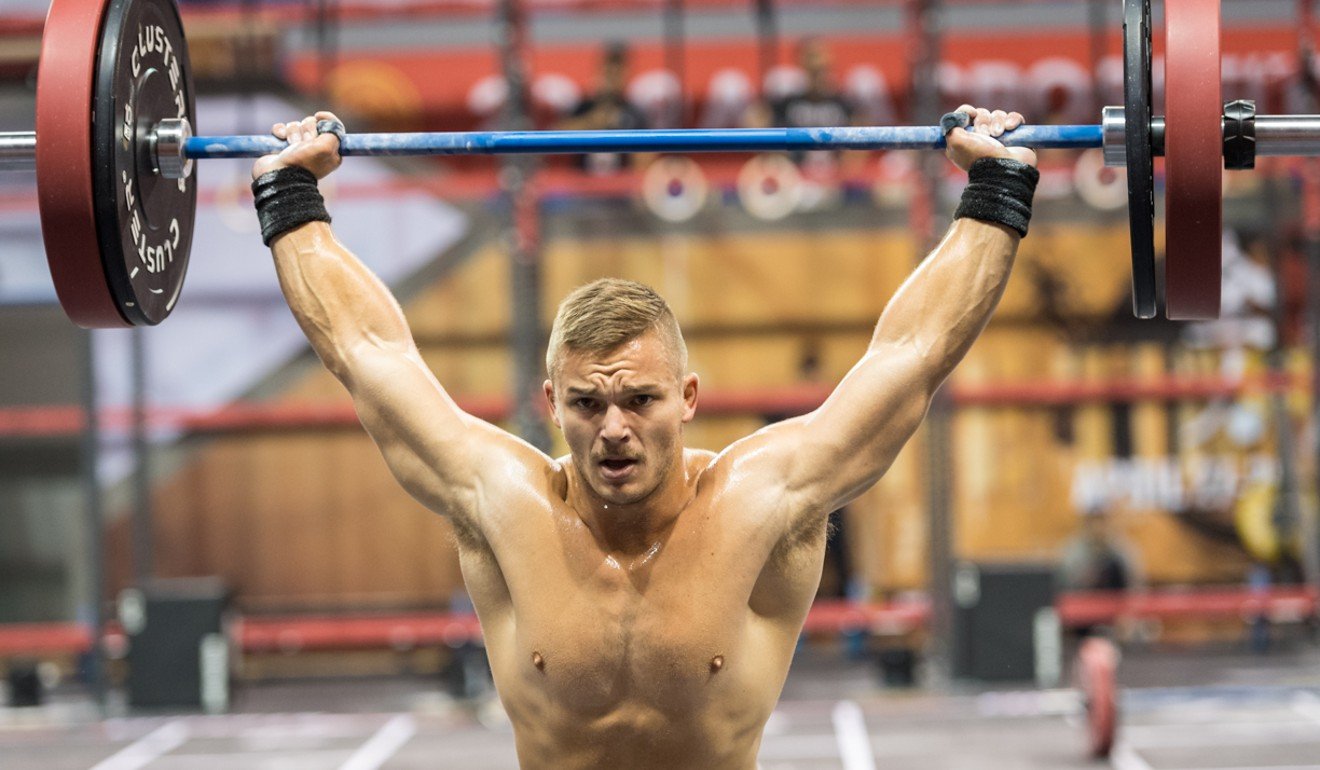 Brent Fikowski lost his first event of the weekend, the second one on day two. He still sits in first heading into day three however, followed by Josh Woodhull and Hong Kong's Ant Haynes. But it wasn't before a remarkable performance from Australia's Zeke Grove, who sat ninth after day one, and won day two's second event in convincing fashion.
Grove, who hails from the Gold Coast and is competing for CrossFit Carv, stunned everyone except himself, noting he has tonnes of experience in these disciplines and that his height (he's listed at 169 centimetres on CrossFit's website) plays to his advantage.
"Yeah it's my wheelhouse for sure," said the 28-year-old who finished 48th in this year's CrossFit Open and fifth in Australia. "I like barbells and gymnastics stuff, so yeah I enjoyed it and that was perfect for me."
Can Canadian Brent Fikowski play giant slayer at the 2019 CrossFit Games?
Grove, who sits ninth again now after day two, still has a chance at winning, however it would take a small miracle and is probably in the hands of his competitors he admitted, one in particular.
"I think Fikowski has to do a lot more than I do, in terms of not performing how he should."
Grove, who was hoping to use the ACC to qualify for the Games this year, said even though the outlook is tough, he's still going to come back on Monday looking to win.
"I'm just going to enjoy it, and hopefully finish on a high note. The first part of the weekend didn't go so great up until this event, I wanted to finish on a high and hopefully I can roll that into tomorrow."
Rich Froning's Mayhem Freedom stayed atop the team standings, as Froning himself helped stage a comeback win in the first event of the day. Meanwhile, a number of teams are keeping the pressure on Mayhem Freedom, including Team Invictus Grown Strong, who are second, Project X in third, Torian Black in fourth and ALTR Project, who sit fifth.
ALTR Project, who were second after the first day of competition, are hoping to book their ticket to the CrossFit Games through the ACC, however are finding themselves in tough against Mayhem Freedom. Team member Aimee Tawhai said they knew Froning and his team were going to be here, but it didn't stop them.
Asia CrossFit Championship: how to watch the first ever Chinese 'Sanctional' online, workout information and predictions
"It's been really cool to compete against them," said Tawhai. "After that first event on the first day we were neck and neck with them, and so I think that shows all the hard work and training we've put in."
ALTR Project, who are based out of Australia, also features Jayne McKay, Rob Watt and Jodi Gardiner. Watt said it's been amazing to compete against some of the best teams in the world here in Shanghai.
"It really validates the competition and lets us get a benchmark of where we are at."
Torian Black captain Royce Dunne noted the team are trying to qualify for the CrossFit Games via the ACC as well, and didn't know Mayhem Freedom were coming until after they had committed. Regardless Dunne said they're pretty happy with their performance so far.
"A chance to compete with teams like Mayhem and Invictus is pretty amazing and it's a cool experience, Games or not, for us."
Dunne's team, which is also from Australia, includes April Hering, CJ Walker and Stephanie Ortiz.