Iranian-American Payam A. Saljoughian is proud of his roots. "I am a huge Iran sports fan," said the 32-year-old from Oakland, California. "I've attended all of the Iran games at the last two World Cups in Russia and Brazil. I obsessively follow Iran football, weightlifting, wrestling and other sports."
Saljoughian will also get the chance of a lifetime this summer as the San Francisco lawyer, who focuses on health care matters, will represent Iran at the 2019 CrossFit Games in Madison, Wisconsin. Saljoughian's parents came to the US for graduate school decades ago and ended up staying. In Iran, citizenship is obtained via one's father so Saljoughian was lucky enough that his parents obtained all the proper documents when he was a child.
Then when CrossFit announced earlier this year it would be doing away with Regional competitions and crowning "country representatives" via the CrossFit Open, in which users submit five videos over five weeks of workouts picked by CrossFit, Saljoughian saw his opportunity.
However, CrossFit initially announced that only countries with at least one affiliate "box", as gyms are known as, would be able to send athletes. Iran has multiple boxes but it is unable to affiliate due to US economic and business sanctions and the fact that CrossFit is an American company.
Three weeks into the five-week Open and Saljoughian did not have a definitive answer from CrossFit, however the workout for that week (19.3) was being announced live at his Diablo CrossFit box in Pleasant Hill, in the East Bay of the San Francisco Bay Area.
The company's chief executive officer, Jeff Cain, was on hand to watch CrossFit Games veterans Lauren Fisher and Alessandra Pichelli battle it out, and Cain also gave Saljoughian some fortuitous news after the contest was over.
"I spoke to him about this and he said that Iranian gyms have been trying to affiliate for years. He informed me CrossFit was not going to enforce the one affiliate rule for Iran because it was a political issue outside the intention of the rule. Once I heard that, I knew there was a very good chance I could qualify for the games as I was first with a decent point cushion through two weeks of the Open."
It's official! I'm going to the @CrossFitGames! I'm incredibly excited for the opportunity to compete with athletes I have followed for years, and proud of fact that I will be representing my Iranian nationality! ️ (1/3) pic.twitter.com/rg2wccnQBh

— Payam Saljoughian (@payamsal) May 3, 2019
Saljoughian went on to win, but remains cognisant of the political climate hanging over both countries he holds passports for. US-Iran tensions skyrocketed when US President Donald Trump followed up on a campaign promise and pulled out of an Obama-era agreement signed by multiple other countries to try to limit Iran's nuclear programme. The rift between the two nations has become supercharged in the past month as Trump has increased pressure on sanctions and thrown not-so-veiled threats of military action via his Twitter feed.
Iran also has a dismal human rights record, outlined by the Human Rights Watch, pertaining to everything from due process rights, treatment of prisoners, women's rights and the treatment of religious minorities. Saljoughian said this invariably spills over to sport.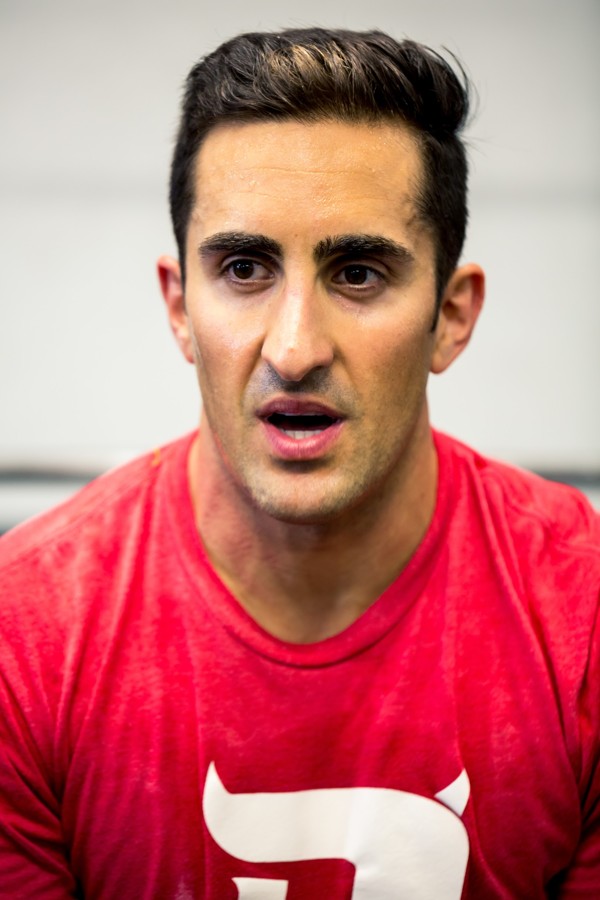 "Political issues have directly and negatively impacted Iranian athletes at many global competitions, including the World Cup and Olympics," he said. "Some of these issues pertain to sanctions on Iran. Others involve political and religious pressure and limitations placed on Iranian athletes by the Iranian government."
Saljoughian, who played water polo in high school and also swam all four years in college at the University of Santa Cruz, first started doing marathons (his PB was 2:48:44), triathlons and ultramarathons before getting into CrossFit in 2011. On top of training, he also holds down a demanding career for Hanson Bridgett LLP practising health law, representing hospitals, senior care facilities and other health care providers.
Luckily, when the CrossFit Games (July 29-August 4) roll around, Saljoughian won't have to deal with any of the political issues Iranians face, or the ones between Iran and the US. All he has to do is hop on a domestic flight and head to Madison, Wisconsin.
"As of now, no such issues have impacted me and given that I live in the US where the Games are held, I don't expect them to," he said.