You can't keep a good man down the saying goes and in the case of Aussie bodybuilder Calum Von Moger, he's more than back after suffering two traumatic injuries that almost put paid to his career last year.
Fourteen months after hitting the lowest point of his life, the recently turned 29-year-old Los Angeles-based star of the Joe Weider biopic Bigger is on a high again through sheer willpower and determination.
Known as one of the greatest physiques in the world, the two-time Mr Universe's world came crashing down when he suffered a second left bicep tear while rappelling down a cliff in his native Australia last April. The accident also saw him rupture his quadriceps tendon and dislocate his knee cap. His training came to a grinding halt and he subsequently lost 50 pounds of hard-earned muscle as a result of his misfortune.
Unable to train in the gym, Von Moger's size and symmetry consequently suffered. He also received another huge scare when his house in California was almost burned down during the state's deadly wildfire last year.
Yet Von Moger's indomitable spirit lives on and he has slowly turned his life around as his 1.88m frame gradually healed.
Aussie bodybuilder Calum von Moger rescues animals after almost losing his home in deadly California fire
During the recovery process, Von Moger made the movie Unbroken – the No 1 sports film in the US according to iTunes – which chronicles the rise, fall and now recovery of the famous bodybuilder.
Speaking to the South China Morning Post, Von Moger said he was surprised that Unbroken had done so well at the box office.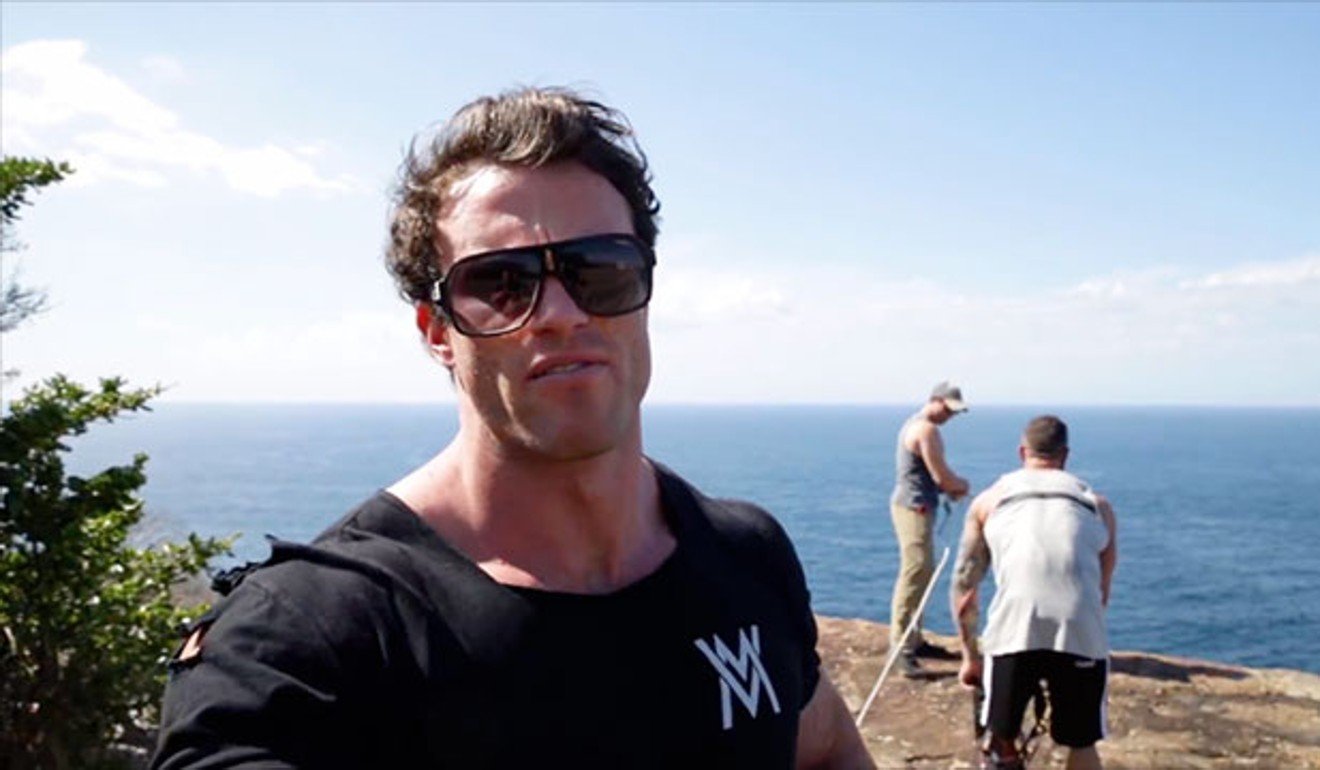 "I thought the film would gather a lot of interest in the fitness industry but I didn't know it would do as well as it has. I got so much great feedback," Von Moger told the Post. "I'm excited to see how well it does should it make it on to cable or a streaming outlet like Netflix."
Arnold 2.0: how Calum Von Moger played young Schwarzenegger to perfection in 'Bigger'
The Aussie bodybuilder, who catapulted into social medial stardom with almost three million Instagram followers, is also known as Arnold 2.0 because of his uncanny resemblance to Arnold Schwarzenegger.
Von Moger's path back to size, strength and mass is taking shape but he won't easily forget the traumatic events that led to his almost career-ending injuries.
"It was the hardest thing I have ever had to endure for sure," said Von Moger of his bicep tear and quad rupture. "I asked myself why me so many times and found it so hard to accept my circumstances. But I knew the only way forward would be to have a strong mindset, have patience and apply the recovery process for my injuries to physical therapy the same way I did for training each day at the gym."
Von Moger said his body was back on song but he won't be forgetting the hellish period he had to go through as he tried to fight his way back to the top.
"Some days were very hard mentally but I put all my faith in God that this was part of His plan for me. I have recovered now from my bicep tear and upper body training is back on track. I still have about seven degrees of ROM [range of motion] left to go for my left leg and need to still build back some strength in my quads."
Asked if he was going to compete at this year's Mr Olympia competition, Von Moger said he would return to the stage one day but only if he feels 100 per cent fit.
"I had been planning on a comeback to the Olympia stage for classic physique. I am still not ready for competing as I have more recovery for [my] lower body. I can't make any promises but I would like to get on stage again someday."
Arnold Schwarzenegger leads tributes to Hall of Fame bodybuilder Ed Corney
For the moment Von Moger wants to further his acting career after receiving glowing reviews for his portrayal of Schwarzenegger in his breakthrough movie Bigger last year.
"Yes, I am focusing a lot now on furthering my acting career. I've been going out for some pretty big roles as of late and hope to pick up some roles soon!
"I was very happy with Bigger. I got a great response from this movie too. I loved playing Arnold in the film. He was always someone I have looked up to."