When it comes to CrossFit, French bulldog Django knows his stuff.
"When everyone is warming up on the ground, he's trying to lick their faces," said David Smith, who has been bringing Django (the 'D' is silent) to CrossFit Asphodel where he trains for about four years. "But when the weights come out, he heads off to the side and lies down and waits patiently. He knows what he's doing, for sure."
"He's very energetic," said Smith. "Every time I train, I bring him here. He loves every second of it."
Nicholas Worley said dogs and CrossFit go together perfectly, which is why he launched PupFit, a charity CrossFit competition now in its second year.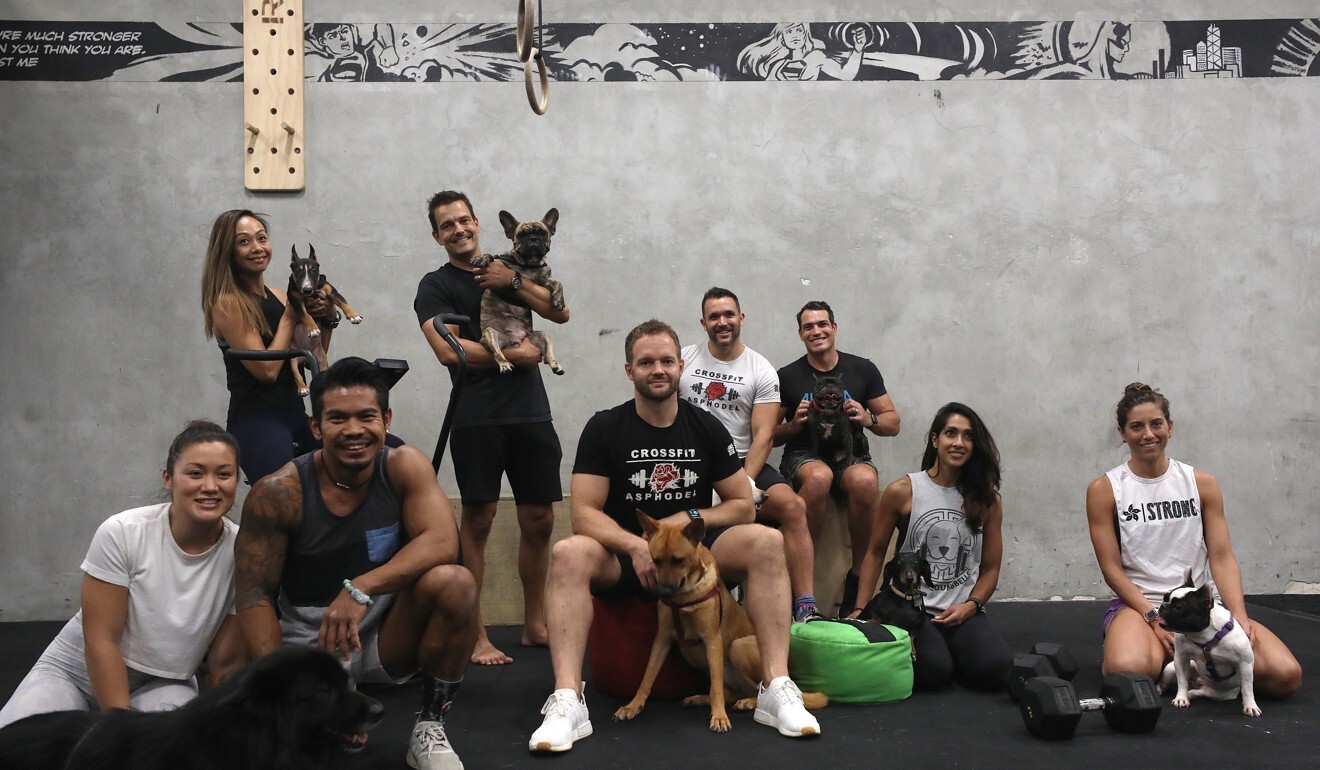 "Noah Ohlsen (who came second at the CrossFit Games) has his own dog and he has his own Instagram page," said Worley about Ohlsen's dog Maximus, who has almost 40,000 followers.
Worley kicked off the event last year to raise money for dog shelters ravaged by Typhoon Mangkut (they pulled in more than HK$150,000). He said this year the charity competition will go virtual, given social distancing guidelines in Hong Kong.
"The response from the Hong Kong CrossFit community was overwhelming last year, both in terms of fundraising andhow everyone came together for a wonderful cause," said Worley. The event took place at CrossFit Asphodel in Kennedy Town and even featured a team of US Marines from Japan.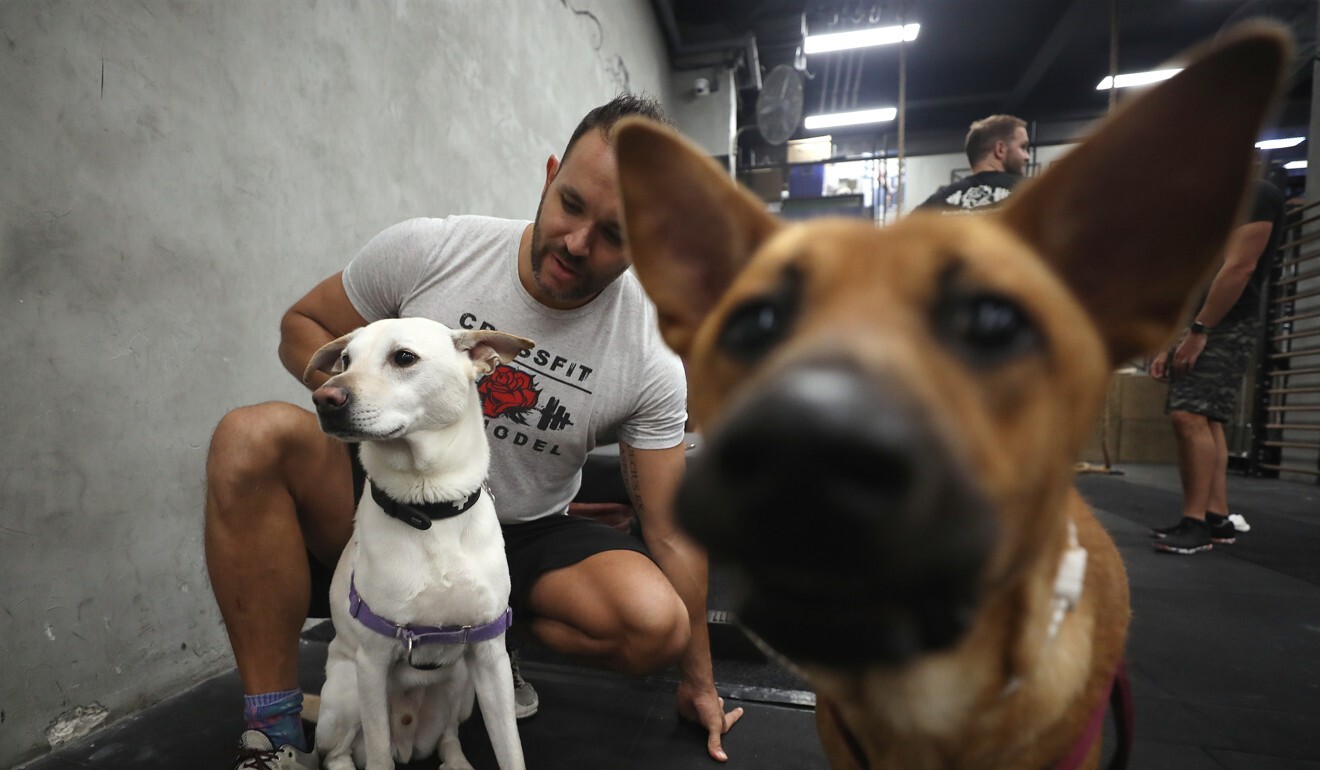 "It's such an easy cause to get behind. Everyone really wants to do their part, even if they can't adopt or shelter a rescue dog," said Worley, who has two rescue dogs – Minty and Lulu.
On July 2, PupFit workouts will be released for four weeks, much like the online CrossFit Open, and teams of two (one male and female) can register. All proceeds will go to Catherine's Puppies, a local dog shelter, and the Sai Kung Stray Friends Foundation.
Worley said given all the controversy surrounding CrossFit Inc. with the ousting of former CEO and founder Greg Glassman, it gives him extra incentive to put on an event with a positive vibe.
"This is just a great way to get the community together for something beneficial, and for us to come together."
PupFit has also landed some marquee sponsors, including FitAid and Rokfit, as well as local companies such as Fox & the Barber, Float On and V Apparel.
Hong Kong has seen a boom in the number of dogs and cats kept as pets over the past decade, and strays have become a growing concern, according to the World Health Organisation, as the 'no kill' movement has swept the globe.
Pet abandonment and breeding is still an issue, as some owners give away animals because they are unable to properly care for them, or simply gift them to family members without understanding the massive commitment involved.
Married couple Julius and Angela Ranta, who have been coming to CrossFit Asphodel for six months, now have two dogs, Ruby and Roxy. Julius said having dogs in Hong Kong requires some legwork in finding out where they can and can't take their pups, but it is definitely worth it.
"Ruby is a rescue and she was used as a breeding dog on a puppy farm, and then abandoned on a street somewhere in Tuen Mun. She was found by some kids and the SPCA took her in, and we found her."
Julius said like many rescue dogs, it was a process to make Ruby, who is a French bulldog mix, feel safe and allow her personality to shine through.
"The first five days she was very nervous, and she was skin and bones. You could see all her ribs and her spine. And now she's perfectly calm and very relaxed and very well balanced and great with other dogs."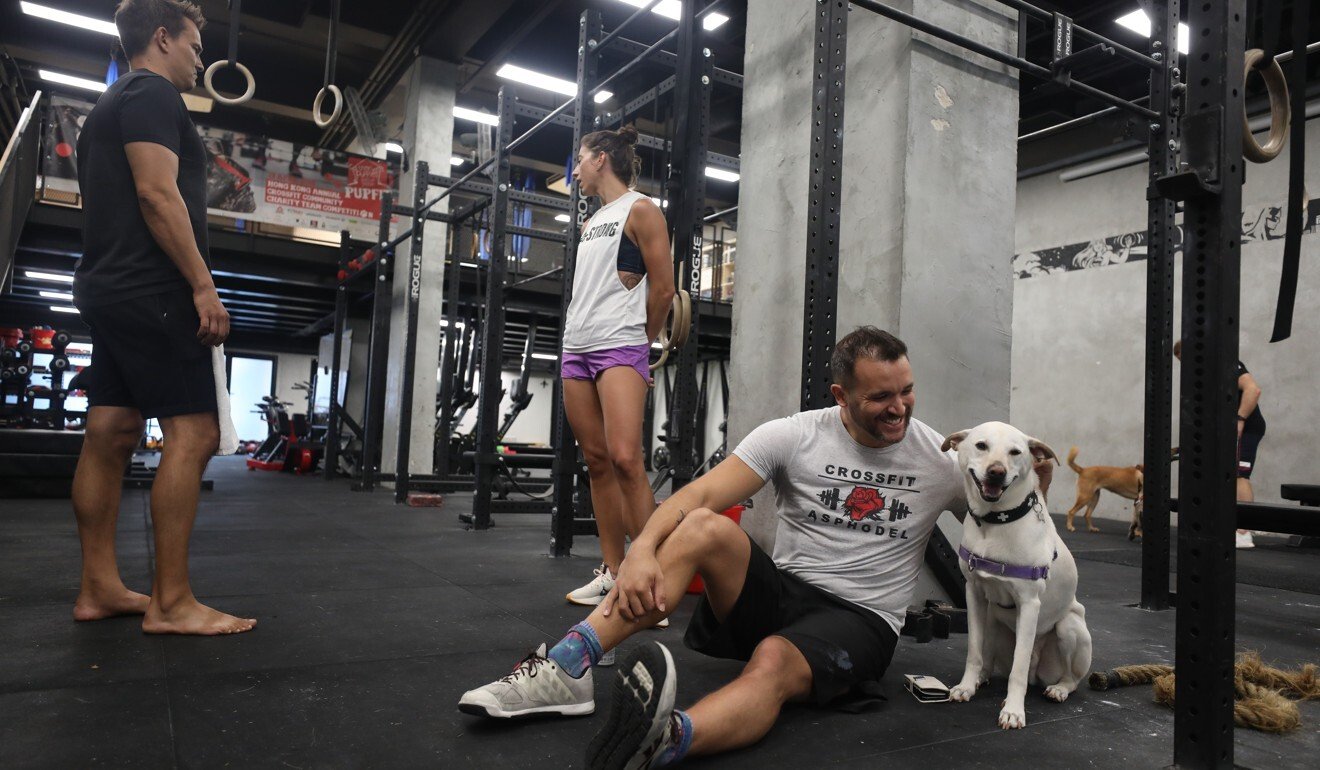 Worley said the charity event is definitely turning into an annual happening given how much help he has received, and the emphatic support from the CrossFit community in Hong Kong, which stretches over more than half a dozen 'boxes', as CrossFit gyms are known.
"Each year I organise this, I'm blown away by how much passion, energy and support everyone involved brings to the event and this year is no exception, despite the fact that we've had to adapt the model to adjust for social distancing."
Django, who was the poster dog for last year's campaign and is a regular at the Kennedy Town box, most definitely knows he's famous, said Smith.
"Oh yeah, he loves the attention he gets. His favourite is when people are doing handstand push-ups, they have no way to stop him from licking their faces, so he just gets right in there."