If anyone has earned their stripes in the world of CrossFit, it's Australian Kara Saunders.
The 30-year-old had a remarkable string of CrossFit Games appearances from 2012-18, finishing in the top 10 four times.
Saunders, who skipped the 2019 season to welcome the birth of her daughter, promptly qualified for the 2020 CrossFit Games by crushing the 2020 CrossFit Open (she came 14th in the world and second in Australia) – and she is clearly an expert at crushing life as well.
Saunders said she still has her doubts like everyone else, although she appears to be unstoppable when it comes to all things.
"I often struggle with feeling like an impostor in my own life," said Saunders, referring to a common psychological problem called "impostor syndrome". It is defined as "the persistent inability to believe that one's success is deserved".
Saunders said part of it fuels her drive to remain at an elite level, but is also a source of stress.
"I love to be better but I have never imagined myself with what I have. To this day I feel like I fluke placing well in events and pretty much feel like any success I have is due to someone else.
"I know I work hard but I never think it's enough, so that leads me to believe it wasn't me who earned it. Almost a decade into CrossFit and I still feel like I fluke it every time."
Saunders, who runs a CrossFit box in Brisbane as well as an eyewear company on top of being a new mother, said the sport has come a long way from when she started. There were no endorsements or financial help, and it was basically DIY (do it yourself) when she first started competing in 2011.
"Athletes paid their own way for absolutely everything and there was very little money in it. To compete meant you would train like crazy around your day job and then dig a financial hole just to have the chance to compete."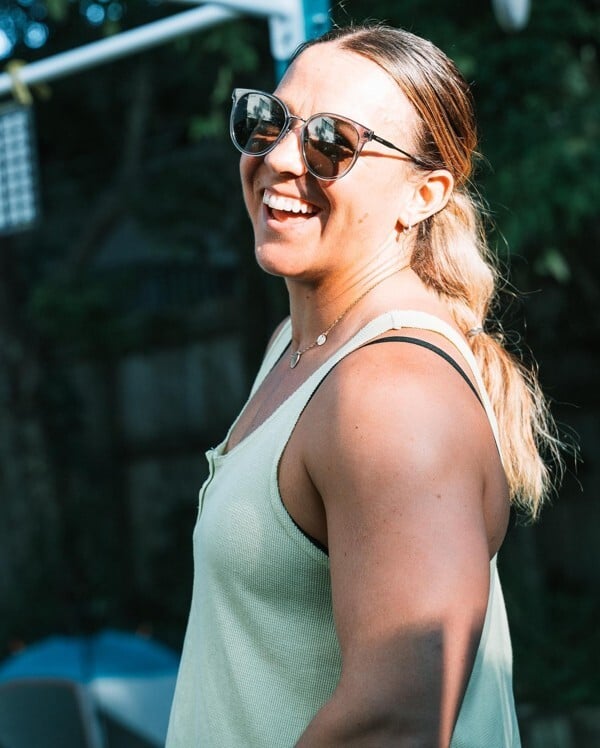 Now Saunders, who has more than half a million Instagram followers, is sponsored by the likes of Nike and has a number of endorsement deals, and said becoming a mother (she qualified for the 2020 CrossFit Games five months after giving birth) definitely adds to her already heavy workload, but she wouldn't trade it for the world.
"Being a mum has changed me entirely, and for the better. I'm truly the best version of myself right now because of her. Motherhood forces you to look at your actions and make choices based on the example and the experiences you want for your children, and for that I'm so grateful.
"Being a mum is number one and then training has to work around feeding her, her sleeps, and just supporting her being a tiny person really."
The 2020 CrossFit Games, which are tentatively scheduled for September 14-20, will feature a scaled down competition with only 30 athletes on the men's and women's side due to coronavirus restrictions.
It will also usher in the era of Eric Roza, who has now officially bought CrossFit Inc. from disgraced former CEO and founder Greg Glassman, who stepped down in June after a number of questionable actions.
Saunders, who has been involved in the sport for nearly a decade, said she is also ready to turn a new leaf with CrossFit and start looking forward.
"CrossFit is a community and it's something that people actually really need, so with that in mind I think all will be set right and improve moving forward. Change is also inevitable, so you can either roll with it and do the best you can along the way, or you can simply remove yourself. Everyone has a choice.
"For me, I love the sport and am riding along with them in support of improving and also standing by all of the good that has been done and continues to be done."
Saunders, who came fourth at the 2018 CrossFit Games, second in 2017, seventh in 2016 and fifth in 2015, said part of being consistent in such a demanding sport is a little mix of everything.
"Dedication, hard work and a little bit of OCD," she said with a laugh. "I honestly love what I do, it's what I'm good at and it makes me feel good. I'm not very good at doing things I don't like or things that I'm told to do, so I stick to areas that make me happy."