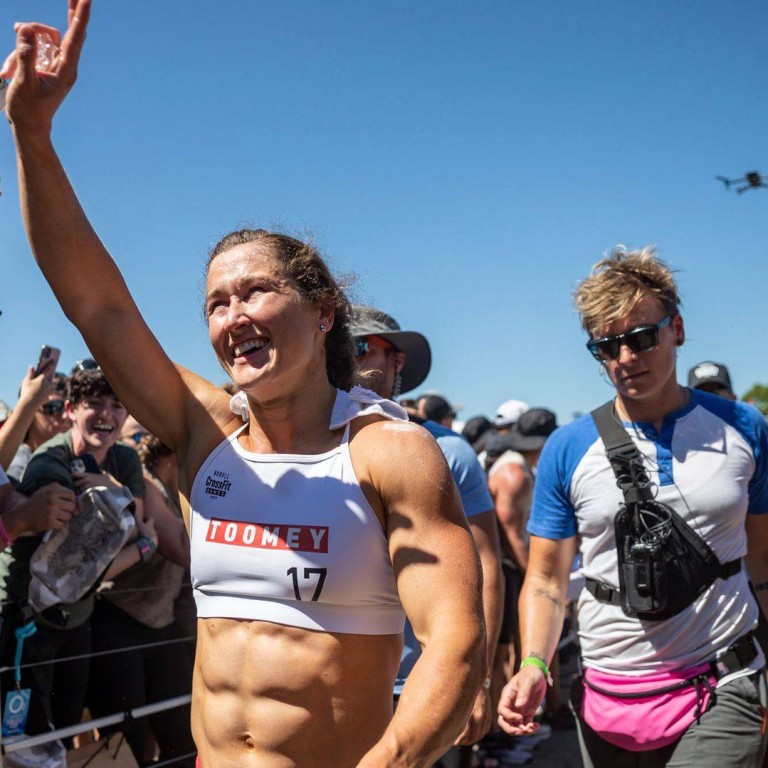 CrossFit Games 2022 results, day four: Tia-Clair Toomey and Justin Medeiros in pole position to retain titles
Defending champions sit atop women's and men's leader boards in Wisconsin after Saturday's events
Australia's Toomey opens up a 92-point lead, but American Medeiros has challengers breathing down his neck on Sunday
The top of the men's and women's leader boards at the 2022 CrossFit Games have a familiar feel to them going into the final day of competition on Sunday.
Defending champions Tia-Clair Toomey and Justin Medeiros put themselves in pole position to retain their titles after Saturday's three individual events.
Five-time champion Toomey took fourth-, third- and ninth-placed finishes in the "Rinse N' Repeat", "Hat Trick" and "Sandbag Ladder", respectively, and is sitting pretty on 958 points as the overall leader.
The Australian 32-year-old's nearest challenger, Mallory O'Brien of the United States, is way back on 866 points, putting a historic sixth "Fittest on Earth" title in touching distance – though with 100 points available per event win, anything can happen.
Like Toomey, Medeiros had a steady if unspectacular day in the men's competition, securing seventh-, second- and fifth-place finishes respectively in the three events.
The 23-year-old American has much less of a lead in the overall standings, however. He sits on 923 points, with Australian Ricky Garard hot on his heels in second place just 17 points back. Russia's third placed Roman Khrennikov remains in contention on 881 points.
"Rinse N' Repeat" – the first event of the day, and eighth overall individual event – saw athletes perform a 50-yard swim and 8-calorie Ski Erg every 2 minutes, adding 2 calories each round for 6 rounds, and then completing as many calories as possible for rounds 7 and 8.
Lucy Campbell led the way in the women's competition, finishing top with 138 calories. Amanda Barnhart and Laura Horvath were not far behind on 134 and 133 calories respectively. Toomey was next with 131.
The 27-year-old Khrennikov was top in the men's competition with 160 calories, ahead of Dalin Pepper on 157 calories, and Jonne Koski on 154. Medeiros put up a total of 152, with 10th-placed Garard managing 147.
"Hat Trick" – the ninth overall individual event – required athletes to perform wall balls and dumbbell snatches for three rounds, with the cumulative time determining the standings.
Toomey slipped up with a costly pair of no-reps in the wall ball, finishing third in 4 minutes and 8.66 seconds.
That allowed O'Brien to shave three points off her lead, after she finished second in 4:04.66, behind winner Ellie Turner, who dominated en route to her first Games event win by clocking 3:55.94.
Guilherme Malheiros claimed a similarly impressive win in the men's event, clocking 3:44.18 – more than 15 seconds ahead of nearest challenger Medeiros, who posted 4:01.83 and picked up 97 points.
Khrennikov could only manage 4:11.24, enough for seventh place, while Garard was way back in 12th place, landing himself only 67 points.
"Sandbag Ladder" – the third event of the day – required athletes to perform a series of 1-rep-max sandbag-to-shoulders, with increasing weights.
Dani Speegle made easy work of things in the women's competition. She was the only woman to lift the 250-pound sandbag, and earned 100 points ahead of second-placed Jaqueline Dahlstrom and third-placed Horvath.
In the men's competition, four men required an extra round of 350 pounds to separate themselves, after each lifting the 340-pound sandbag, but it proved too heavy to lift.
Brazil's Malheiros tied first with Nick Matthew, carrying the bag across a finish line at the same time, while Brent Fikowski was third and Jayson Hopper was fourth. Medeiros managed to pick up a handy 88 points in fifth, but Garard stayed in the hunt with a seventh-placed finish, earning 82 points. Khrennikov could only finish 13th.