Bouldering heart-throb and world number 11 Sa Sol dazzled under the Hong Kong sunshine at the city's inaugural Asian Bouldering Cup 2018 but did not achieve what she came here for: top spot.
"I really wanted to win," chuckled the 23-year-old South Korean fan favourite, who finished second in the final after a stellar showing at the Piazza in Kowloon Park on Sunday.
"It wasn't a bad climb. I think my condition was quite good. I arrived here early – on Wednesday – so I had a bit of time to adapt to the weather and any lingering jet-lag."
Fans enthusiastically welcomed the championship's top female seed Sol, who was beaten by 20-year-old hotshot Mei Kotake of Japan. Cheers for one of Asia's top female climbers were only matched by those for local competitors.
Other notable opponents included Japan's world number 12 Aya Onoe and decorated climber Hung Ying Lee from Chinese Taipei, who at times made her course look effortless in the qualifiers.
"The weather in Hong Kong has been very nice. I felt a bit nervous but overall it has been good," said Sol, adding that she tried to avoid making the mistake she did with the black taping in the qualifiers.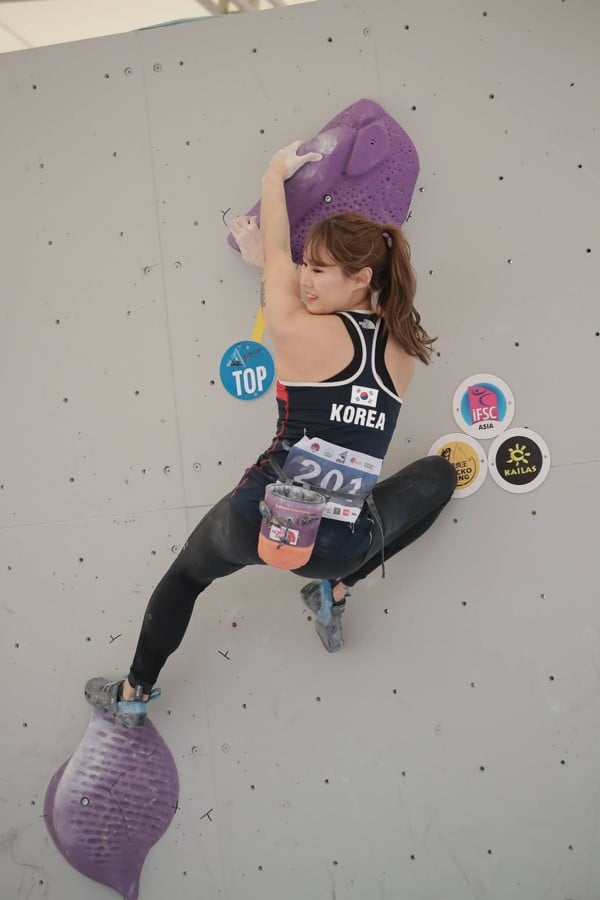 Sol entered a domestic climbing competition for fun after only five months of climbing. She met legendary climber Ja In Kim and decided to follow in her footsteps and became a well-respected climber in Korea. She has been competing in IFSC competitions since she was 12.
Bouldering requires climbers to make technical moves no more than a few metres off the ground; no rope is necessary.
Teenage climber has the world at her fingertips as Asian Cup brings bouldering to hopeful hosts Hong Kong
With a limited number of holds – and the climbers unable to see the route until the timer starts – emphasis is placed on technical prowess over endurance.
"I think it's a really interesting sport so of course a lot of people in Hong Kong should give it a try," said Sol, whose advice for novices included "prevent any injuries" and "keep climbing with passion".
Bouldering will make its debut at the 2020 Tokyo Olympics, along with other categories lead climbing and speed climbing. Sol, despite reigning supreme in Hong Kong, concedes a lot more work must be done to get there.
"I'm trying but right now I'm not there yet," she said. "I'll keep trying to improve my skills and speed."