Two of the world's best rock climbers coped with frightening falls and the death of two fellow climbers on the same rock in a month-long quest to shatter a mythical record in Yosemite National Park.
Tenacity paid off on Wednesday as Alex Honnold and Tommy Caldwell reached the top of El Capitan, the most celebrated slab of granite on Earth, in less than two hours, breaking a barrier compared with the four-minute mile.
The blistering time of one hour, 58 minutes and seven seconds capped weeks of practise and a few stumbles on the so-called Nose route that runs up the middle of the 915 metre sheer monolith.
The pair had already broke the record last week, but were yet to surpass the two hour barrier.
Alex Honnold and Tommy Caldwell smash speed record climbing up Yosemite's Nose of El Capitan
Honnold didn't think they were on a record pace until he glanced at his phone timer as he ran for the tree that marks the finish line, he said as he walked down from the summit.
"Oh my god, we're doing it," he said as he reached the top and wished Caldwell would hurry over the final lip. "It was slightly emotional when we finished it. I had a wave of 'oh wow'. I'm pretty proud we saw it through."
The duo broke the record three times in the past week, carving more than 20 minutes off a 2017 mark. Honnold said it would have been easy to stop after breaking the record twice, but they pressed toward the two-hour goal he considered the "human potential".
Hans Florine, who has held the record on and off between 1990 and 2012 – the last time with Honnold – said the mark is equivalent to the ongoing quest to break the two-hour marathon or Roger Bannister's 1954 achievement in the mile.
"We were pushing the five-hour barrier before and then the four-hour barrier and then the three-hour barrier. So which one of those is the four-minute mile?" Florine said before the mark was broken. "I think it is getting close."
The Four Oarsmen break the 'four-minute mile' of ocean rowing, while solo paddler has 20 minutes of sleep at a time for 30 days
Yosemite is a Mecca for climbers because of its vast array of soaring granite walls and peaks. El Cap, though, looms largest and offers 58 distinct routes. The Nose is the best known and typically takes accomplished climbers four or five days.
With speed in mind, climbers forgo equipment and take the bare minimum. Although they are roped up it can come at a price as climbers sometimes move in tandem with neither anchored to the rock.
Alex Honnold's rope-free ascent of 900m El Capitan is greatest, most terrifying, climbing feat in history
Two experts were speed climbing in that manner on El Cap's Freeblast route on Saturday when one fell and pulled the other 305m to their deaths. Spectators in the valley below who had been hoping to see Honnold and Caldwell were horrified.
Honnold and Caldwell were not climbing that day and they cancelled plans to go for the record on Sunday and instead did a training run.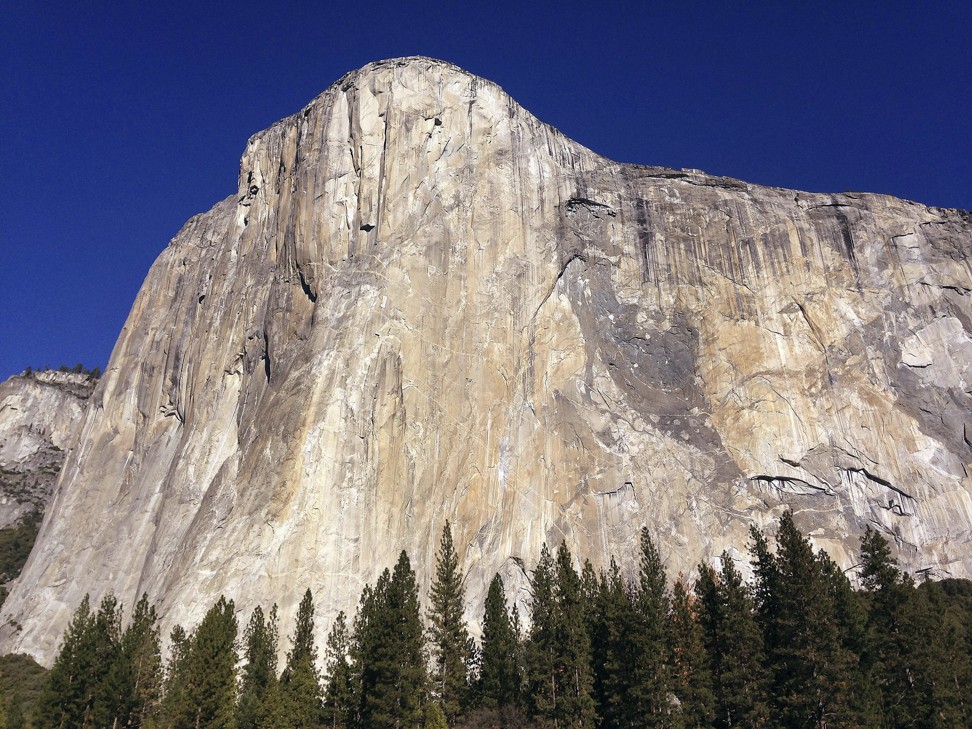 "It's really hard to go for it 100 per cent after something like that happens," said Honnold. "It's a worst-case scenario, the stuff of nightmares really."
Caldwell survived two big falls unscathed, including a 30.5m plunge in practise runs. But once Caldwell came to a rest, he chalked up his hands, swung over to a crack and resumed his upwards progress.
Caldwell shared fame in 2015 with Kevin Jorgeson on a first ascent of El Cap's Dawn Wall, one of the world's hardest routes, using no assistance in a 19 day climb and only ropes and gear to protect against a fall.
Honnold is the only person to have climbed El Cap solo without a rope or any protection, a perilous feat that earned him both admiration and criticism for being reckless.
The two climbers represent a "dream team" from a generation that honed their craft in rock gyms and "are showing up in the outdoors with a radically different ability level than they used to", according to Daniel Duane, author of El Capitan.
So even Honnold and Caldwell's new high marks may not stand.
Duane said: "Climbing is a lot further along than it was 30 years ago on that curve toward athletic maturity, but I don't think it's anywhere near the outer limits."