The North Face Adventure Team from Hong Kong finished 11th at the Adventure Race World Championships on a course so brutal that many, including the former world champions, could not even finish.
The 420-kilometre course began with a 100km trail run. "This had to be one of the toughest opening legs in the history of the sport," team captain Ryan Blair said.
"To put it in perspective, it's like doing Trailwalker but with 50 per cent more elevation gain, a 40-litre backpack full of mandatory equipment, food and rock climbing gear, and a trail with sections so technical you may have to abseil off cliffs to continue, scramble through streams, or bash through jungle so dense you need full finger gloves to progress forward."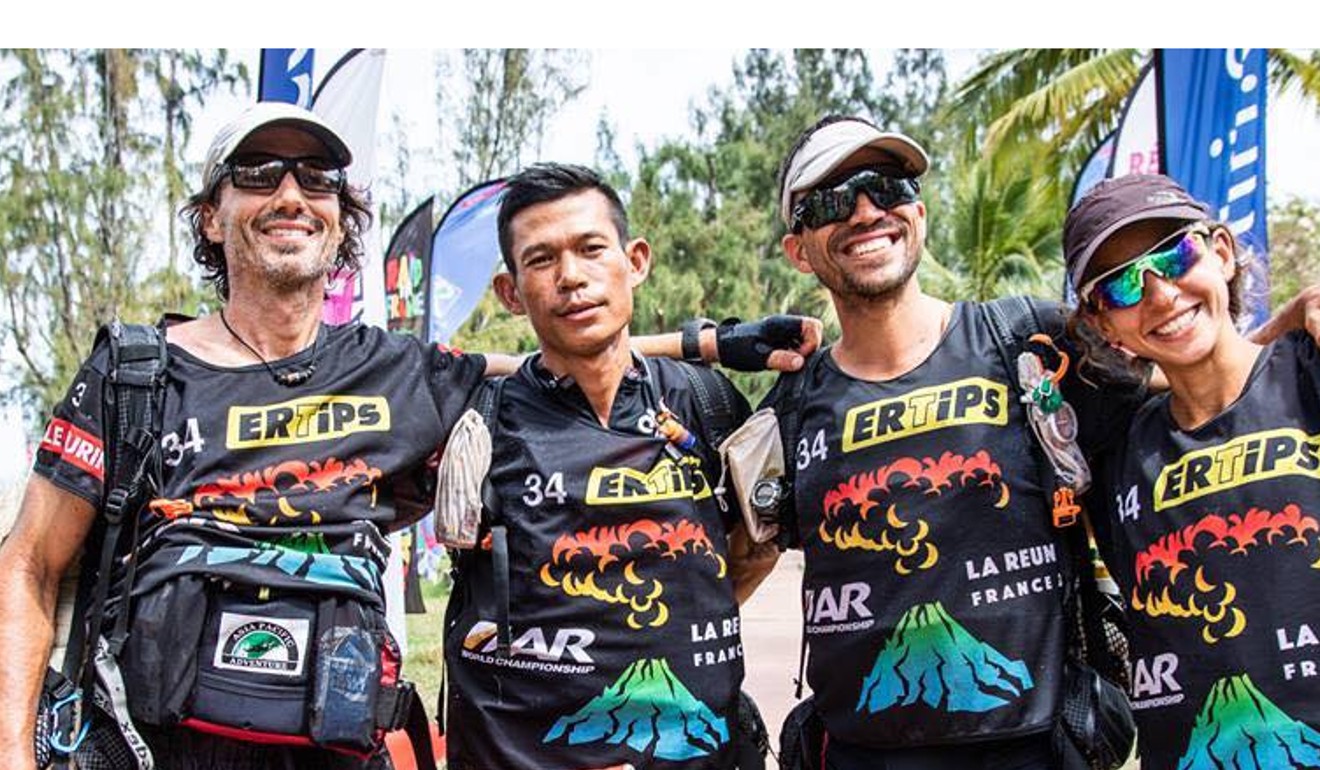 The race took place on Reunion Island in the Indian Ocean. Adventure racing is a combination of running, paddling, cycling and often other challenges.
The North Face team consisted of Jantaraboon Kiangchaipaiphana and Ryan Blair from Hong Kong, along with Guilherme Pahl Siqueira Silva and Camila De Araujo Nicolau from Brazil.
Adventure Race World Championship takes Hong Kong team through shark-infested waters during 420km race
Once they had finished their 100km slog, they plunged into a maze of rivers requiring abseiling and paddling. Then, they had to carry their bikes off a mountain the size of Lantau Peak.
Their socks and shoes were soaked, and after 40 hours of trekking, paddling and pushing themselves, their feet were "shredded".
"This combination just broke teams down and even ended the race for some past world champions," Blair said. "This was why half of the world championships field was decimated and could not finish."
Oxfam Trailwalker: Hong Kong women win 100km race by putting performance over emotion
In total, they were racing for six days, over 17,000 metres of elevation in the muggy head of the island.
"We all had difficult moments but the key is that hopefully they are not at the same time so team members can help each other get through those difficult moments and recover," Blair said, adding that at one stage he had to offload some of his pack weight to his teammates as he suffered from heat exhaustion. "You can accomplish so much more working together as a team than you ever will by yourself."
Oxfam Trailwalker: Hongkongers take first place after epic comeback from behind to break Nepalese dominance
Which is just as well: as they paddled in a small rafter over the sea, Kiangchaipaiphana became seasick in the huge swells.
"His body just snapped," Blair said. "He literally puked at least 15 times and we let him sleep in the boat to try to recover and connected the boats together by towlines. The speed was reduced by 50% but at least we were still moving forward."
Oxfam Trailwalker video: Hongkongers win 100km after perfect tactics see them come from behind
Six days of intense racing with just eight hours sleep makes Blair appreciate the simple things in life, like a comfortable bed or a hot meal.
"Humans are capable of so much more than we often realise," he said. "Where is the limit?"