Stretched high up above the waters between the islands of Ap Lei Chau and Ap Lei Pai on the southern coast of Hong Kong was a 195-metre long polyester line, 2.5 centimetres in width, anchored to rocks on either side.
Balancing with all his concentration, arms stretched out for steadiness, core muscles and stabilisers actively engaged, was Ricardo Iriarte, an active slackliner, highliner and rock climber.
Slacklining is a sport that involves walking and balancing on a suspended length of flat webbing strung between two anchors. Slacklining Hong Kong, a local group of enthusiasts, regularly practise by the Central piers, stringing the lines between poles. The slackline is never too high off the ground. Add height to the equation, and you get highlining.
With the rocky shorelines of the two islands in the background, the roller coasters of Ocean Park in the distance, the calm waters below with the occasional sampan ferrying passengers to and from Aberdeen, and the vast expanse of the South China Sea framing the scene, this highline – named Kate, in honour of a friend of Iriarte's – is a sight to behold.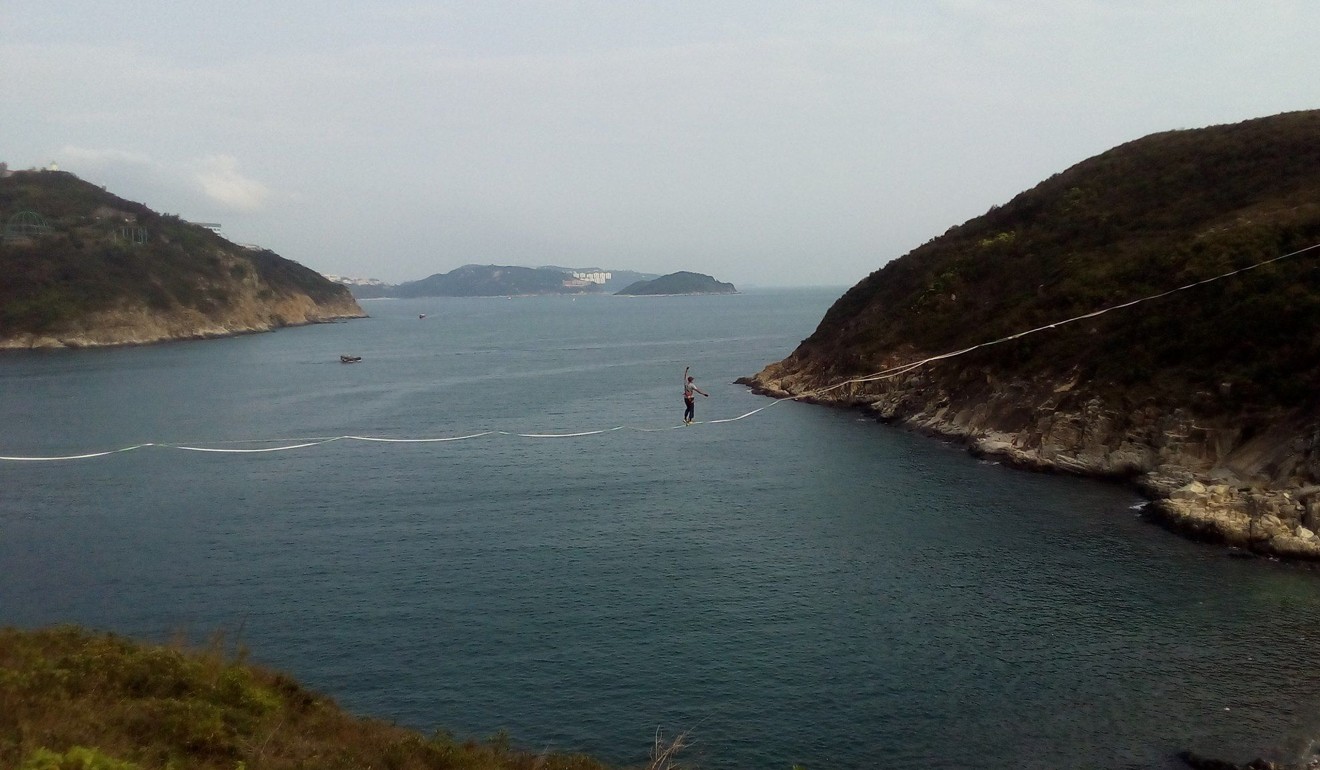 But for 31-year-old Iriarte, who is from Mexico and works as a translator and interpreter, the object of his intense focus was not the stunning scenery, but rather the immediate challenge before him: standing up on the highline, balancing and walking as far as he can without falling.
"The dynamics of the line was unlike anything I had tried before," he said.
The first time he got on the line, in the last week of March, he could barely stand up.
Over the next two days, he slowly improved and eventually managed to walk about 30 metres – barely a sixth of the full length. A friend who had travelled from France to participate in the project, Vladimir Renaudin, had more experience with highlining and managed to walk almost the entire line.
Come autumn, when it is less hot, Iriarte will again set up the highline and aim to complete it. For the hot summer months, he will practise and stay cool by waterlining – slacklines set up over water – over rock pools in Lantau and over the water at places like Tai Mei Tuk.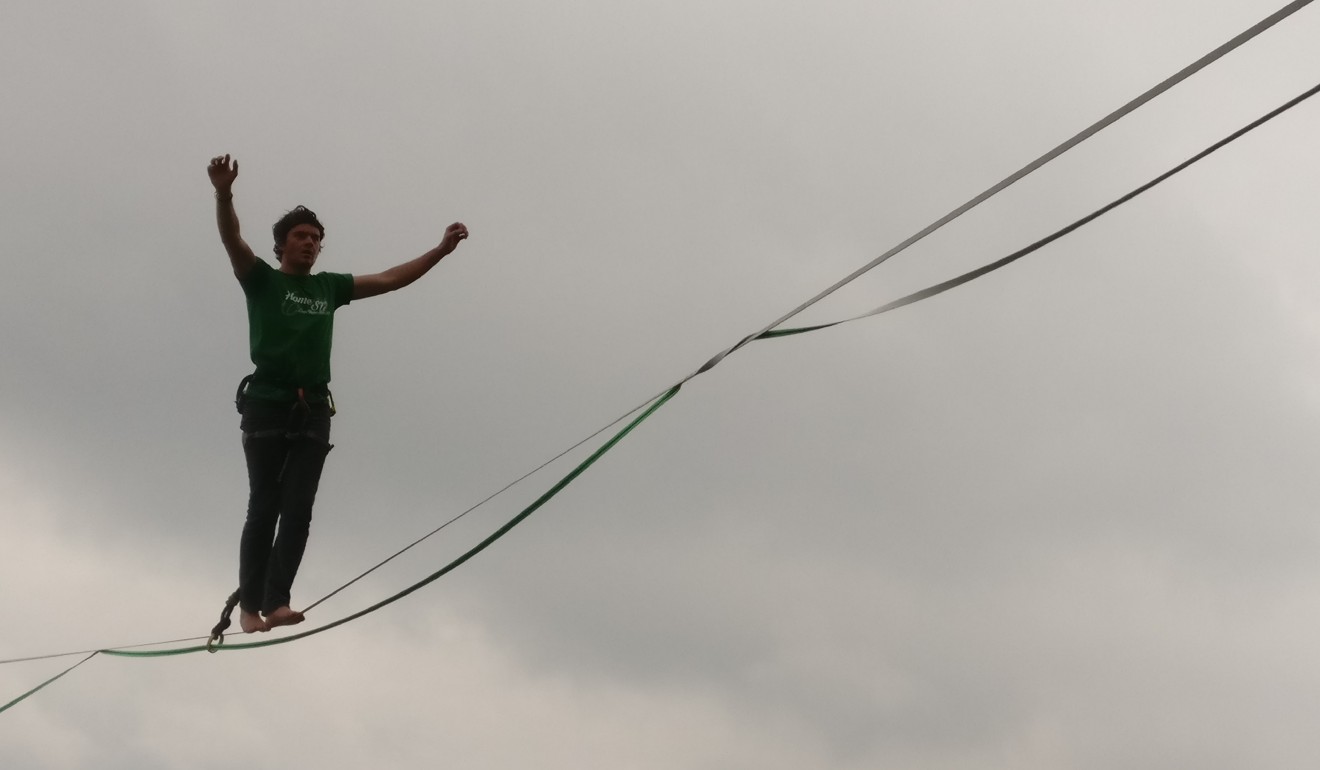 Iriarte started slacklining in 2012, not long after he had first moved to Hong Kong. He has set up highlines in other locations around Hong Kong, including at Lion Rock, Beacon Hill, and Cape Collinson.
The highline at Ap Lei Pai, however, was novel in how long it would be. At nearly 200 metres, it is the longest known highline ever set up in Hong Kong.
How high up does the line have to be to count as a highline? It's a debate that has found no consensus in the niche and relatively young sport, but most people agree the line has to be at least 10 to 20 metres off the ground, said Iriarte.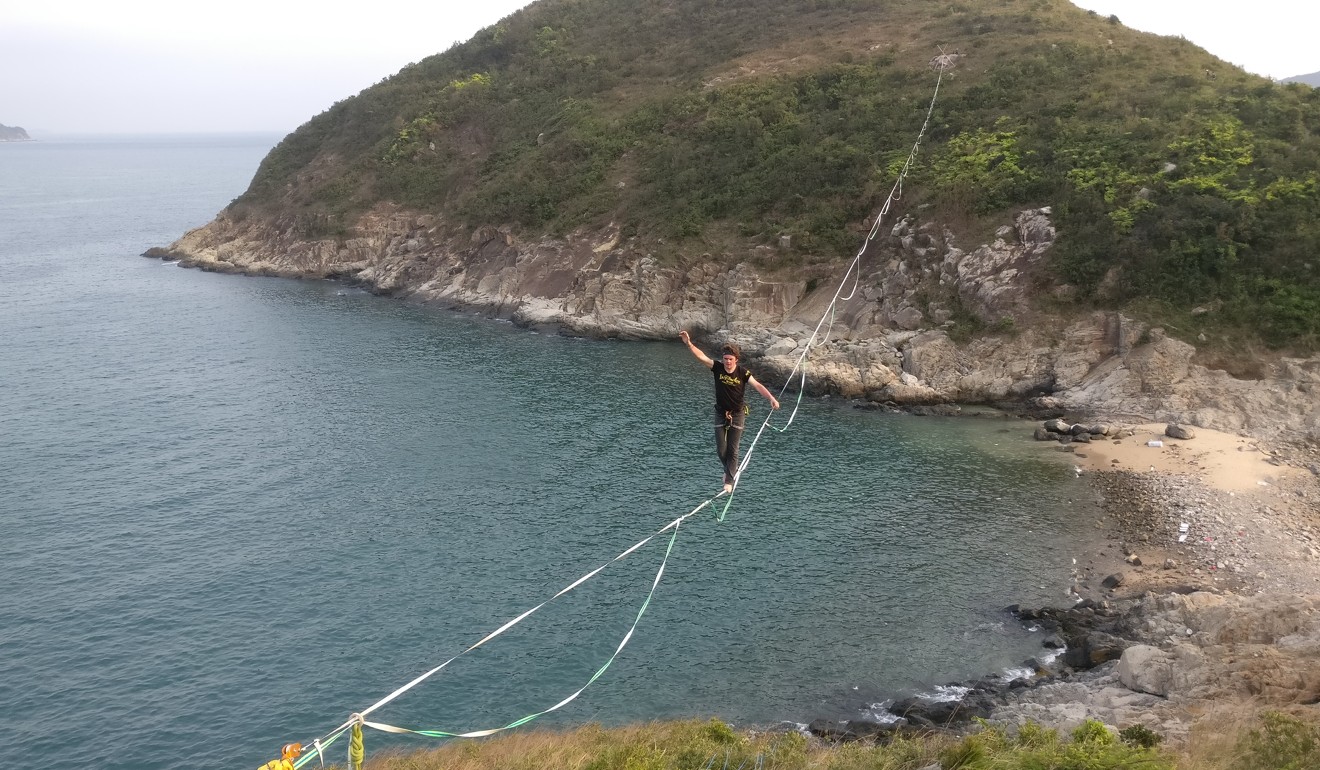 Though highliners are connected by a leash and a harness to catch them should they fall, fear still poses a formidable barrier.
"I'm not afraid of heights," said Iriarte. But that does not mean he is fearless on a highline.
"No matter what, you will still fear even if you are not afraid of heights," he said. "The first time you get on a highline you will be afraid because it's something completely new. Your body is not ready for it. You're suspended in the middle of the void. And you're going against millennia of evolution telling you, what the hell are you doing?"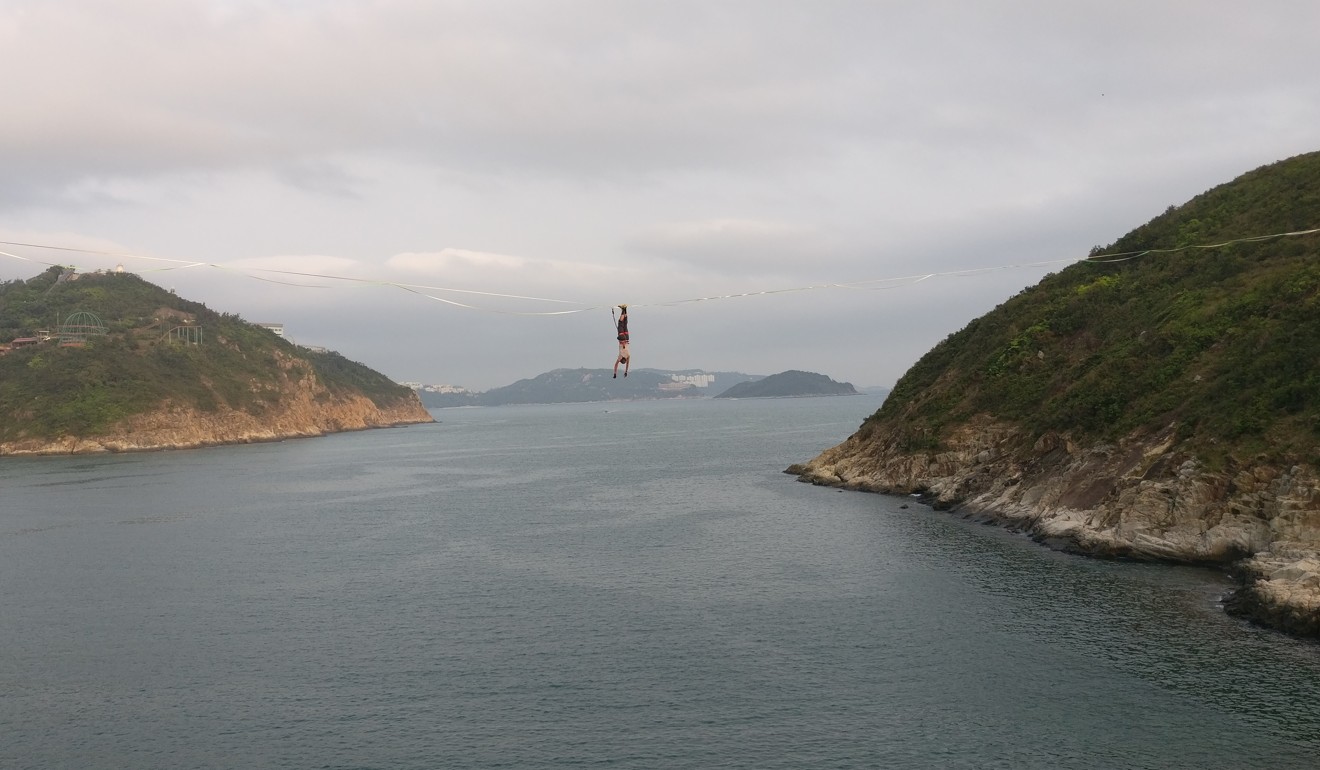 Though the slacklining community in Hong Kong is small – and the highline community smaller still – Iriarte sees a lot of potential for the sport to grow.
The public housing estates in Hong Kong, with their numerous uniform high-rise buildings, would make for great highlining locations, he said, imagining some 20 highlines criss-crossing a single housing complex.
Then there are the sleek skyscrapers in downtown Hong Kong, providing a wonderful playground for vibrant highlining festivals that could double as popular tourist attractions.
Iriarte pointed to the highly successful urban highlining festivals that take place all over Europe, and that are sponsored and promoted by local city governments.
"This city would be a highline paradise if only the government or the public would approve it," Iriarte said.