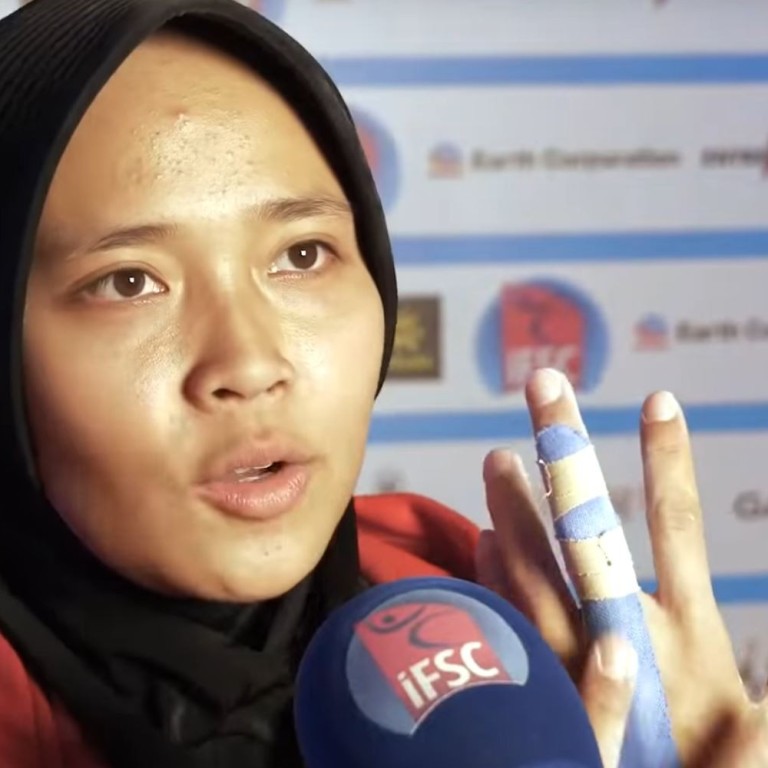 Indonesian 'Spider-Woman' Aries Susanti Rahayu shatters speed climbing world record, scaling 15m in under 7 seconds
Delighted 24-year-old beats former world record holder in Xiamen, China, despite being injured
Sport will make its debut at the Tokyo Olympics next summer
Indonesian star climber Aries Susanti Rahayu has smashed the women's speed climbing world record and become the first woman to climb 15 metres in less than seven seconds.
Her time of 6.995 seconds in the final of the IFSC Climbing World Cup in Xiamen, China, this weekend saw her beat home favourite and former world record holder Song Yiling to take gold.
The 24-year-old, nicknamed "Spider-Woman" by Indonesian internet users after her exploits at the IFSC World Cup in 2018, beat Song's former mark of 7.101 set in Chongqing in April.
The bad news for her competitors is that the record came while the Indonesian was injured.
"My condition is not good," she said afterwards. "You can look at my hand, my fingers," she tells the camera.
"Blessed to get a record. Amazing for me," she adds.
Speed climbing is one of the three disciplines to debut at the Tokyo Olympics next summer.
It appeared at the Asian Games last year where Susanti won gold in speed and the speed relay.