With the endless sands of the Sahara simmering and shimmering on the immediate horizon, the German ultra cyclist Jonas Deichmann, 31, pedals his way slowly but surely through a severe bout of food poisoning in Egypt and on towards their epic transcontinental record-breaking goal. He began the adventure with and Philipp Hympendahl, 51, but in Egypt, he was in no state to continue due the food poisoning and left Deichmann to push on alone.
The pair set off on September 6 from Nordkapp at the northern tip of Norway on an 18,000km self-supported ride to Cape Town in South Africa. Their aim is to complete the journey in 75 days and shatter the record of 102 days, set in 2013 by Reza Pakravan and Steven Pawley.
Their route takes them through Norway and Russia to Iran, and then through Egypt, Sudan and the wilds of eastern and southern Africa, ending in Cape Town. They expect to pass through 15 countries. Deichmann is now in Kenya and well on target to take the record despite encountering civil unrest and food poisoning along the way.
Logistics, however, are among the biggest challenges.
"It was a logistical nightmare and it took us months to get all of the visas. We had to make a last-minute route change as we couldn't get an Iraq visa," Deichmann said.
He is no stranger to long-distance record breaking, having set both Pan-America and Eurasia traverse records in recent years.
"From a physical perspective, the Pan-America Solo was harder," he said. "But in Africa anything can happen and the conditions are extremely challenging."
It is also the first time he has attempted a record ride with another cyclist.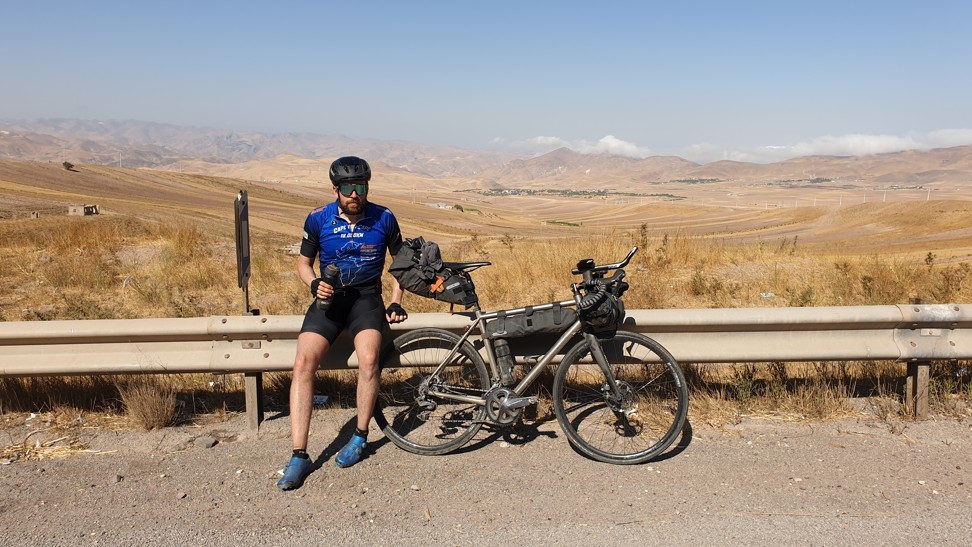 "Working as a duo is challenging as we have different riding rhythms, and there are more mechanical and illness issues too, which means you spend less time on the bike," Deichmann said of the first part of the trip. "On the other hand, it's also good company and motivating – and at the moment we're ahead of our 75-day schedule."
With many years of ultra riding experiences already logged, pacing and integrating riding with things like finding shelter, food and updating social media have become second nature for the full-time adventurer.
"I always cycle in terms of hours; around 10-11 a day," Deichmann said.
"We take breakfast at the sleeping spot and then ride for two hours. Here we snack and then ride three hours to lunch," he said when Hympendahl was still with him. "From there we ride five hours and stop for the evening. We then eat as much as possible, take care of social media and emails, and finally sleep six hours."
From the chills of the Arctic Circle to overnight in a prison cell in Cairo (with the doors unlocked), it has been a varied ride so far. The trucks and hostile weather in Russia were horrific, something he also experienced during his Eurasia record ride.
"It's the most dangerous place I've ever cycled," Deichmann said. "There is no place on the road for cyclists and the trucks pass very fast and much too close."
Iran was a new experience for Deichmann and, after Russia, it came as a sweet surprise.
"It's one of my favourite countries. The desert landscape is stunning and the people were incredibly friendly. The variation is very big between the small villages and the cities; in the villages it's very conservative, while big cities are just like anywhere else in the world."
Deichmann was delayed on the border as they entered Kenya, wasting precious minutes as the officer had his breakfast. But the food in Kenya has given Deichmann a boost, and he charges forward towards Nairobi.