Rowing and ancient mind-body arts are natural partners, according to one of the top coastal rowers in the US, Ben Booth. He is in Hong Kong this weekend to take part in the Around the Island Race.
Booth has been on a 16-year journey, exploring the power of the mind and how it relates to his sport. He was beating people in competition he knew he could not beat in training, and questioned what role the mind was playing in his performances. So, in 2003 and moved to China to study in a Shaolin Temple for a year and has been continuously learning since.
"Rowing has all the same recipes as all the mind-body arts," Booth, 42, said. "It's repetitive, you're in nature, you have to step away from yourself and into a bigger space of this water. Coastal rowing in particular exemplifies that as every stroke is the same but different. Because the water is always moving, you are always adapting to your environment."
"When you stop thinking you are more effective, because you can't out think the tumultuous movement of the water, you just have to be there, response and join that space," he said.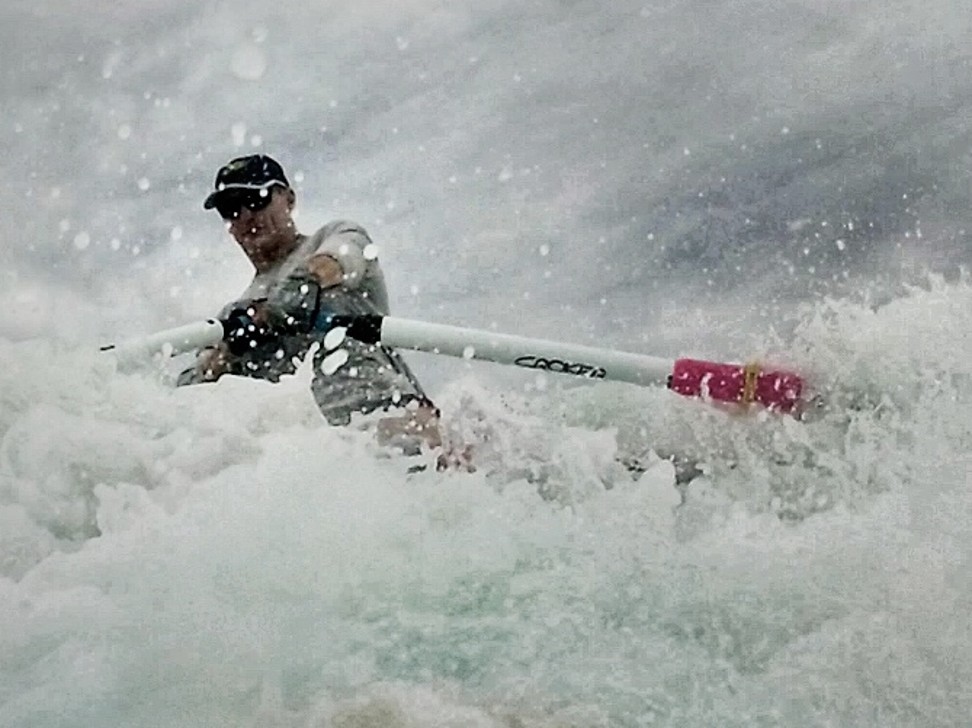 Day to day life in the temple was "just nuts", Booth said. "There was no real logic to it either. We weren't following this progressive training programme. From day one you were just full on."
They'd wake at sunrise and run a marathon. A teacher would chase them on an old rusty bike, whipping them with a stick to keep them going. They'd then mediate and work on their inner energy. They'd next do high energy exercises, like jumping and sprinting, before lunch. After their meal, they'd have fighting practice, sparring, hitting bags. In total, there were 10 hours of work a day.
"It's super physical," he said. "The mental aspect of it is really getting through a day, day after day."
The 45km Around the Island Race, organised by the Royal Hong Kong Yacht Club, is accepting solo rowers this year for the first time.
"Anything that was considered too far and too dangerous previously sounds right up my alley," Booth said.
Last weekend, Hong Kong hosted the World Rowing Coastal Championships. Booth opted against taking part in both. He thought he had not trained for the speed of the shorter distance.
"I'm pretty competitive. It wouldn't be fun coming to the race and not be racing for a top 10 position," he said.
"If you're doing it for the sake of it you, don't get that personal growth," Booth said. "If you have a bad race you have to examine why, was it mental, was it physical, what were the factors that weren't in place? You have this arbitrary date in the future and on that date you have to be at your peak. For me, it's a fascinating process and puzzle to work out."
Since starting his spiritual journey, Booth has lived on the top of a mountain in Vermont for six months and spent three months in a cabin with no heater during winter in the wilderness, among other adventures. He now runs a non-profit organisation teaching tai chi, meditation and rowing.
Within a few months of starting meditation and mindful practices, Booth noticed a difference.
"There was just more clarity. It wasn't a revelation, but it was a gradual unfolding," Booth said. "After a number of months of feeling more mentally cohesive, and it wasn't like I wasn't cohesive before, I just noticed everything was more heightened. Everything improved."