Hong Kong-based Mayank Vaid's world-first Everestman in April started out as one man's mission to conquer the height equivalent of Mount Everest in three disciplines – swimming, bike and running.
But in the days following his epic feat, Vaid had lit a raging fire under the feet of ultra runners the world over. Now the made-in-Hong Kong Everestman triathlon event is a discipline in its own right with Vaid eager for athletes to compete against each other online at their homes or in a single venue over the original Clear Water Bay course he and coach Nigel Gray identified for his pioneering odyssey.
"It's called the Everestman, coined by me because it didn't exist before, and it has the same Everesting element and it's a triathlon series, just like other series such as Ironman or Swissman," said Vaid, who completed his 9km sea swim, 8,848m bike and 8,848m run from April 9-10.
"The whole idea is of encouraging people all over the world to challenge themselves. Naturally, it's a very difficult course but it's the kind of course that can be developed anywhere, even in your house if you have a swimming pool, you can ride your turbo trainer and do your run on your treadmill.
"It can even be done in your neighbourhood, close to home. If you are near the sea and hills, even better. So there's a lot of flexibility to it.
"The course I did in Clear Water Bay is something that allows for multiple athletes with the sea, the hills, and it's not far from the city. This could really be a very good existing course.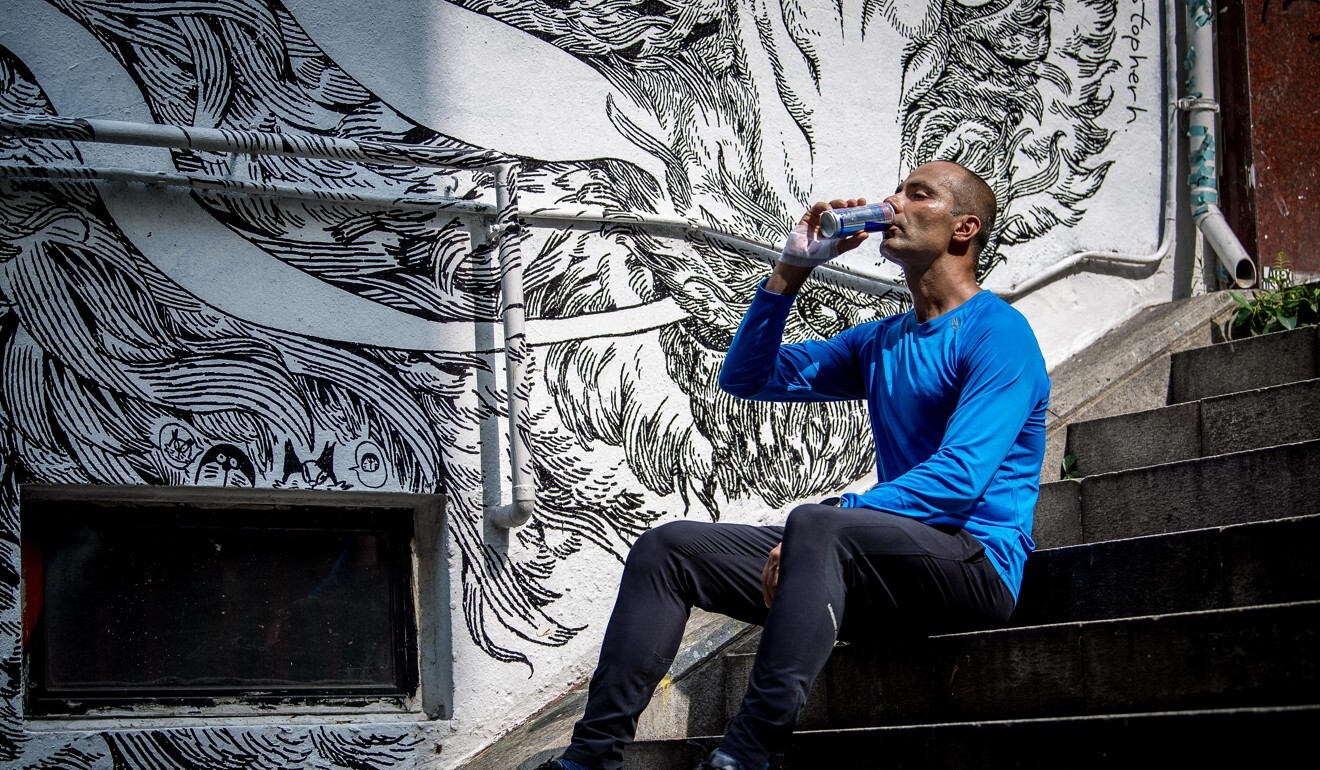 "The idea is to encourage athletes to do it, be part of it and participate in it. And see it as a challenge, try to beat the fastest time, try to beat the fastest course. There are different elements to it."
Vaid completed the Everestman in 71 hours, seven minutes, of which 55 hours was moving time. The swim comprised two loops of 5km and 4km at Clear Water Bay Beach, with his family on shore to provide nutrition and water. The bike was on a 1.6km uphill course that required 83 climbs to match the height of Everest.
The run was a 2.4km ascent up High Junk Peak that required 25 loops. It also passed through his home, which acted as his aid station with his wife, Theresa, and boys Bono, 9, and Kavi, 5, performing crew duty.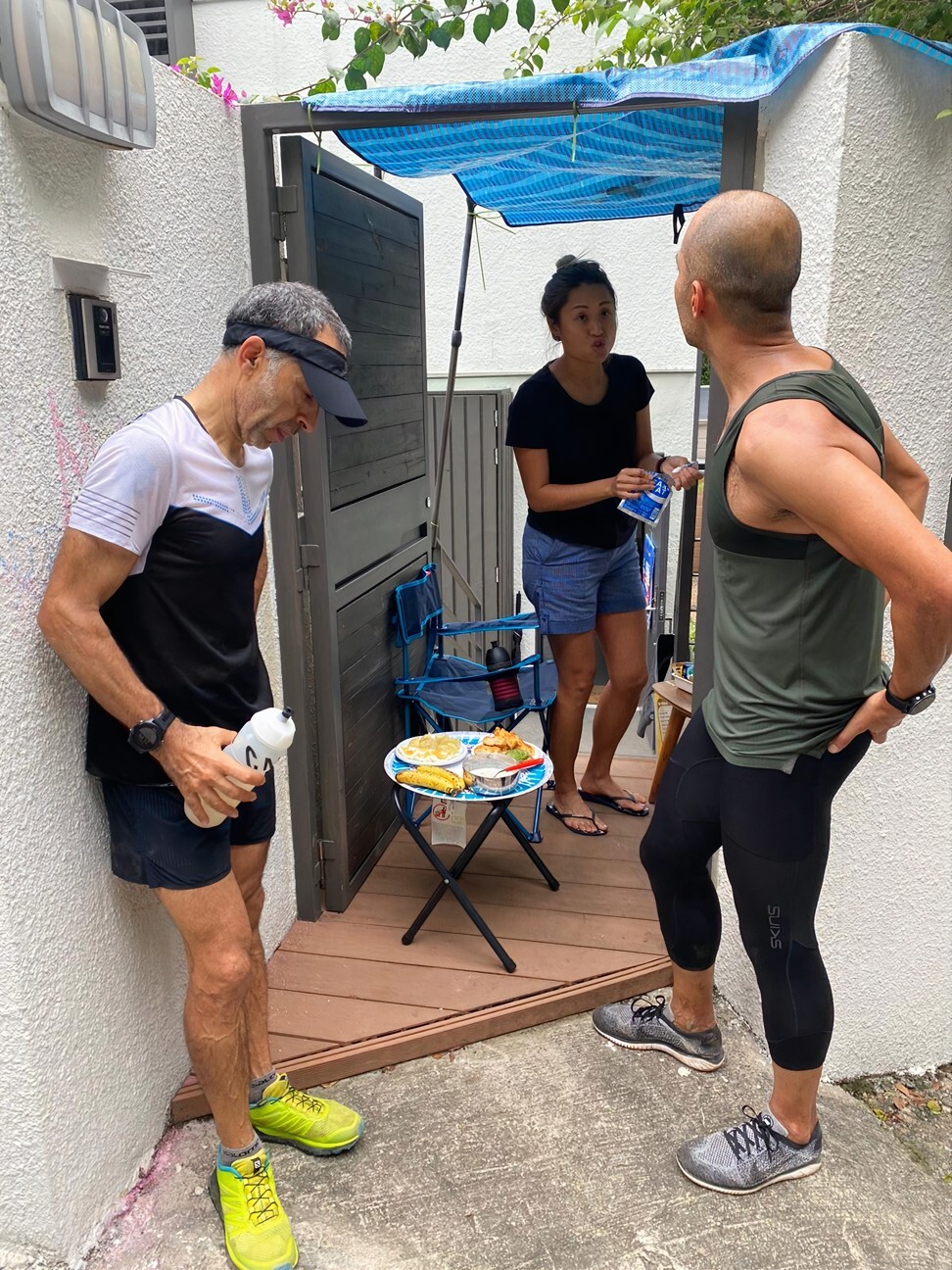 Vaid's good friend Martin Cai has launched an official website to record Everestman results throughout the world. So far, Vaid is the only entry as the first human ever to complete an Everestman.
Athletes attempting the feat must provide verification through GPS devices for the swim while adhering to rules governed by Everesting.cc for the bike and run.
"The key message we are hoping to get across is that anyone can achieve the extraordinary if we put our body and mind to the task," Cai said. "In that spirit, access to this challenge is open to absolutely everyone."
World's first 'Everesting' triathlon completed by Hongkonger after wife tells him 'you're not going to die'
Everesting is already an established discipline in which athletes are usually experts in one of the three disciplines. Vaid is the first to bring all three together in a triathlon format. He said ultra athletes were starting to show interest after his achievement.
"People have started talking about it, only concern here most of ultra athletes are not triathletes," said Vaid, IP director, Asia-Pacific, for Louis Vuitton. "They are mono athletes. either they are extreme bikers who know how to bike for 20-22 hours or running for 30 hours.
"Basically they are people who don't really swim. Or if they swim, they don't really bike and run. There is a small group of athletes who are showing interest, some of them are saying, 'Can we only do two?'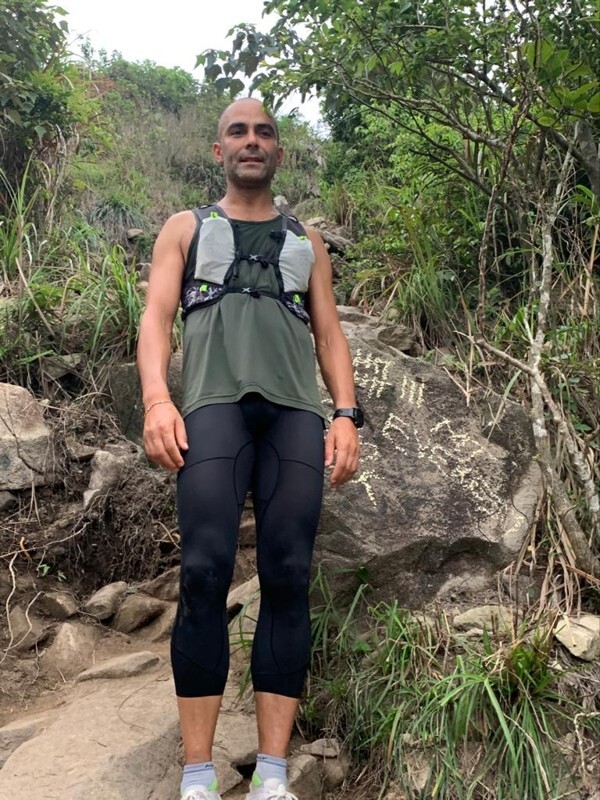 "Some are asking if they can do a relay. So I have three, one that swims, one that bikes and one that runs and it can still be considered as a relay team. Interest is coming in."
For now, four categories are accepted: ET1 – Everestman Triathlon (Solo): Swim 8,848m, Bike 8,848m D+ and Run 8,848m D+; ED1 – Everestman Duathlon (Solo): Run 8,848m D+ and Bike 8,848m D+; TD2 – Everestman Duathlon (Team of 2): Runner 8,848m D+ and 1 Biker 8,848m D+; TT3 – Team of 3 Triathlon: 1 Swimmer 8,848m, 1 Runner 8,848m D+ and 1 Biker 8,848m D+.
As the new event's creator, Vaid feels a sense of pride.
"Today, there is increasing interest in virtual races," he said. "It gives the ultra athletes who want to do virtual races an opportunity to do something like this.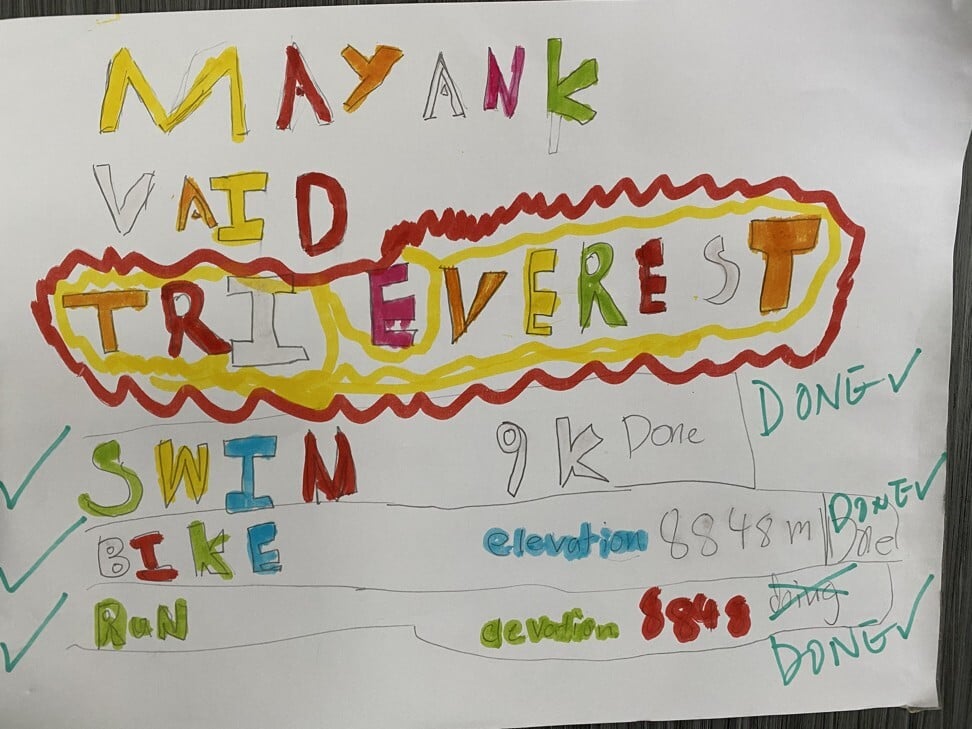 "So you know there is an Ironman, there is an Ultraman, which is double the Ironman and then there is this Everestman.
"There are many races around the world which are known to be extreme, known to be very, very hard. So I would say there are all these races that people want to do. They always want to find something longer, something more difficult."
Vaid was inspired to take on the Everestman for a number of reasons. Many planned events, including qualifiers for the Ironman World Championships, were either cancelled or postponed but Vaid continued to train at full tilt and wanted to make the most of his peak fitness.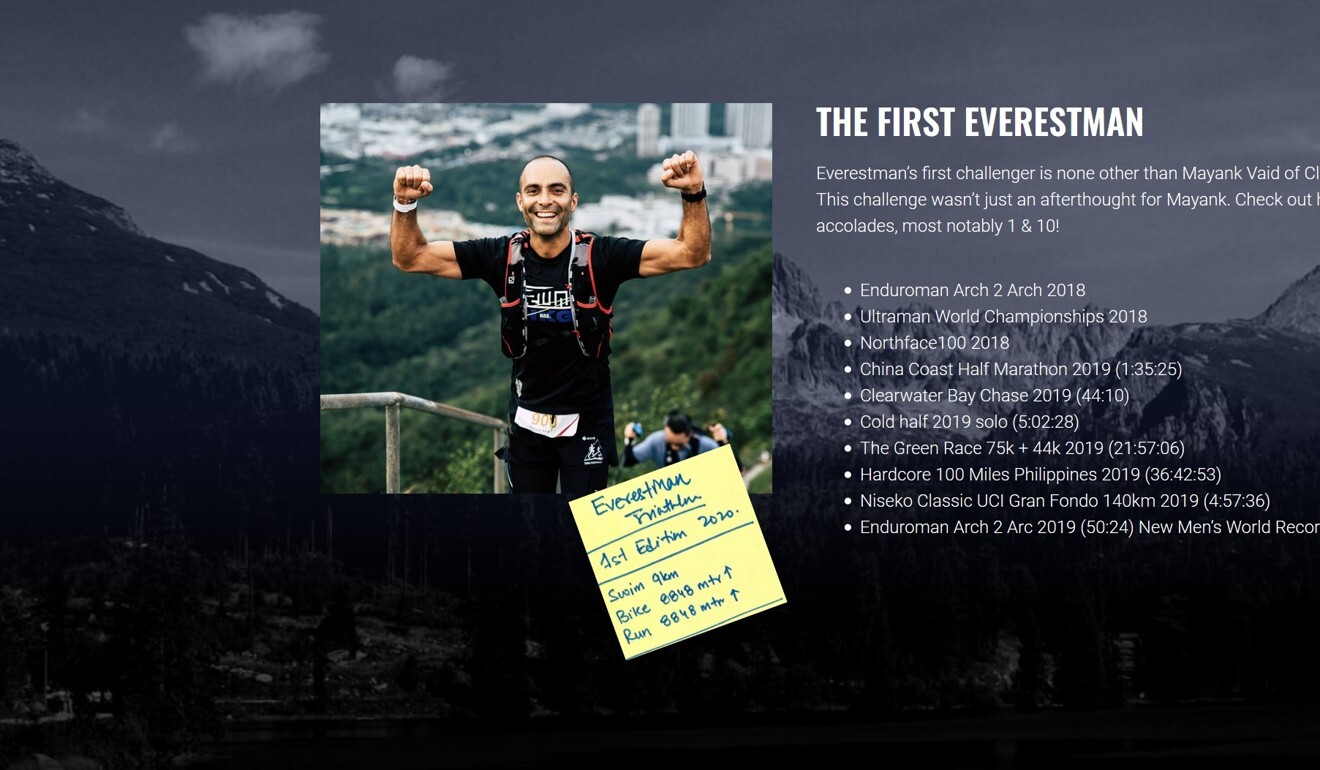 Also, he wanted to make amends for a previous failed Everesting bike attempt.
"I had attempted the Everesting on bike in March this year and I had to stop at 7,000 metres after riding 165km/15 hours on the same hill because of unending heavy rain that made the downhill descents unsafe.
"So, it was unfinished business. But I also wanted to do something new. I wanted to create something different. Something that had never been done before."