Sixteen-year-old Kirra Cameron thinks the biggest competition is against yourself. It's just as well, given when she turned up for her first powerlifting competition at the 2019 Asian Championships, she was the only girl competing in the under-18 category. Undeterred, she broke four Asian records, in deadlifting, back squat, bench press and total combined weight.
"I didn't know what was going to happen so I had no expectations. I got there and I was the only competitor in my age group. I was the last one even to be looked at. You get three goes on each lift. I did my first one, squat, and realised I'd broken the record," she said.
"I was surprised. The biggest competition is always yourself, so I was glad at my first competition I was able to figure out where I was."
Given the lack of competitors, it is clearly an unusual sport for a young girl to take up. Cameron said the prospect of building muscles, instead of being "tall, thin and lean", puts other girls off.
"They can all have their own opinion, but I love the sport for what it is. And I have the body type. If you don't put everything into the sport, and you're not willing to just take the body type, and you're not willing to get stronger, you shouldn't be in the sport," she said.
Despite her love and talent for powerlifting, Cameron's commitment has waned and she has now turned her attention to rowing.
She began rowing with South Island School and then took it a step further with the Youth Development Programme at the Royal Hong Kong Yacht Club, where the coaches "really helped me push as far as I wanted to go, but if you are more relaxed that's fine, too".
"I'd seen so many people rowing, and I'd been on a rowing machine, that I thought it would be easy. Seeing people rowing seems like they are breezing along until you get a boat," she said.
"The technicality, I loved. I didn't realise how technical it would be, or the time you have to take to improve. I immediately loved it."
Her years of powerlifting had a natural crossover with the drive needed for rowing, though she is still building her endurance, she said.
In her first overseas competition, the Interport rowing Regatta 2019 in Singapore, she came second in the under-18 category and second in the doubles race, with her partner just 12 years old.
"We were the only two girls going overseas and all the girls there were 16 or 17. We were backing each other up as the only girls from Hong Kong and by far the youngest ones there," Cameron said.
Their competition included rowers on the Singapore national team.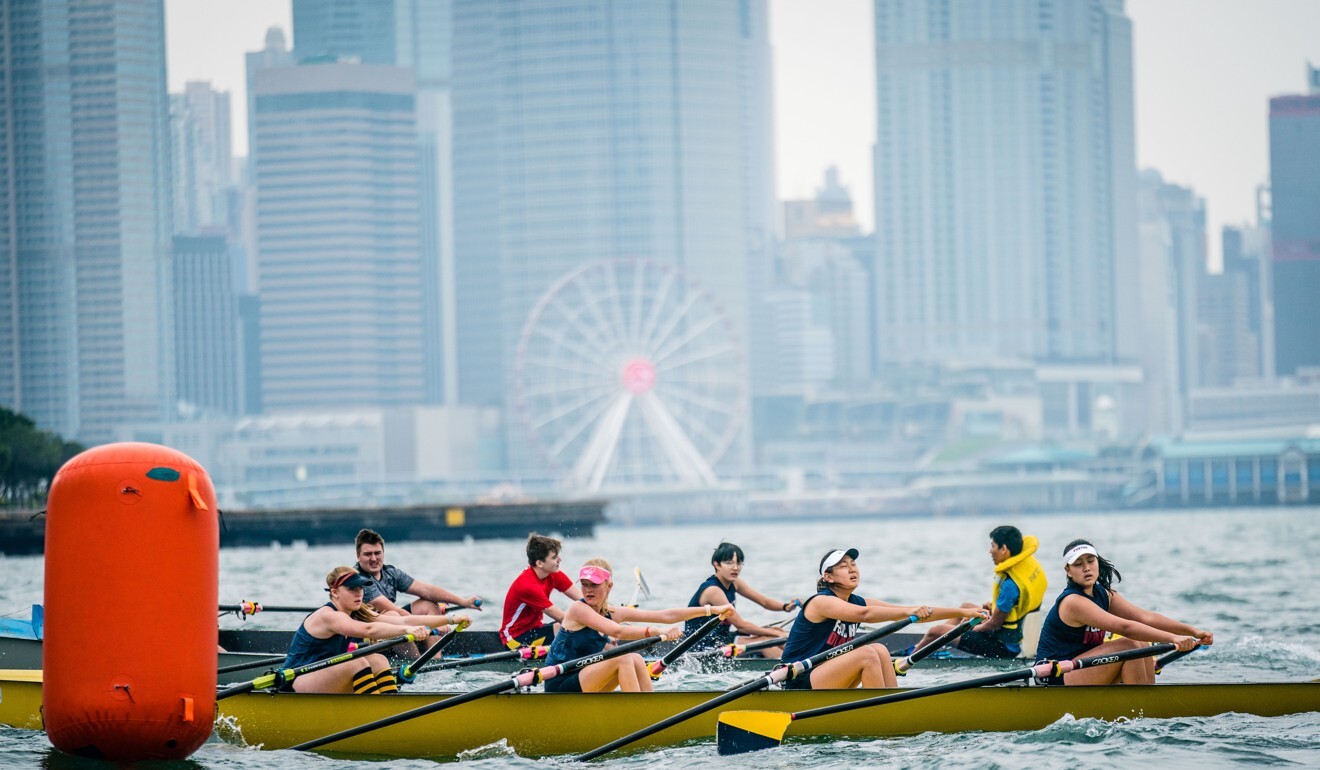 "We thought, we're hear to watch, we're hear to learn. It's great when you
get a chance to watch people at such a high level, when you're not."
The podium finish earned her an invite to the Royal Kingston Regatta in London, which was supposed to be in June but cancelled because of the coronavirus.
In the long term, Cameron wants to go to university in Australia and continue her competitive rowing.
"I'm a very driven person. Once I start something, I don't think 'OK, I'll just do as well as I can'. You have to be driven. And I have a lot of passion," she said.
"If I keep on the path I'm on I have a good future, but if I have an injury we'll see. But I'll definitely always take it seriously. I'm too competitive to take it socially. I always want to be better, faster, stronger."