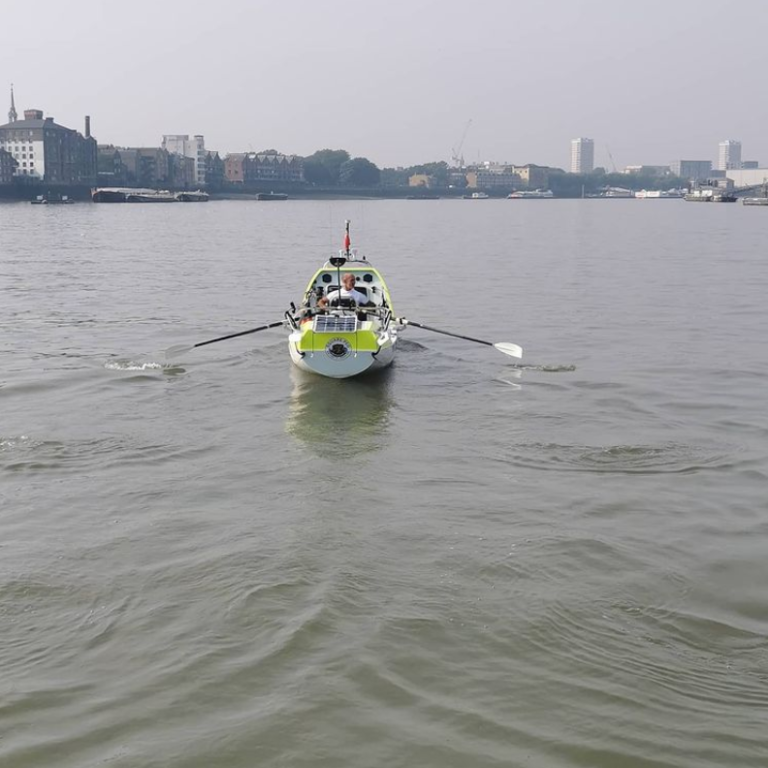 World first 97-day solo row from New York to London, was 'not your normal ocean' crossing, says Mark Delstanche
Mark Delstanche spends 97 days at sea, with thought of his family and a couple of pints in the pub motivation for darkest points
'If I could have pressed a button and got out of there, I would,' admits former firefighter who credits training with keeping calm
Mark Delstanche arrived in London on Sunday after 97 days at sea all by himself. He had also become the first person to row from New York to London solo on a journey full of dark moments.
"It always takes a while to understand what you've done," said Delstanche, 47.
"When you're out there, it's just day to day. It's only when you come back you begin to understand it. It's the message I've got from people I hold in very high regard as adventurers and other ocean rowers that I realised this isn't your normal ocean row. It's something quite extraordinary."
"It took me to the absolute limits. At times, it took me to some pretty dark places."
Delstanche set out in June and made good mileage for the first 10 days. If he had been lulled into a false sense of security, he was in for a rude awakening. A hurricane was forecast and he had to turn back and as he rowed to the US shore, he became stuck in ebbs and flows of currents and a thick fog settled in around him.
It was his lowest moment. He soon found out why just 57 people had successfully rowed across the North Atlantic from West to East. Forty-eight had tried to do it solo, only 16 had succeeded and none, until now, from New York to London.
"I realised, I hadn't discussed any fears or anxieties with people beforehand and it got on top of me," he said. "I found myself huddling in my cabin, wanting it to be over. If I could have pressed a button and got out of there, I would. I found myself in a place of my head I'd never been before, wanting it to be over having looked forward to it for so long."
When he set out he had a flywheel-powered propeller to help him, but it broke within a few days of starting.
Delstanche relied on his wife to talk him into carrying on a number of times. He credited her stoic Dutch attitude for motivating him.
"It was a matter saying to myself, you're 400 miles from anywhere, no one can help you, you just got to get back on your horse solider and carry on," he said.
Easterly winds forced him to a standstill for 18 days, 600km from the UK. As he neared the UK, the forecast said the wind would change to blow against him again. He rowed for nearly four days solid to try and beat the change in wind. At one point, he rowed for 27 hours straight.
"To be back home with my family, and to be in the pub with a couple of pints and a burger was the motivation," he said.
Delstanche faced eight major storms and capsized seven times.
"The most fearful moments were the anticipation – I'd get a weather report and it was pretty horrendous, and I'd have a couple of days thinking about how I'd deal with this, how do I get out of this. But the boats are built for this, and you can prepare as best you can, then deal with it when it comes."
When he first capsized, he was in the cabin. His kit was thrown everywhere and water poured through gaps he thought were sealed. It was a learning curve, and by the fourth capsize Delstanche had it down to an art with all his kit properly stowed and the hatches watertight.
Delstanche was a firefighter in London from 1993 to 2000. It taught him how to deal with stressful situations.
"Knowing how to deal with a proper emergency and knowing when it's an emergency and when it's just an urgency," he said.
"That's just pragmatism. I guess I may have got it from the fire brigade. It's about knowing this is something we're trained to do, it's something we can do, it's just a case of getting your big boy pants on and doing it."
Delstanche has raised over £22,000 (HK$234,000) for Global's Make Some Noise, which works with smaller charities across the UK for disadvantaged people providing shelter and safety, supporting physical and mental health, preventing isolation and improving life skills.
Delstanche heard about the charity on the radio: "Just to hear some of these people's stories on the radio, I was shedding a tear. It was so heartwarming to hear this charity really made a difference, and I wanted to be a part of it."
The world first rower has settled back into his life in London already.
"The weirdest part about it is the ease at which I've got back into it. Last night I had a couple of pints, then straight back to family life. I'm straight back into it, but it's the honeymoon period," Delstanche added.
"I thought I'd find it much less easy. I thought I'd be much less tolerant of people after the isolation, which I enjoyed immensely. But it's been delightful really."
You can donate to Delstanche's charity page here.
This article appeared in the South China Morning Post print edition as: Couple of pints in the pub and family motivated rower in epic quest