Bike packing in Hong Kong? Yes you can. Here's all you need to know, plus the best spots to explore from Lamma to Lantau
The whole ethos of bike packing is to keep things simple and minimalist, so that you are unhindered by weight and possessions
Hong Kong offers up a world of options from Lamma to Lantau and the New Territories
Perhaps the easiest way to explain bike packing is to think of it as minimalist and faster moving bike travel meets traditional cycle touring, something akin to the "fast packing" minimalist approach that spans the space between trail running and trekking.
During the pandemic bike packing has become extremely popular as an easily accessible and local adventure option, even for non-cyclists.
Bike packing has opened up cycling adventure to a whole new genre of people, those who were perhaps not into the Lycra clad image, who didn't fancy hurting down black runs on a mountain bike, and who were not smitten by the idea of touring the world and surviving on bush tucker whilst carrying everything but the kitchen sink in their panniers.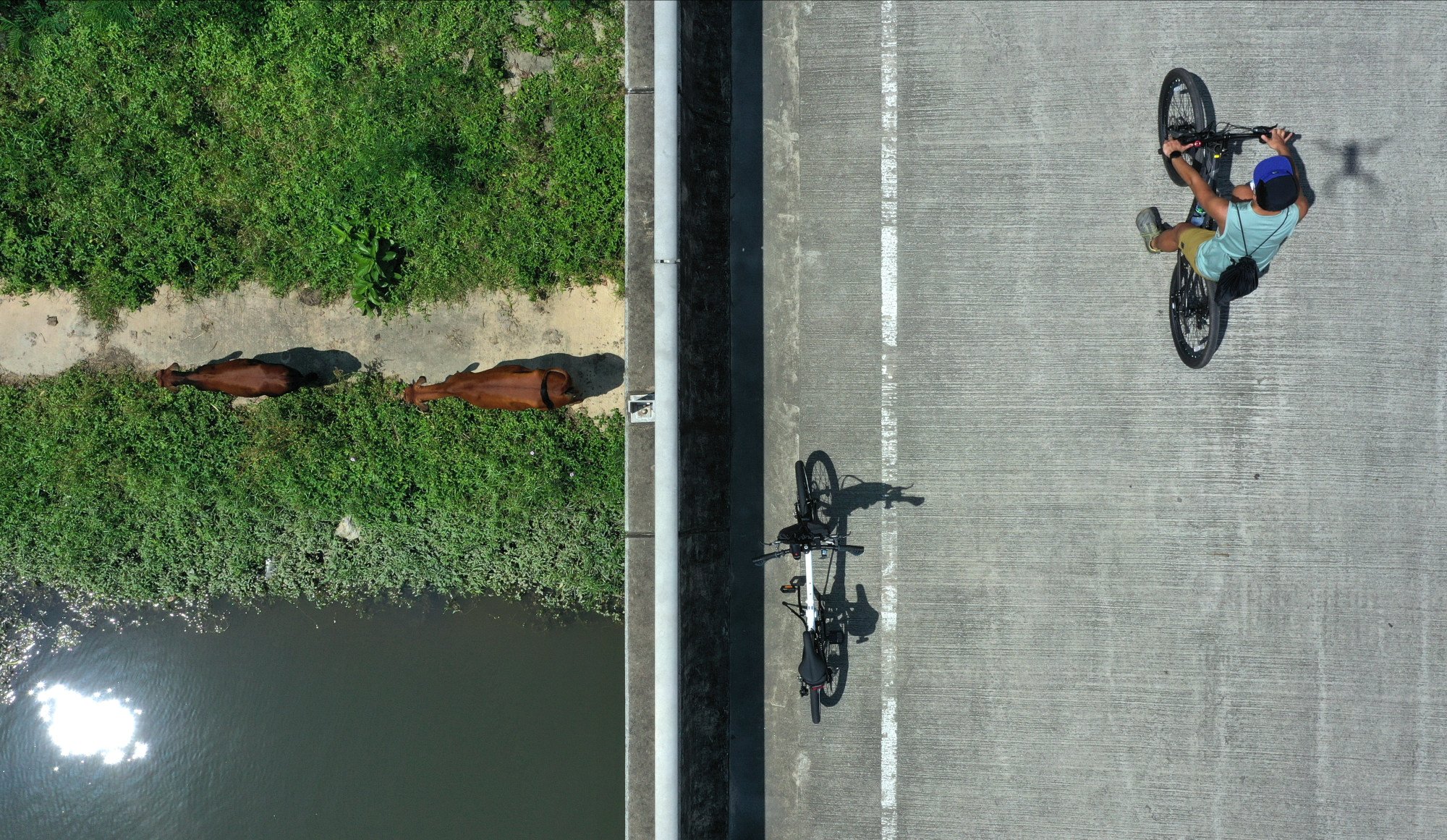 What do you need to get started?
The prime ingredients are a sense of adventure and imagination. Any bike will do, be it a mountain bike or a road bike; as long as you prepare reasonably well and are able to accept things as they fall then you're pretty much good to go.
A bike packing trip can be anything from an overnighter to Lantau to a multi-month ride around the world. You could easily ride out of work on a Friday evening, pinning together roads or trails and weaving it all together with a little island hopping and returning home on Sunday evening, just in time to clean up before work on Monday morning.
Bikes & routes
The whole ethos of bike packing is to keep things simple and minimalist, so that you are unhindered by weight and possessions. This approach means that there are no strict rules to it, and so it's open to all-comers and all styles of travel. This could translate to anything from just carrying a change of clothes and a credit card to pay for 5 star hotels to sleeping in hedgerows and drinking from streams.
Within reason the best advice is to go with what you've got. If you're heading off on an epic adventure then things will need to be a lot better planned, and you will need a more robust kit.
The first thing is to have a route in mind, which is mostly determined by what bike you have. If you have a road bike with narrow tyres then you may want to get slightly wider rubber beneath you to reduce potential punctures and to add an extra degree of comfort, as you will be carrying extra weight.
It's also important to remember that any extra weight is going to slow you down, especially on the hills, so it's a good idea to have lower gearing at the rear if you plan a very hilly route.
Keep in mind that full suspension mountainbikes will need the suspension set firmer to handle the extra weight, and you will also not have the space for bigger in-frame bags, and so a small backpack is often a good idea here.
Packing & bags
Keeping everything minimal and multi purpose is essential; try to go with mountain bike shoes so that you can also walk in them and then add a cheap pair of flip-flops for evening use.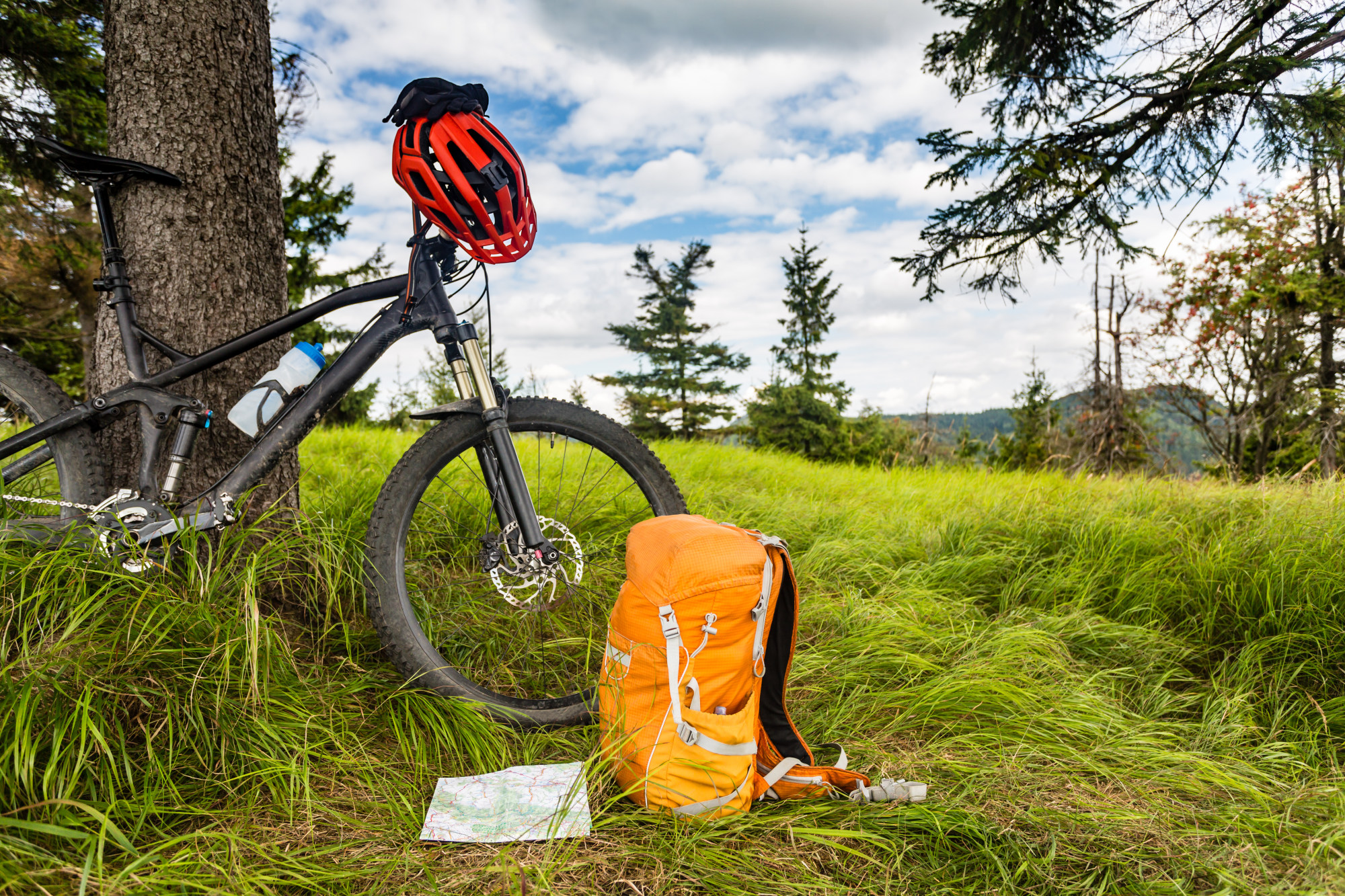 Always try to have a change of cycling kit and some regular clothes. Using multi purpose and breathable outdoor clothing is a good way to "cross dress" and reduce the load. Only pack what you really need, and then remove 25% of it and you will feel much more liberated and go faster for your effort.
A small and weather resistant handlebar bag is the place for anything that you may need during the ride, such as mobile phones, hand gels, masks, money and snacks.
Adding a small in-frame bag is great for stashing heavier and fragile items – such as electrical devices, tools and spares, and potentially you could use just this for a short trip.
Rear bike packing bags have been something of a faux pas in many ways, as when saddle mounted they swing around more than a drunken breakdancer. Thankfully there are now many small racks and stabilising frames available to reduce this slapping around.
The rear bag is where you keep your bulky and lightweight items (jackets, shoes and sleeping gear – if you carry it). The aim is to keep your front-end fairly light, to keep your weight central and low with your lighter bulk at the rear.
There are many expensive bag options out there, but for shorter trips you can easily get by with cheaper options that you will find the online (Rockbros, Vincita etc), and of course – you could simply use a small backpack for an overnighter – although it will tire your upper body more.
Needless to say, always carry a multi tool, basic spares, a small first aid kit, lights, a mobile device and power bank. If you are heading out of phone range, it's wise to have a paper map or GPS device too.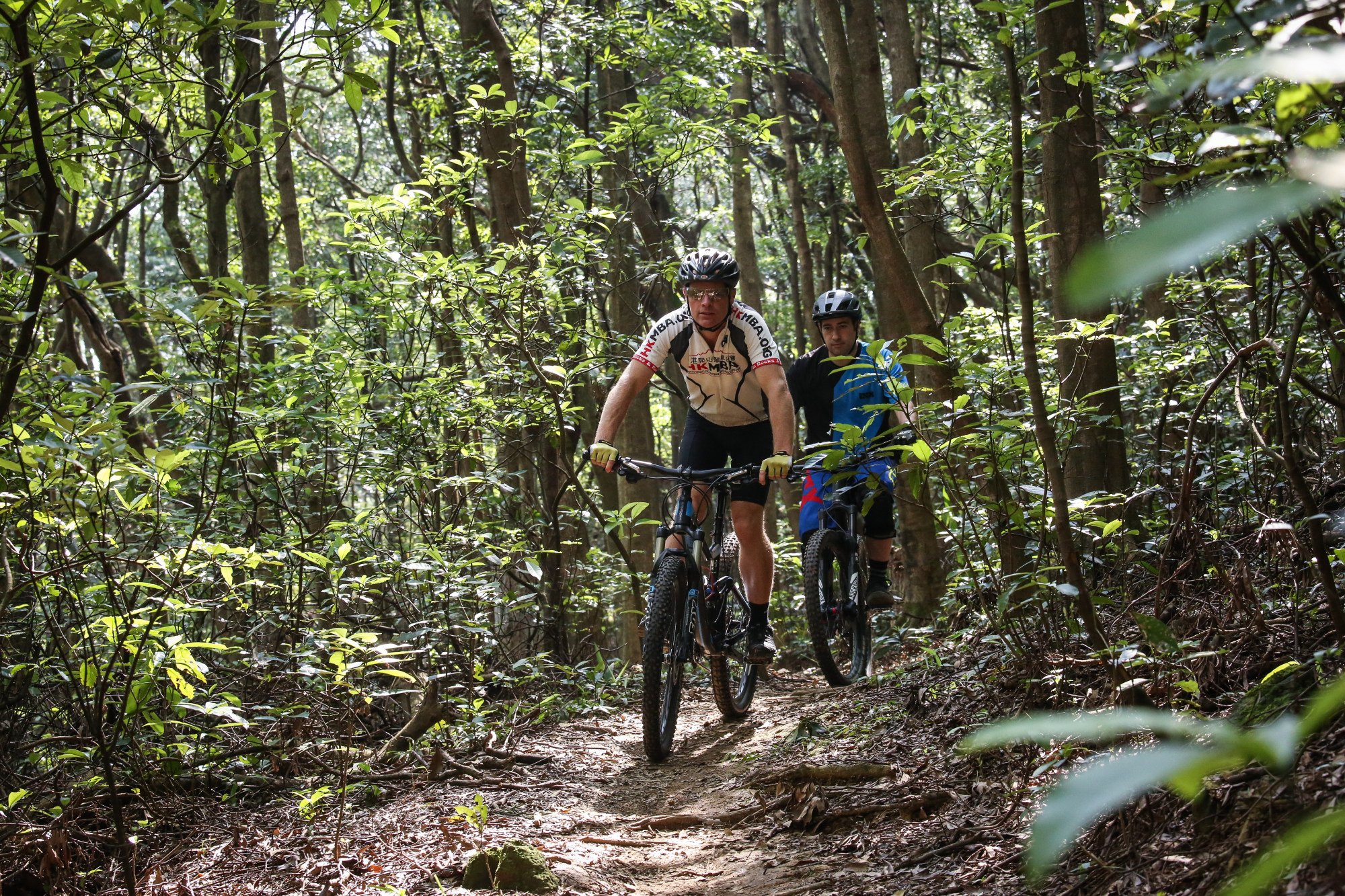 The best laid plans
Many purist backpackers sleep wild, although that can be uncomfortable and illegal in many places. Others choose to stay in accommodation along the way, which keeps things ultra-lightweight, comfortable and allows you to charge gadgets and wash your kit at the end of the day – an essential part of bike packing.
The most important thing is to embrace what is currently available to us. Get out there with what you have, or what you can get hold of, and then plan an attainable route.
Keep it flexible and have yourself a mini "epic." It could well take you to places you've never been before – both geographically and mentally.
Hong Kong options
Hong Kong may not have the epic adventure options of the Himalayas or the Alps, but that does not mean that you cannot pull together a great micro bike packing adventure or two.
Hong Kong has a superb network of dedicated mountain bike trails, which can be pinned together to make for what is perhaps the ultimate adventurous and local bike packing trip, which can be tweaked so suit experience and fitness levels.
Hong Kong's added benefit is undoubtedly the convenience factor. Most spots, including outer islands and the New Territories, are likely to have multiple takeaway stores where you stock up on water and basic food supplies if you're running low.
Outer Islands
For a short weekend away, or even just an overnight adventure, Lamma and Lantau are arguably the two top island destinations for short, mountain biking tours. Lamma in recent years has been singled out for its trails, including Project X and Snake Trail, both located on the north of the island. Lamma also offers a lot of cheap overnight accommodation options plus dozens of excellent restaurants to make your trip one to remember.
Project X is a short 3.5km loop built around Pak Kok Shan, famous for its epic descent towards the end. Snake Trail is still regarded as one of Lamma's best, with a technical single track that dips and climbs across several mountains.
For those with a bit more experience, try the 1.5km Snake Trail that winds around Lamma's wind turbines. Getting there is not difficult, but the trail itself is a challenging narrow and winding track that features steep climbs and equally steep descents.
Lamma isn't the only outer island with some excellent biking trails, in recent years Lantau has stepped up its game and has trails that range from beginner to blue and black diamond grades.
Lantau's Chi Ma Wan is a classic cross-country mountain-bike ride that skirts around a peninsula of protected forest. The terrain is very rocky and has some technical drops, stairs and rock gardens. The entire trail is not rideable – with at least four short sections that require the rider to get off the bike.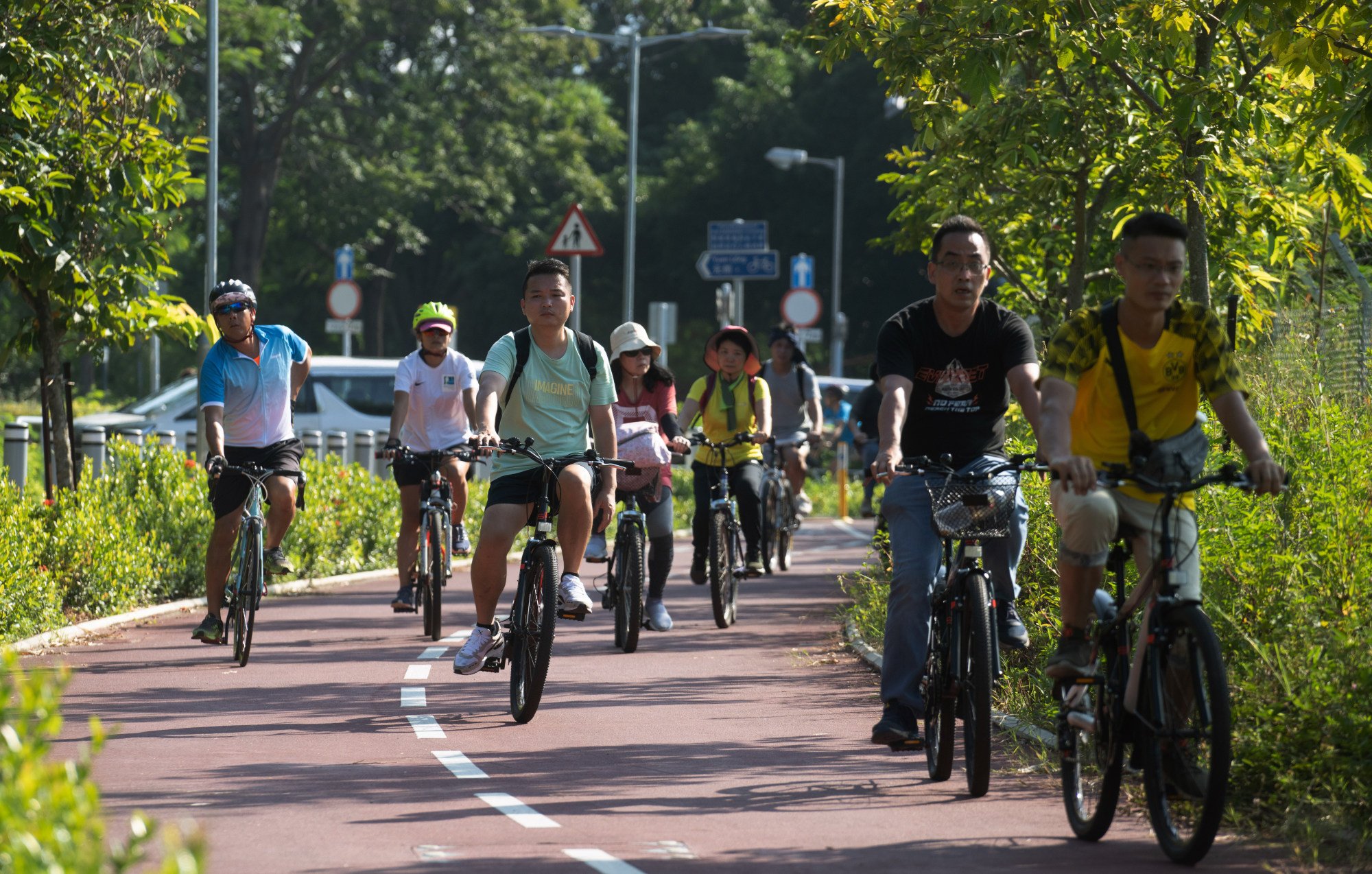 A more recent option is to try Mui Wo's new
mountain-bike park
at the start of the route, with trails that are specially designed for all levels of rider.
Smooth operator
If this all sounds a tad demanding then you could ride the paved bike paths and roads through the New Territories and around Wan Tsai Island (Sai Kung Country Park), which has gravel roads and is well suited to less experienced riders, and which also has a nice campsite. Perfect for a nice weekend adventure.
Another great option is to tackle the 60km New Territories Cycle Network that zigzags through the scenic suburbs of Tai Po, Hong Lok Yuen, Sheung Shui, Fanling and Yuen Long.
Taking around four hours to complete, the full 60km trail brings cyclists through various scenic spots including Kam Tin River in Yuen Long and Long Valley Wetland in Sheung Shui; as well as cultural attractions like Tai Fu Tai and Man Tin Cheung Park in San Tin. There's also plenty of facilities, such as rest stations, bicycle rental kiosks, tuck shops, first aid stations and toilets available en route.
Ho Pui and Tin Man Trails
If you're up for some serious adventure the black diamond trails of Ho Pui and Tin Man are not for the faint-hearted. If you are planning to spend the weekend, you will need a good supply of water, plus a change of clothes, especially for the wetter months where mud is a permanent feature.