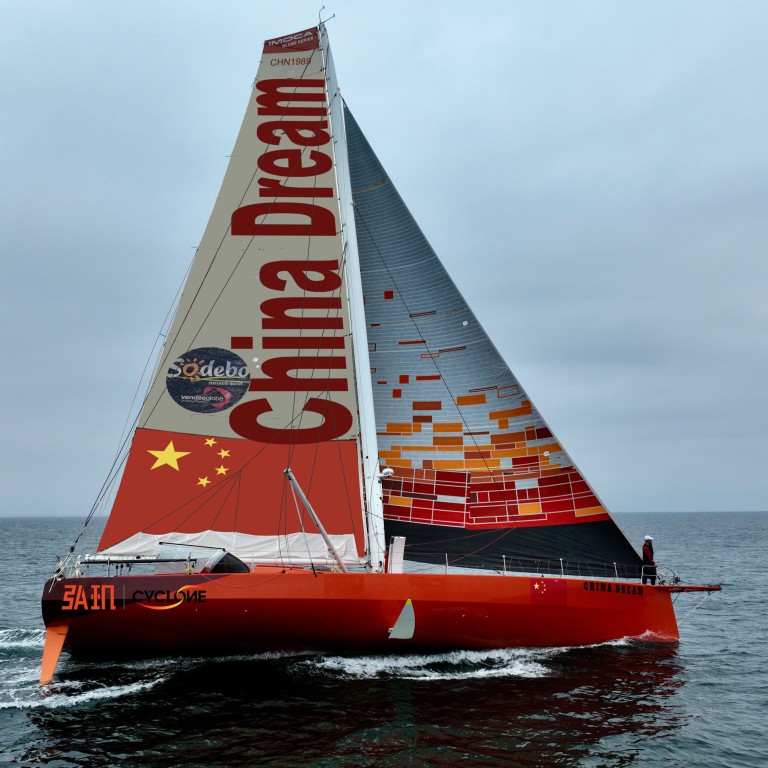 Route du Rhum: Chinese Paralympian Xu 'dare not sleep' as he battles violent storms in race across Atlantic Ocean
Sailor Xu Jingkun is on day six of one of the world's toughest solo-sailing races, showing 'we should have right to have dream'
One of the hardest sailing races in the world, competitors battle the Atlantic from France to Guadeloupe
Sailor Xu Jingkun is breaking boundaries for disabled sailors on the Route du Rhum, and battling violent storms in the Atlantic Ocean that have already forced a host of others to abandon the race.
Considered one of the hardest solo sailing races in the world, the Route du Rhum takes competitors from Saint Malo, Brittany, Metropolitan France to Pointe-à-Pitre, Guadeloupe.
Xu, in his boat China Dream-Haikou, hopes to inspire others to follow their dreams. He lost his arm as a child, and his neighbours said his
"life was finished"
because of his disability.
He went on to sail in the Paralympics and now wants to sail around the world in the Vendee Globe race, but first he must tackle the Atlantic.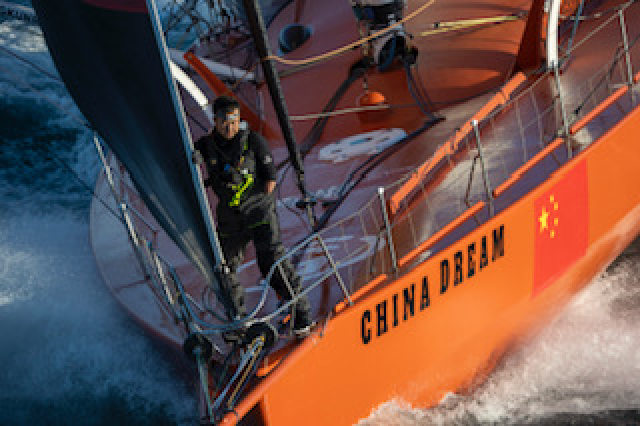 "Single handed or single legged, it doesn't matter, we should have right to have dreams and also we have ability to make our dreams come true," Xu said. "Sailing is my best teacher of life, she gives me the best education, makes my spirit stronger."
"What I get from sailing, I really want to share with the other people, especially disabled people like me."
The start of the race, which he must finish before his solo round-the-world attempt, was delayed because of bad weather, and even with the extra precautions, the fleet has been battered.
In the first storm, Louis Burton (Bureau Vallée), Amélie Grassi (La Boulangère Bio) and Aurélien Ducroz (Crosscall) all lost their masts, while Thibault Vauchel-Camus (Solidaires en Peloton-ARSEP) capsized.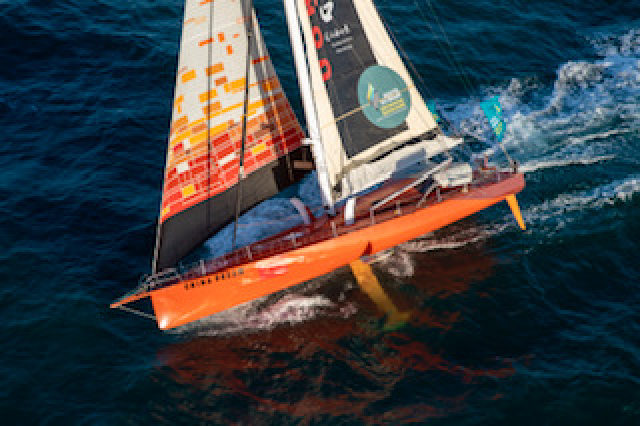 Rupert Henry (Eora) has withdrawn too, citing structural issues. There was also a crash between Oliver Heer and Japanese sailor Kojiro Shiraishi. The former is soldiering on in last place, and the latter has retired.
"I know some boats are abandoned, that makes me more cautious," Xu said. "A little carelessness can damage the boat and make you quit the race. [Night two], the continuous strong wind made China Dream-Haikou hard to control, like a wild horse. I didn't dare to sleep at all, and it became extremely difficult to eat hot food."
Along with the storms, Xu has already overcome other issues. He was caught on fishing nets, which he managed to remove. One of his sails is damaged, one hydraulic generator stopped working, and he was surrounded by cargo ships.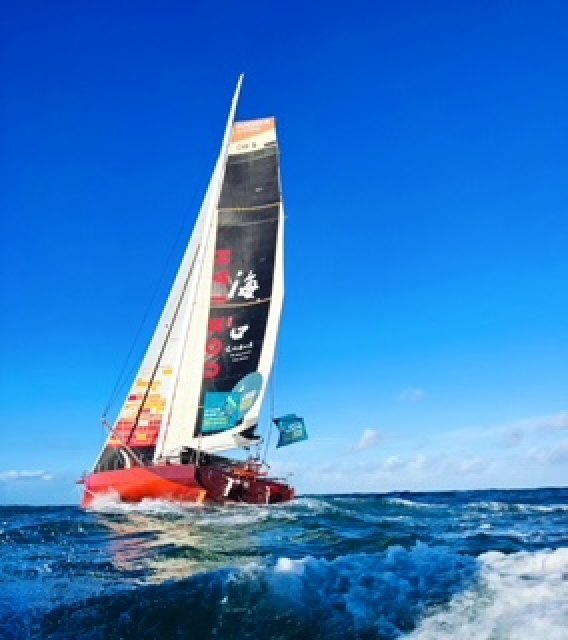 "The Route du Rhum start seems to be in a hard mode for me," Xu said.
To make matters worse, this all happened as Xu passed through the Bay of Biscay.
"I think the only sailing area in the world tougher than Cape Horn is the Bay of Biscay," Xu said. "Every day, I struggled between speed and safety. As a racer, absolutely I want to increase the speed. I know that this boat has potential. But no one could tell me where is the critical point."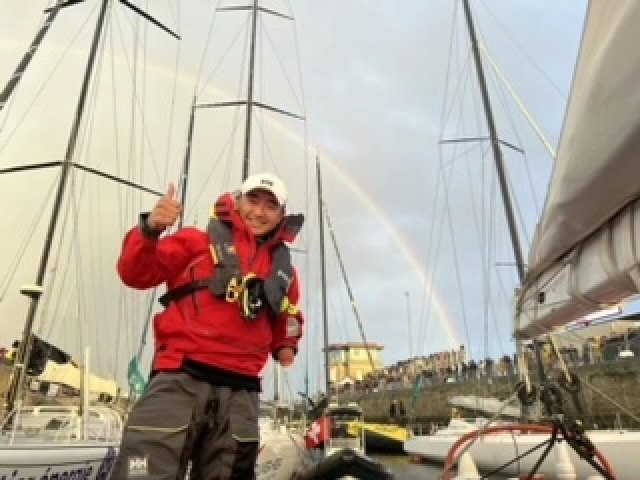 Although Xu wants to go fast, he is only focused on using the race as a stepping stone to sailing round the world in the Route du Rhum.
"Competition is not what I care about, my budget is around one-tenth of [other sailors like] Charlie Darlin or Jeremie Beyou," he said. "This is the first year of my project, the first race, we are not on the same start line."
"I will just focus on my competition with myself, what I need just to do to better myself. Even thought I have finished three trans-Atlantics this is the first time in IMOCA class. I do not expect more than to finish."
The Bay of Biscay is behind them now. They are now in the trade winds, though these seem less consistent and stronger than usual.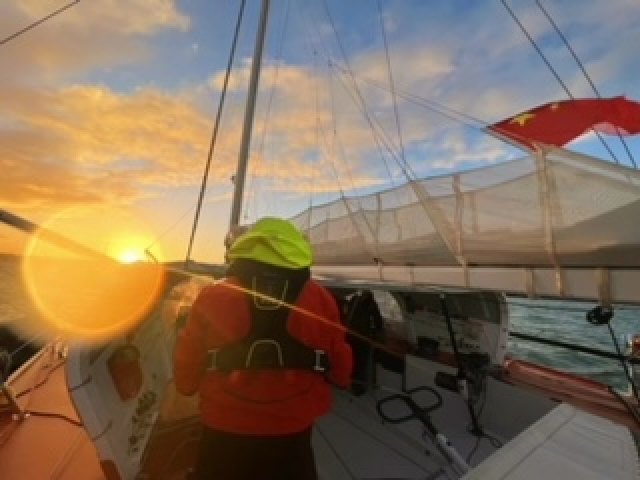 Haikou, the second half of Xu's boat name, refers to the city in Hainan, mainland China. Xu has received support from the sailing community in Haikou. They share his dream to spread sailing, and get more youth and disabled sailors involved.
"That's exactly what I want, sailing is still not a big thing in China, I hope through me joining in the Route du Rhum I will help this wonderful sports develop more, let more Chinese people know about it, like it and enjoy it."
"[Just] to stand at the start line as the first Chinese sailor is wonderful, and at the same time as a disable sailor, it has a bigger meaning," Xu added. "I hope I could stand there to show maybe we are a little different from "Normal people" but we are able to do a lot of things. Please believe that, no doubt."
As the fleet takes on more weather fronts and unforeseen difficulties, Xu will show just how abled he is.
"I have seen hundreds times the sun rise on the sea, but every time it amazes me," Xu added. "And when the sun rises as usual everything will have a solution. A new day is beginning."