Wonder Woman was the inspirational film of 2017 and four Hongkongers are using its message to help motivate people to put on a pair of running shoes.
Christine Leung Fung-yee, Mandy Yung Pui-chi, Gigi Lau Pui-chi and Edo Tsui Kwan collectively call themselves "Runder Woman" and have been building a following on their Instagram account with pictures from their travels documenting their journey.
"It's for fun and to have a motivating drive in my life to achieve something," said sales and management worker Leung, whose own path in the sport started six years ago when she tentatively decided to run in the 10k category at the Standard Chartered Hong Kong Marathon.
"At that point I had no idea what pacing was, it was just complete the race and if you do it without walking, you're really good.
"It was about whether you walked or not. I realised that after completing it, you feel very satisfied and from then on, I took part in as many runs as I could, became more motivated to continue and made many friends in the running community."
It was with three of those friends that Leung formed Runder Woman, as they helped each other progress from 10km races to half-marathons and then full marathons over the last three years, competing in the Nagoya, Berlin and Chicago Marathons in 2017.
"Christine and I are friends, she encouraged me to run," said Yung, who works in retail and has her own business. "It's a mix of tracking times and having fun, both are important to us."
The group gathers after each race and push each other to do better and run harder, discussing running techniques, comparing distances and arranging to practise together.
"I hated running before," said editor and blogger Tsui. "But I wanted to lose weight. Slowly I realised the benefits that come from it.
"It's very relieving, you can think about things and figure problems out in your head. After running you want to run in other new events, the ones abroad give you a chance to see a different culture and environment."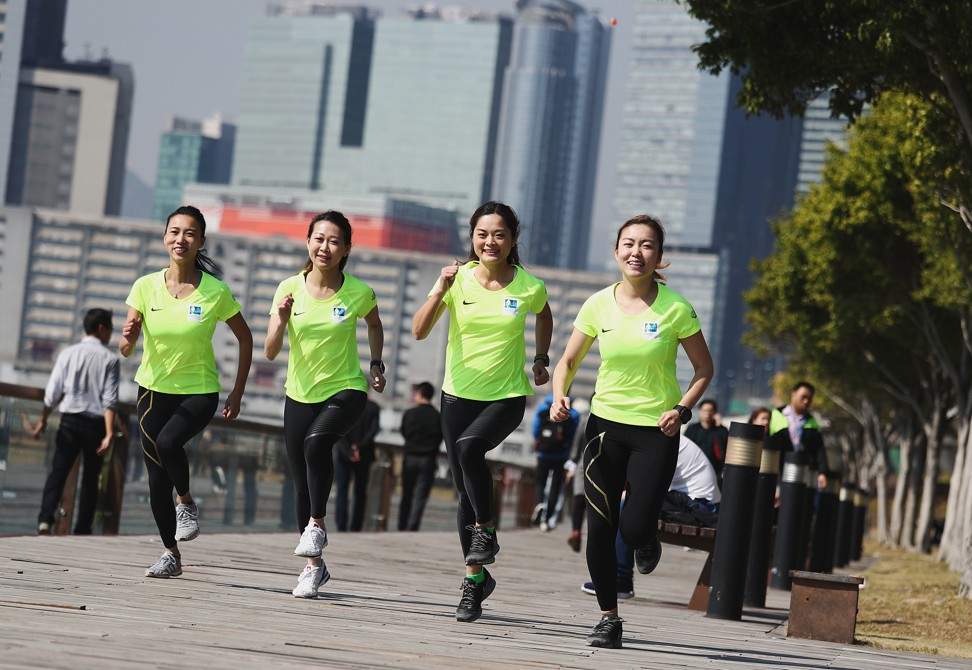 While Leung, Yung and Lau will run the half-marathon this weekend, Tsui will tackle the full marathon.

"After each marathon we take a break, I think we probably should have trained more for this but we'll try our best," said Tsui.
"Actually last year I already wanted to do the full marathon but I didn't get drawn, so this time I have to do it, especially since we've done so many last year, I want to see what it's like to do a full marathon in Hong Kong."
The London Marathon in April is next on the list and New York is on the horizon in November.
"The first time was really hard, but after I wanted to practise more and get better core muscles," said sales and marketing worker Lau. "I needed to set myself a training programme and schedule, twice a week training at least.
"Put some running shoes on and try running outside, just 1 or 2km, don't time yourself. It's healthy, you lose weight, and you feel more awake at work."