Melaku Belachew dancedon the finish line after breaking the Standard Chartered Hong Kong Marathon men's record last year – and we could get to see some more of his moves on Sunday if all goes according to plan for the Ethiopian.
"I feel good now, I will win this – again!" the 27-year-old – who finished the 2017 race in two hours, 10 minutes and 31 seconds – said as he gave a thumbs-up sign.
Speaking after a news conference at the InterContinental Grand Stanford Hong Kong in East Tsim Sha Tsui, where over 30 invited overseas runners where presented to the media, Belachew was feeling confident.
"Yes, I will do it, I will break my course record," he added. "I think everything will be OK, I am in good condition."
The weather conditions may not help, with Sunday forecast to be sufficiently humid for a leading sports scientist to warn the 74,000 runners taking part to "slow down" as fears of heatstroke rise.
The Hong Kong Observatory expects a temperature between 17-21 degrees Celsius with a relative humidity of 70 to 90 per cent when the event starts early in the morning.
"We will see, the weather I think will be OK," said Belachew. "I can't be sure now if it will affect me. But not too much, hopefully.
"I saw the forecast, it will be good for running."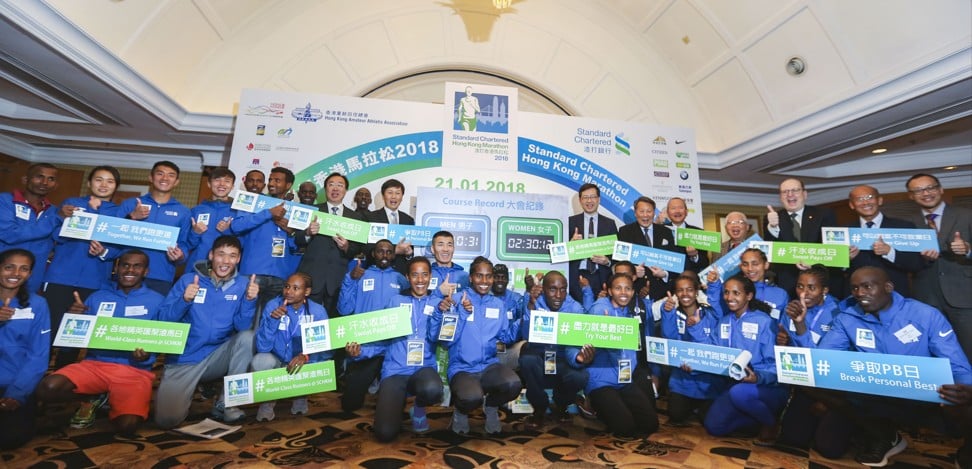 The conditions will certainly be tougher than last year, when Belachew dominated the field in perfect weather to land a cheque of US$65,000 (HK$504,000) along with a bonus of US$5,000 for completing the race quicker than 2:12:00.
"Last year I was not expecting to get the course record for winning but everything was very good for me, the weather, my performance," he said. "That was not an expected result for me."
Belachew's brother and his coach have also travelled to Hong Kong to support him.
"I did some special training for Hong Kong this year, I prepared for three months," he added.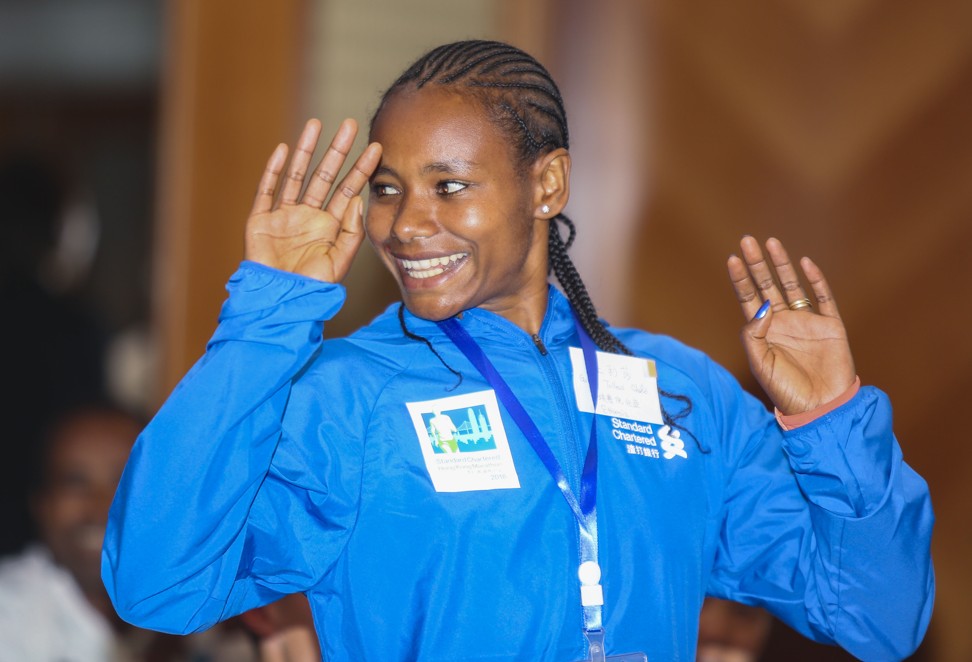 Gulume Tollesa Chala made it a clean sweep for Ethiopia at the Hong Kong Marathon in 2017, winning the women's race in 2:33:39.
The 25-year-old is hoping to go one better this weekend by breaking the women's course record, which stands at 2:30:12.
"The conditions are maybe difficult but I am prepared for the race more than last year with my training. I am ready to break the course record," she said.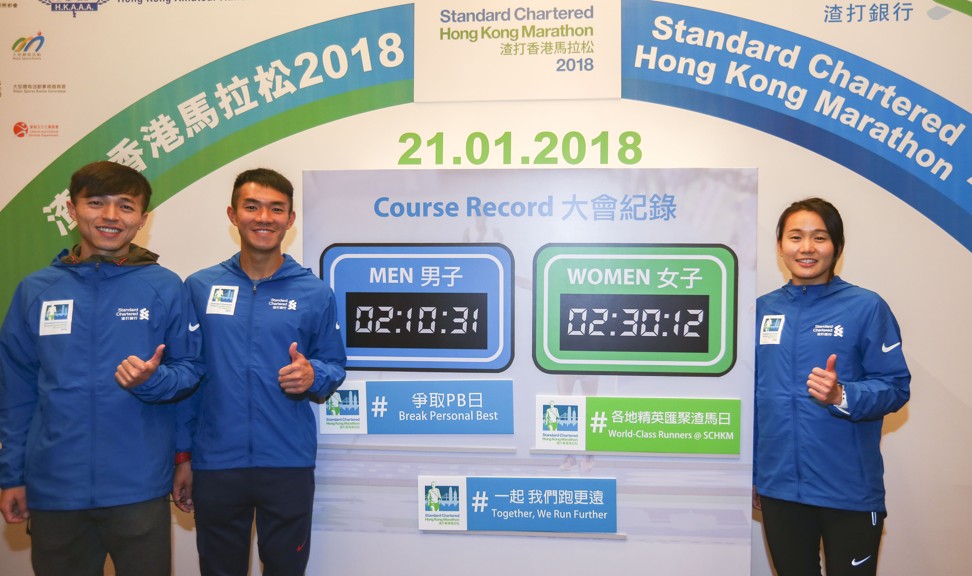 Joining the elite overseas runner at the InterContinental were local star runners Ngai Kang, Wan Cheuk-hei and Wong Tsz-yan.
Wong said she hoped to pick up where she left off in 2017 when she runs again in the women's marathon on Sunday.
The 22-year-old clocked 2:49:54 at the Asian Championships in Guangdong in November to become the fourth Hong Kong woman to finish within 2:50:00 in 10 years.
And she has another point to prove after finishing in 3:08:16 at last year's Hong Kong Marathon.
"I am eager to prove myself again in this year's event after a successful year," she said. "Everything is going according to the plan and hopefully I can do another 2:50 this time.
"It's been a couple of months since the Asian Championship and my recovery hasn't been too bad.
"In the long run, I hope to qualify for the Olympic Games with Tokyo 2020 the target, to follow in the footsteps of [Rio 2016 Olympian] Christy Yiu Kit-ching."