Hong Kong triathlete Abraham Kok Yu-hang surpassed expectations, his personal best and the rest of the field to win the Standard Chartered Hong Kong Marathon 10km men's overall category on Sunday, coming from behind to pip the race leader at the last.
The 21-year-old finished in a remarkable 31 minutes 58 seconds, almost a full minute faster than his run the year before.
"I ran 32:40 last year, it's a big improvement in one year," said Kok, who has been running for five years. "I think it's because I do triathlon; running is not the only important part of my race – I think about it as a whole – so I just followed my personal best from last year.
"It was really competitive," he added. "My teammate and I were chasing the leader all the way, and I ended up passing him right at the end. The last 3km was difficult because of the strong winds.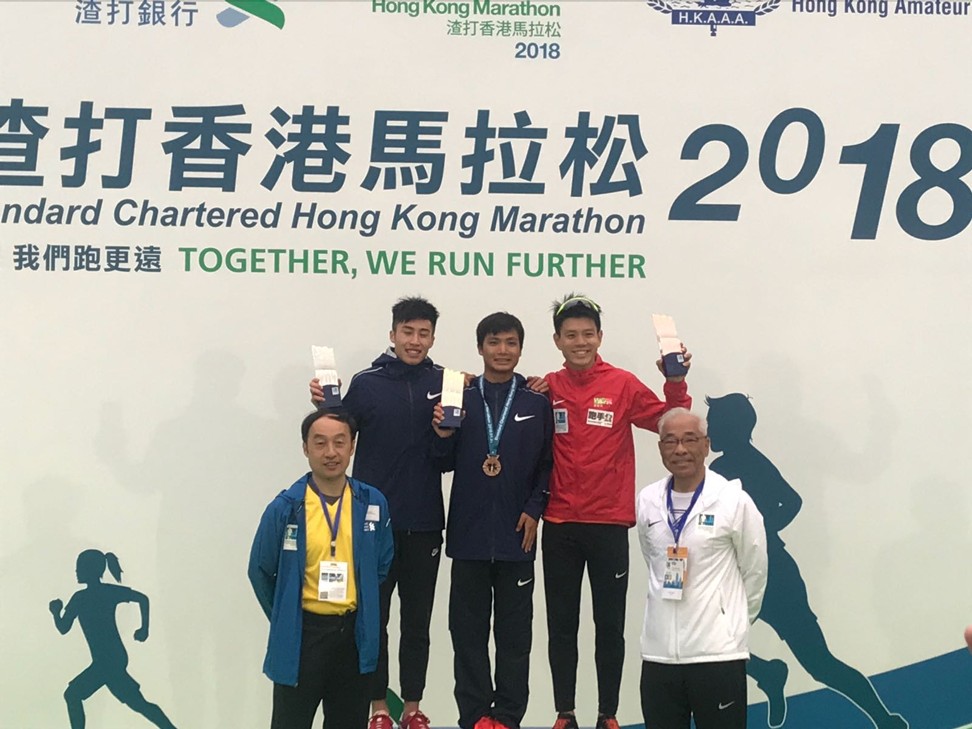 "I honestly never thought I would win, let alone clock such a strong time. I aimed for the early 32s but I was surprised. I knew there would be runners from Japan and other places, so my plan was to follow their lead and secure a good time."
Kok underwent a training camp in Australia before the Hong Kong Marathon as he is also preparing for the ITU World Cup in South Africa in February.
Follow LIVE Hong Kong Marathon results, updates and pictures from the finish line at Victoria Park
"One reason I did so well was that there was less pressure," he explained. "I think a lot before and after a competition, but today was just about getting the pacing right and the time would follow.
"We have been training hard recently and since it wasn't as cold as last year, my warm-ups worked better and so did my time. I'm very happy but now I want to sleep."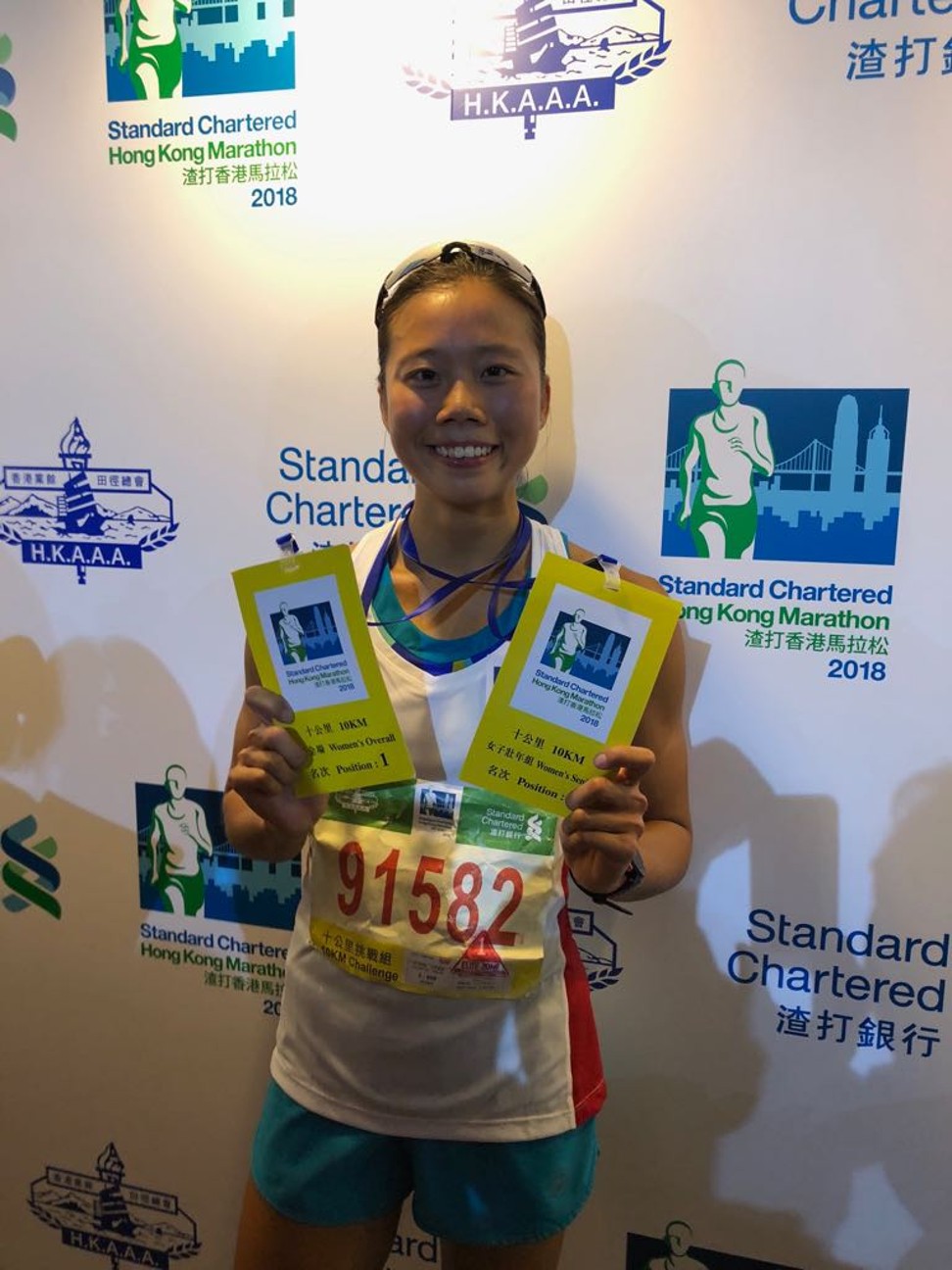 In the women's category, local triathlon star Hilda Choi Yan-yin sealed the overall win after running her personal best in 37:15.
"My target was 38 minutes," said the 24-year-old Hong Kong triathlete. "It's very encouraging that I got even better and it gives me the belief that I can compete with anyone in the world.
"This year was more relaxing because there weren't as many vehicles, the turning areas were not as congested, and the roads were straight," added Choi, who said the U-turn at the 7 or 8km mark was the toughest section of the race. "The weather wasn't too hot and the race was well organised so I felt particularly comfortable."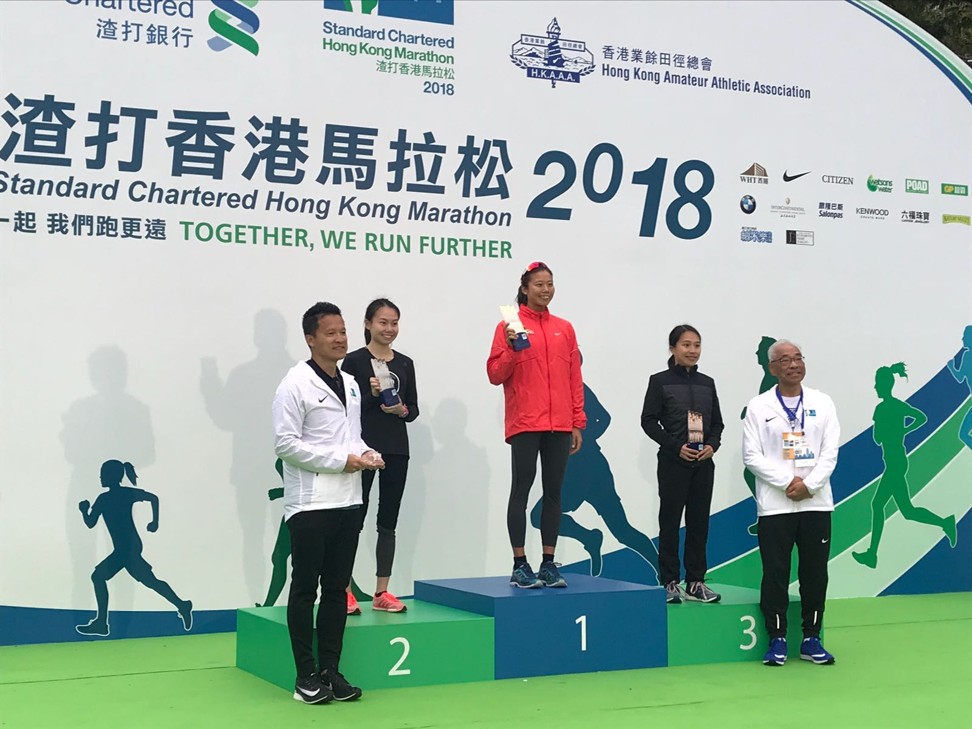 The Choi family were also out in full force to show their support.
"I'm delighted this year because my dad, mum and older sister ran the 10km as well," she said. "It was like a family gathering."
Choi, who will also compete in February's World Cup in Cape Town, targets the Asian Games and the Olympics in the longer term and said her coaches have been paying attention to individual performances since the start of the new year.
"They take everything into consideration," she said. "The triathlon is a unique competition that requires a lot of effort so I have to train well."
Choi and her teammates run around 60 to 80km and bike 300km per week, adding that the 10km run was "kind of like training".
"The coach has instilled a lot of belief in our team; he tells us to consider honesty, accountability, responsibility and trust when we run. It makes us believe in ourselves."