When Bonsa Dida Direba was born in 1995, Kenneth Mburu Mungara was already 21 years old. But it was experience rather than youth that won the day in Victoria Park on Sunday.
The 44-year-old Kenyan Mungara, a former barber who was only enticed to the sport in his 30s when he cut the hair of other runners, finished the men's Standard Chartered Hong Kong Marathon in 2:13:38, pipping the Ethiopian who is almost half his age to the line with just five seconds separating them.
Barnabas Kiptum of Kenya was another eight seconds back in third.
Direba has time on his side – today is his 23rd birthday – but there was no gift for him in Hong Kong.
Mungara even celebrated with a dance that dismissed notions the elder man was tired after being pushed all the way for 42.195km in Hong Kong.
"I was very happy, that's why I danced," he said.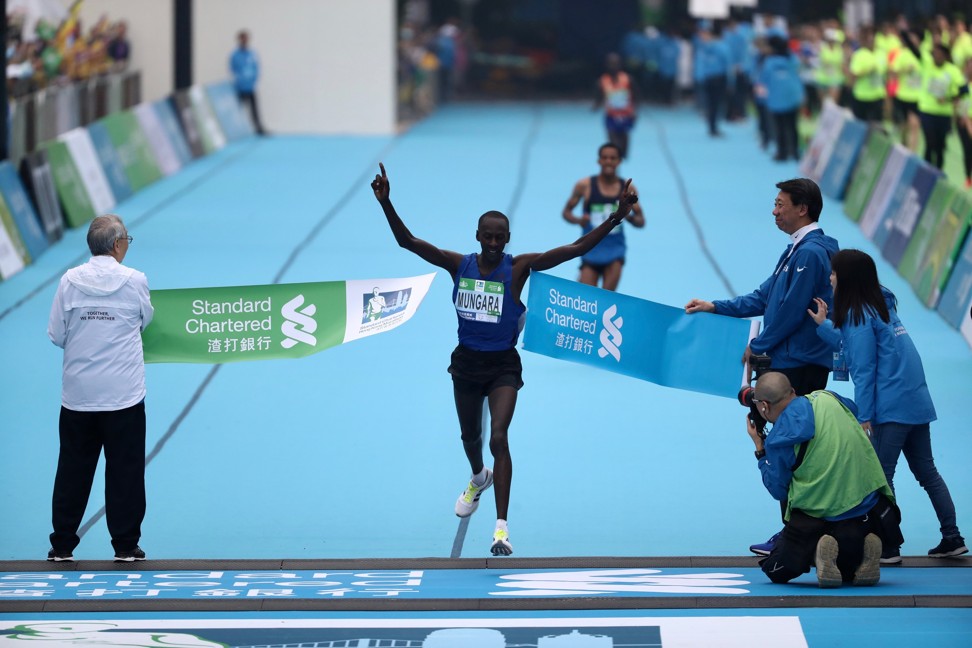 So what's his secret? "The secret is to keep on running," Mungara said, "keep on training."
While the weather was "very good – better than we were expecting before", according to Mungara, it wasn't all plain sailing for the veteran.
"The 19th kilometre was very difficult because it was very windy," he added.
Three runners in critical condition after Hong Kong Marathon; 15 hospitalised
Mungara was delighted to have finished ahead of the field in Hong Kong, especially as he was neck and neck with Direba for much of the latter stages.
"Very happy, because we are challenging each other there when we are coming. so you have to keep quiet and challenge this guy," he said.
Direba was still close in the final straight in Victoria Park, causing Mungara to look over his shoulder at the youngster which spurred him on to victory.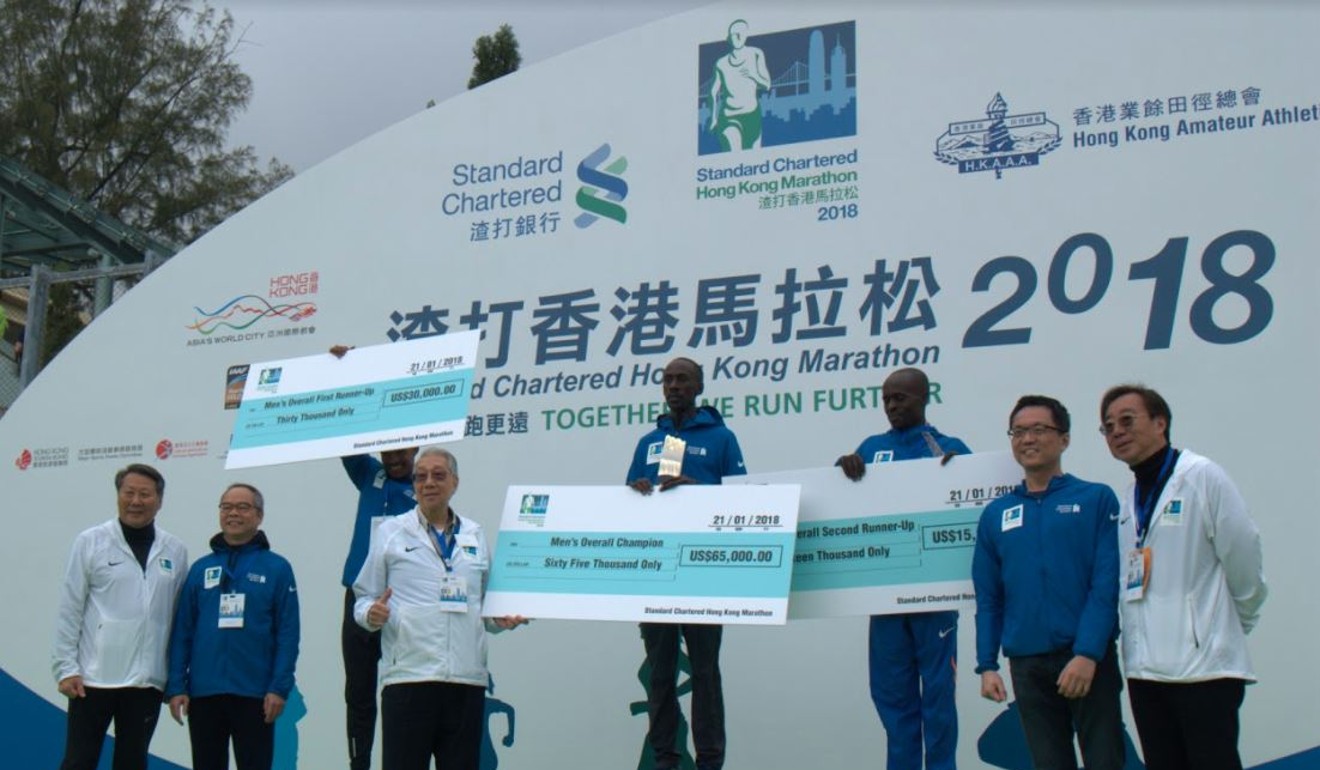 "Everybody coming here, their dream is to win the race," he added. "That is why I looked forward to win the race."
Mungara – who holds the world record for the marathon for over-40s, 2:08:44 in Milan in 2015 – acknowledged it's not easy to go against younger men.
"That is a challenge, man," he said. "That is a big challenge. Because these guys want to keep you, to take you back home and you want to stay there so you have to challenge them, you have to stay there, you have to train every day, and work hard to maintain that position number one."
Follow LIVE Hong Kong Marathon results, updates and pictures from the finish line at Victoria Park
He took first on the podium on Sunday and also a cheque for US$65,000 but he won't be spending his prize money.
"I told you I have a family. I don't use my money like that. I'll take it home and discuss with my family. I have a beautiful boys and girls."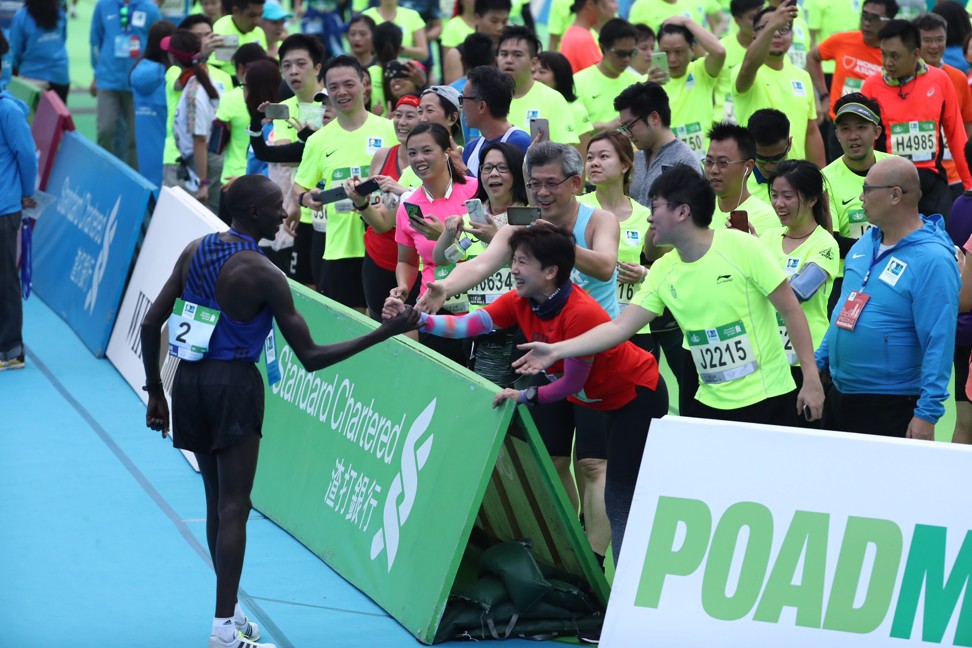 The masters world record holder has much to offer in open age racing and said that today's win was a message: "I am going to the Commonwealth [Games], I wanted to make sure I won."
As for Hong Kong? "If they invite me I will be here next year," he said.
Direba – whose marathon PB of 2:10:16 is faster than the Hong Kong record – might fancy his chances in 2019 but so does the champion. When asked when he might break his masters record his response was ominous: "Maybe next year."
There's no reason to disbelieve the late bloomer, whose first marathon win was in 2008 and his most recent before Hong Kong in 2016.
Last year's champion, Melaku Belachew of Ethiopia, did not live up to his promise of breaking his Hong Kong Marathon record of 2:10:31, although his compatriot Gulume Tollesa Chala retained her women's title, finishing in a record 2:29:36.