Icelandic powerlifter and actor Hafthor Bjornsson said he had "no words" to describe his world record deadlift last week as he eyed a challenge of a different kind against long-time nemesis Eddie Hall.
Bjornsson, who played the character Gregor "The Mountain" Clegane in the hugely successful TV series Game of Thrones, told his Instagram followers that he had "an amazing day" as he set a new world deadlift record of 501 kilograms, breaking Hall's previous record by one kilogram set in 2016.
"I have no words. What an amazing day, one I will remember for the rest of my life. I said I was coming for it and once I set my mind on something I'm a dog with a bone. Want to give a huge shout out to my family, friends, coaches, fans, sponsors and haters, all of whom helped this lift be possible," said 31-year-old Bjornsson, who stands 6-foot-9 and weighs 425 pounds (2.05m tall, 1920kg).
Bjornsson made his lift look rather easy as he set the record at his home gym in Reykjavik, where a handful of family and friends attended in compliance with Iceland's ban on gathering in large numbers because of the Covid-19 pandemic.
Just after his lift was made, Bjornsson told ESPN, which televised the event: "I'm obviously speechless. I'm just so happy and thankful that I got the opportunity to do this, even though the world is going through what it's going through right now. I'm over the moon."
Bjornsson then said he had signed a contract with Core Sports to fight "The Beast" in the boxing ring although a date has not been officially set.
"Core Sport just offered me a seven-figure contract. I've signed already and I know he [Hall] got the same deal. I'm ready … are you ready, Eddie?"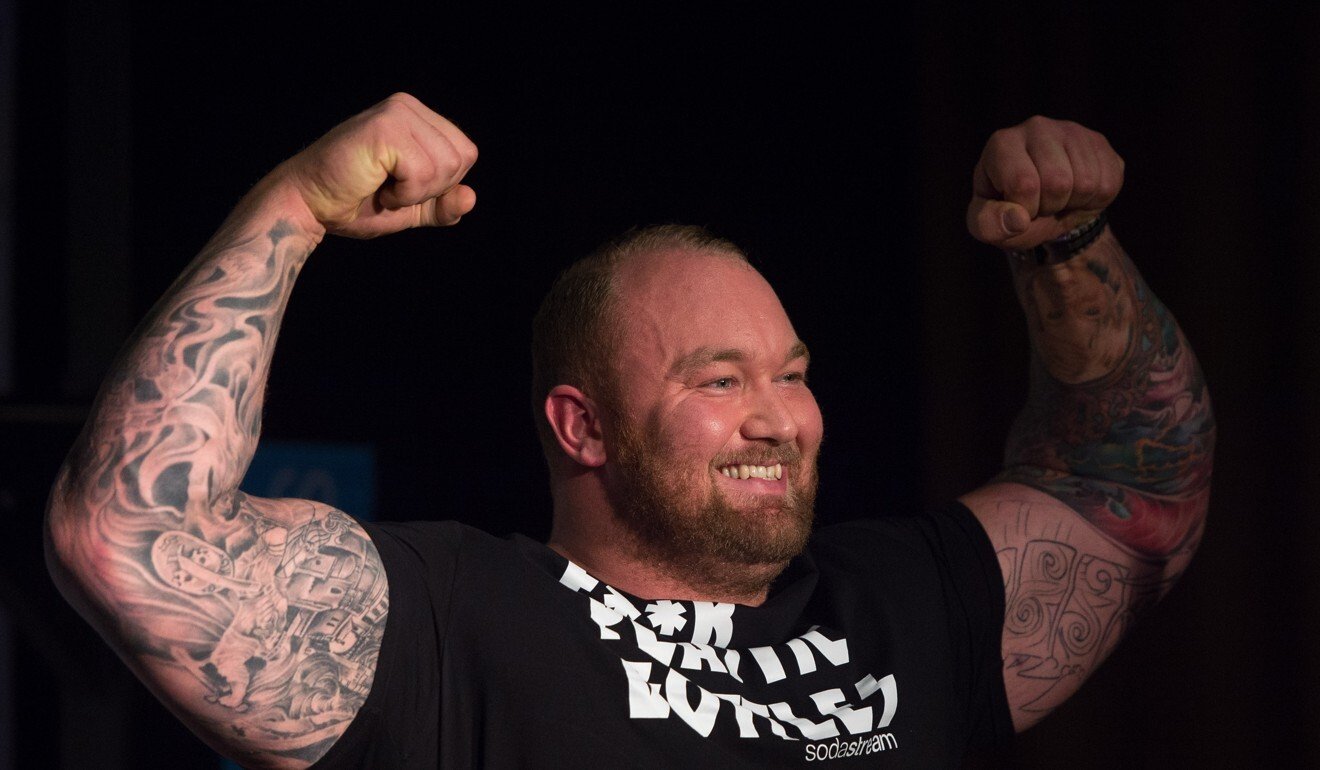 Hall, who won the 2017 World Strongest Man competition, responded by saying that he had signed the contract, and that there was "no backing out". Bjornsson won the 2018 World's Strongest Man and Hall wants to return to the limelight as the pair look to settle their differences in the ring.
"I hope you're happy. I know I am happy because I get to step into the ring with you and do business which is absolutely fantastic."
Hall then said he would train "harder" than ever before, warning the Icelandic star that "he'll teach him a ****** lesson. Good luck because you're gonna ******* need it".
Just a day earlier, British strongman Hall wished Bjornsson good luck on social media. "Good luck to @thorbjornsson for his 501kg deadlift today, hope he smashes it and look forward to him attempting it at a competition too when all this is over."
Help us understand what you are interested in so that we can improve SCMP and provide a better experience for you. We would like to invite you to take this five-minute survey on how you engage with SCMP and the news.