Hongkonger Michael Tomordy's first climb to a Mount Everest base camp ended in tragedy.
The 47-year-old engineer, who works for a risk and technology consultancy company, joined a training climb to Camp 3, also known as the Lhoste wall, in 2014. The area has its highest point at close to 8,000 metres above sea level and climbers usually do a number of attempts to various base camps when taking on the summit to adjust to the altitude.
Sadly, the trip ended in tragedy as an avalanche killed 16 Sherpas. Tomordy said the memory has stuck with him.
"The ice fall is a bit like Russian Roulette," said Tomordy, who started mountain climbing in his late 30s. "We watched the events (from base camp) and saw the helicopters, the long line of bodies."
Undeterred, Tomordy, who first visited the area in 1994, went back.
"I tried the same training climb in 2017 and was successful. I think you need to accept risk in this sort of activity and just work to mitigate the risks."
Then this spring, he attempted his first summit, hitting the peak on May 23 early in the morning. Tomordy said there was one thought going through his head as he debated trying to summit Mount Everest, the world's highest point of land which stands at 8,848 metres and was first conquered by Edmund Hillary and Nepalese Sherpa Tenzing Norgay in 1953.
"I thought, I am not getting any younger and do not want any regrets later so I decided to go for it."
When Tomordy got back, he decided to take on another daunting challenge, writing a book. The result is The Beginners Guide to Climbing Mt. Everest – A Practical Guide and Tips, a self-published book of which Tomordy is donating 25 per cent of the proceeds to the Mount Everest Foundation For Sustainable Development, which is based in Nepal.
He said when summiting Everest you need to be open to new things and experiences all the time, and that fear is an emotion you need to confront on a regular basis, and also accepting the real possibility of serious injury or even death. Tomordy chose the unique title of his book for a few reasons. He said staying in a "constant beginner" mindset, which he said comes from Zen Buddhism, helped him immensely in summiting Everest.
"The irony is that expert mountaineers are often the opposite and make fatal mistakes. Most importantly for me is that if a climber takes one tip or piece of advice away that enables them to have a safe trip then it has served its purpose. I equally do not believe you can summit Mount Everest purely in the belief you can make it, that would be delusional. You need to have backed it up with the right training and experience."
According to the Himalayan Database, as of 2017, 4,833 different people have summited Everest and 288 people have died on various parts of the mountain range. This works out to about seven people a year dying on Mount Everest. While he was on his way down he passed 19-year-old Benjamin Chan, who became the youngest Hongkonger to ever summit the mountain.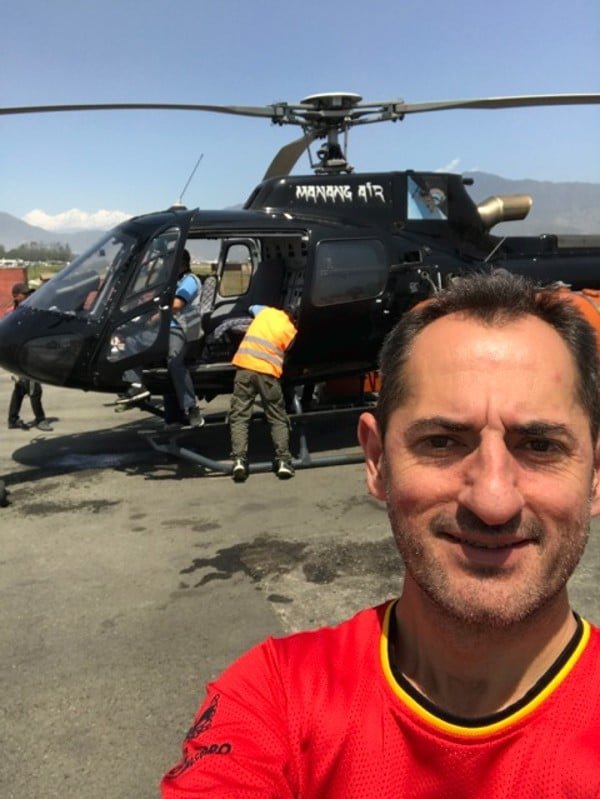 Climber Dan Mazur, who received the Sir Edmund Hillary Mountain Legacy medal in 2018, also wrote the foreword for Tomordy's book. Mazur, who has summited eight of the world's peaks that stand more than 8,000 metres, said the biggest takeaway from his friend's book is that you need to have the right philosophical mindset when approaching such a massive challenge.
"Walk softly, be humble but observant, watching for signs all around you and inside yourself. And then when the time is right, be physically fit and mentally prepared to go for it. Get to the top and come down safely."
Or, as Tomordy puts it more bluntly: "you need to lift your head, face fear, knee it in the nuts and move forward."
Tomordy also touched on another reason for the slightly peculiar title to his book, which could be seen as an oxymoron.
"Well I considered 'The Idiot's Guide' or 'The Dummies Guide', but those were already taken."