What do domestic helpers, architects, bankers and retirees have in common? They all love trailwalking, according to Hong Kong-based hiking team Scrambled Legs.
"We're all from very different backgrounds but united by the same passion," said British expat Ray Walkden. "Within the same group, two are from the Philippines, one from Malaysia, and one British.
The quartet joined 1,300 other teams on Friday for the Oxfam Trailwalker, which follows Hong Kong's most memorable trail, the 100 kilometre MacLehose.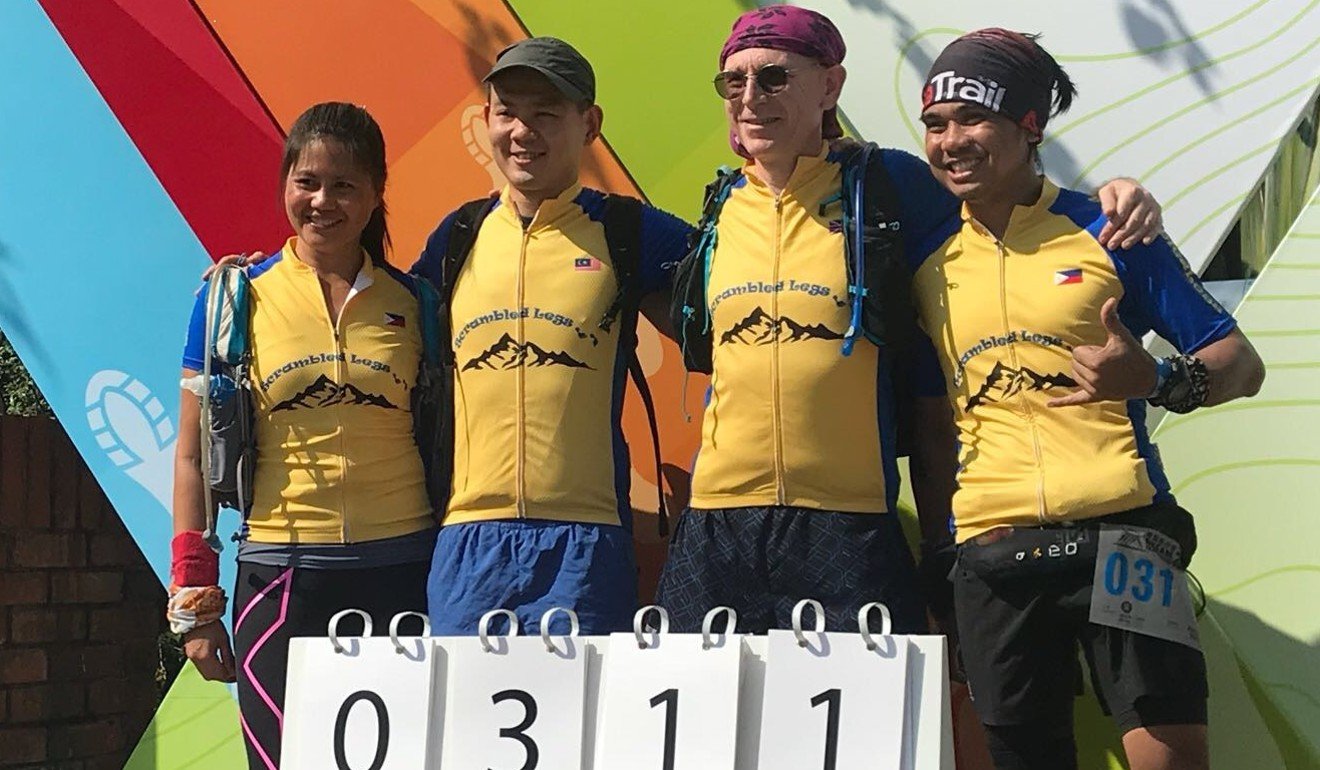 "We've been training throughout the summer for this, so time to enjoy," said Walkden, who joined his team for photos under the sweltering Pak Tam Chung sun on Friday morning.
"We should be used to it because we've done long hikes around Hong Kong, some in the heat, some overnight."
Scrambled Legs is one of dozens of teams taking part under Hong Kong Hiking Meetup (HKHM), a hiking community organising regular hikes around the city and volunteers and donates to various trailwalking, hiking and climbing events.
"They support us with food, drinks and motivation," said team captain Daisy Linas, a Filipino domestic helper working in Hong Kong.
"It's my third time doing this Trailwalker. I've done it with different HKHM teams in the past. For us, it's not about speed.
"It's about accomplishing something difficult together. I think that's why I managed to do it three times, because we push each other a lot."
Fellow Filipino Rowell Campos is an architect in the city and brings a wealth of hiking experience from his time working in China.
"I just moved to Hong Kong and it's really different to what I expected. I go running every night because I want to release my stress; Hong Kong is quite a busy place."
Banker Amos Koh rounds off the melting pot that is Scrambled Legs. The Malaysian's Trailwalker debut is the result of many practice hikes around the city.
Firefighters, vegans, medics, legal eagles ... they're all on the start line at the Oxfam Trailwalker
"We started off hiking together, but this is the ultimate test," said Koh. "Once we've done this, we've pretty much done all the hiking we need to do."
Walkden added: "We just enjoy the challenge and camaraderie. We're not in it for the speed or competition; we're here to enjoy, not kill ourselves."