One of the last to depart at this year's Oxfram Trailwalker was a team wearing purple shirts that said '248 years old. 8 legs. 4 old men. 1 heart.' What do these numbers mean?
"We're all over 60," said Chan Yan-yin, 61. "If you add of our ages together, it makes 248 years old."
Neighbouring trailrunners glanced at the group of Hong Kong seniors as they loosened up with some jogs and stretches. Do not be fooled, however; all four are retired marathon runners representing Marathon Training Centre.
"We are all marathoners," said 63-year-old David Chan, who is fresh off running the New York Marathon earlier this month. "It's my first trailwalk. Basically, our stamina is good but we lack a bit of strength."
Victory first, then think about the record – Team Nepal talk how they can go faster than last year in Oxfam Trailwalker
Chan has run 22 marathons since his retirement in 2008; he was on the treadmill one day when he saw a live marathon shown on TV. The rest is history.
"I decided right then that within three years, I would complete a full marathon," he recalled. "Now, we're doing Shui Long Wo all the way to Tai Mo Shan – 50km nightwalks in about 14 hours. We're quite confident we can do the trailwalk in under 24."
'We're here to enjoy, not kill ourselves,' says the Trailwalker team known as Scrambled Legs
Training was in full swing from May until late October, when most experienced trailwalker and team strategist Tsang Chin unfortunately lost his footing during a routine walk.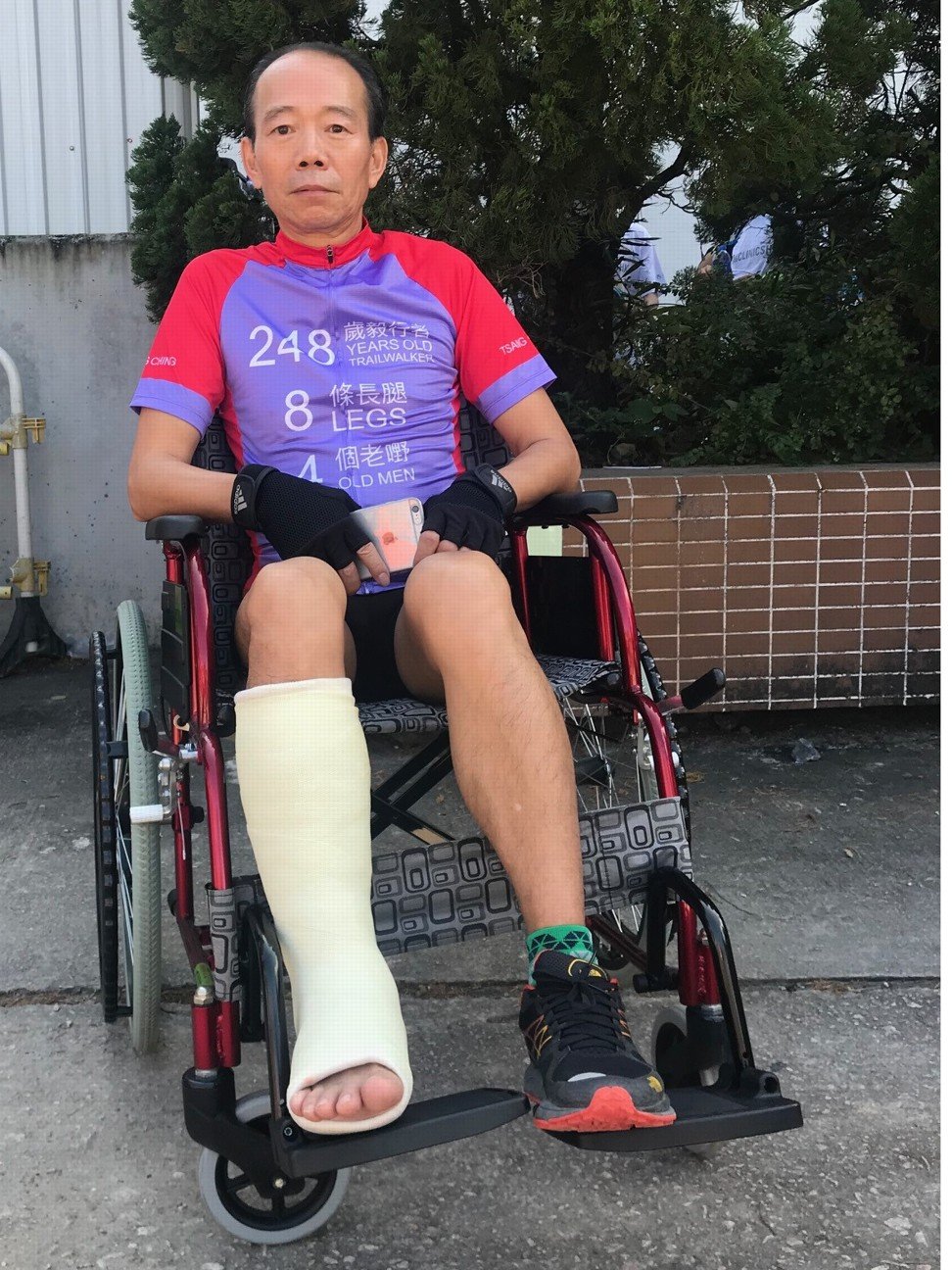 "It was really unlucky," said Chan. "We were doing a sort of final rehearsal of the nightwalk and – right at the last 300 metres – he stepped on an uneven step and fractured his foot."
Losing the 62-year-old talisman was a devastating blow for 248. With the team a member short, would they still be able to race?
"He couldn't walk so we had to quit," said Chan Yan-yin. "We asked Trailwalker if we could go as three and they said we were free to go along."
"[Tsang] was the guy who motivated us throughout the whole training programme. He was the one who set the routes, schedules, and the under 24 hour challenge," said Chan.
"He is still urging us to go on."
'Champagne Hill' is the new checkpoint for Trailwalkers gasping for ... water
Tsang, who currently rests in a wheelchair, will be anticipating his peers' arrival at the finish line as they adamantly march ahead as planned.
"I will be there. No one is out. We are a team," he said.
The team will be tracked by a younger, fresher faced support team for any feed breaks and emergency supplies. Perhaps they could learn a nugget of wisdom or two from these old boys along the way.
"Why do we keep doing this?" asked Chan Yan-yin. "Simple: to keep healthy. To make sure we have the right conditioning to meet our targets.
"The most important part of this whole process is the training. The most important thing is to have good health. See you at the finish line."