After finishing in the top three at The Great Relay for the fourth straight year in Aberdeen Country Park on Sunday, OutRunners HK hope to serve as role models to Hong Kong's LGBT community.
Sunday's team of Yannick Asselin, Henry Chu, Alex Chong and Nic Jarrett believes the LGBT community is less accepted in Hong Kong than in Western countries, so having a group of athletes to look up to is especially important.
Chong, an avid runner who finished ninth in the Moontrekker two weeks ago, has been the group's manager and leader for the past few years. The group meets once a week to train and to socialise.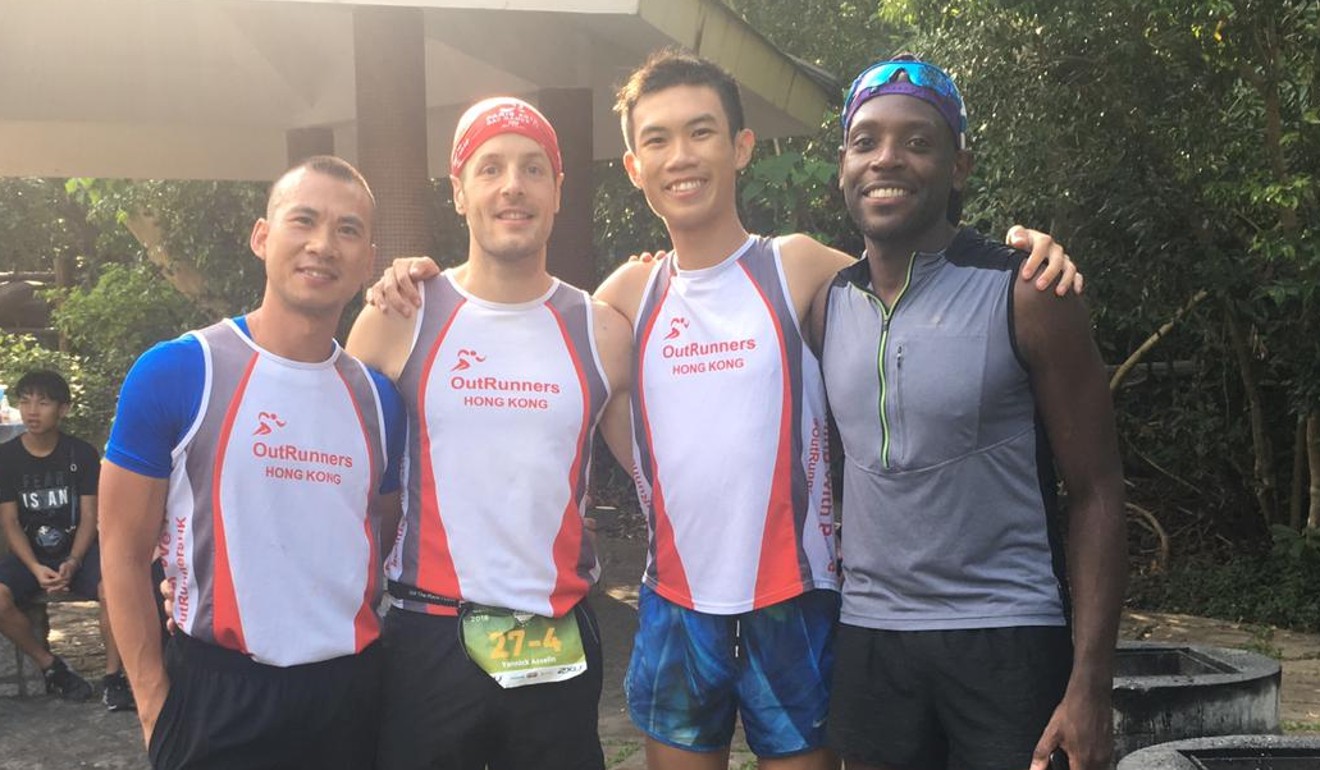 Gay Games 2022: how the man behind Hong Kong's winning bid made his dream come true
"There's two main purposes to OutRunners; the first is to give an outlet to the LGBT community that wants to be active," Asselin said. "Not everyone wants to meet up in bars and clubs so it gives us a way to meet together and be casual and social.
"The second is that we get to serve as role models and show that it's possible for LGBT to be out there and visible in the Hong Kong community while performing well in sports and other activities."
The OutRunners' team is part of the OutinHK group that was behind the city's successful bid to host the Gay Games in 2022. It helped the city host its first ever Gay Lesbian Tennis Alliance (GLTA) tournament last year and organises community events for several other sports, including hiking and yoga.
Thanks to these types of efforts, Hong Kong's LGBT sporting and overall community is growing in terms of size and acceptance.
"We started making appearances around three to four years ago and now people are finally starting to ask who we are and what we are doing," Chong said.
"We want to represent the LGBT community with pride, and go out into the public and say: 'we are here, we are doing as much in life as other people' and show everyone that LGBT can make great athletes, too."
Gay Games is Hong Kong's chance to show the city's inclusivity – will it recognise same-sex unions and legislate to protect LGBT rights?
Gay Games 2018: Hongkongers head to Paris hoping tournament will galvanise city to back LGBT community when it comes East
The OutinHK group had 46 participants in 12 different sports in the 2018 Gay Games in Paris in August. Unsurprisingly, they are looking to have far more during the 2022 edition in Hong Kong.
"We actually did very well [at the games], our volleyball team won gold and we got three medals in swimming and one in the marathon, so we believe we are a force to be reckoned with," Jarrett said.
The team were disappointed with their third-place finish on Sunday. "Next year, I think we should train harder and win the whole thing," Chong said.
In the meantime, the group will be taking part in several overseas LGBT sporting competitions in places like Tel Aviv, and also in local races, including the Standard Chartered Hong Kong Marathon in February next year.
"We plan to have a bunch of runners in that race, so we hope to get some more visibility and inspire LGBT people to join us and represent our community with pride," Asselin said.