Beef and rice and home-made millionaire's shortbread may not be the traditional food for an endurance athlete, but for Oxfam Trailwalker competitors Nonstop it represented a welcome meal break at Shing Mun Reservoir on Saturday. They need all the moral support they can get after surviving the previous night's heavy rain and near zero visibility.
Oxfam Trailwalker: Hong Kong women win 100km race by putting performance over emotion
The popular stop at the barbecue area is around 40km from the finish line of the 100km MacLehose trail in Yuen Long, which started in Sai Kung on Friday. With so much course left, the runners there now will almost certainly be facing a second night out.
"It was horrific last night, it was absolutely horrific as it was pouring down with rain and there were mud streams," said Nonstop team member Sharmali Arumugathasan.
"We are behind on our time because of the rain last night, we were hoping for around 30 to 35 hours. The rain set us back two hours last night as there was no visibility at all."
Oxfam Trailwalker: Hongkongers take first place after epic comeback from behind to break Nepalese dominance
Support teams of friends, families and colleagues have set up barbecues and massage areas for teams who have aims of finishing the route in around 35-40 hours, importantly aiming to avoid a second full night on the trail.
Nonstop have plenty of support from colleagues at business information provider Acuris, with another group set to join the team for the final 25km.
Arumugathasan was on course to finish the Oxfam Trailwalker for a second time, and teammate Arthur Chan his 14th, although this was unchartered territory for team captain Abiy Gizaw.
Oxfam Trailwalker: Domestic helpers push through struggles to beat their target time, while other teams reach 100km finish
"This is my third attempt, I did not past checkpoint three for the last two times. I got in shape, I lost 80 pounds so I am in good shape and have been preparing for five months non-stop," said Acuris' head of information technology infrastructure and operations.
"You cannot really talk in the rain, you need to stay focused, otherwise you can fall. There are times when you can talk to your teammates, but the night is a different beast.
"There was no visibility and we got stuck on one of the hardest sections. You cannot speed up, last night was really bad."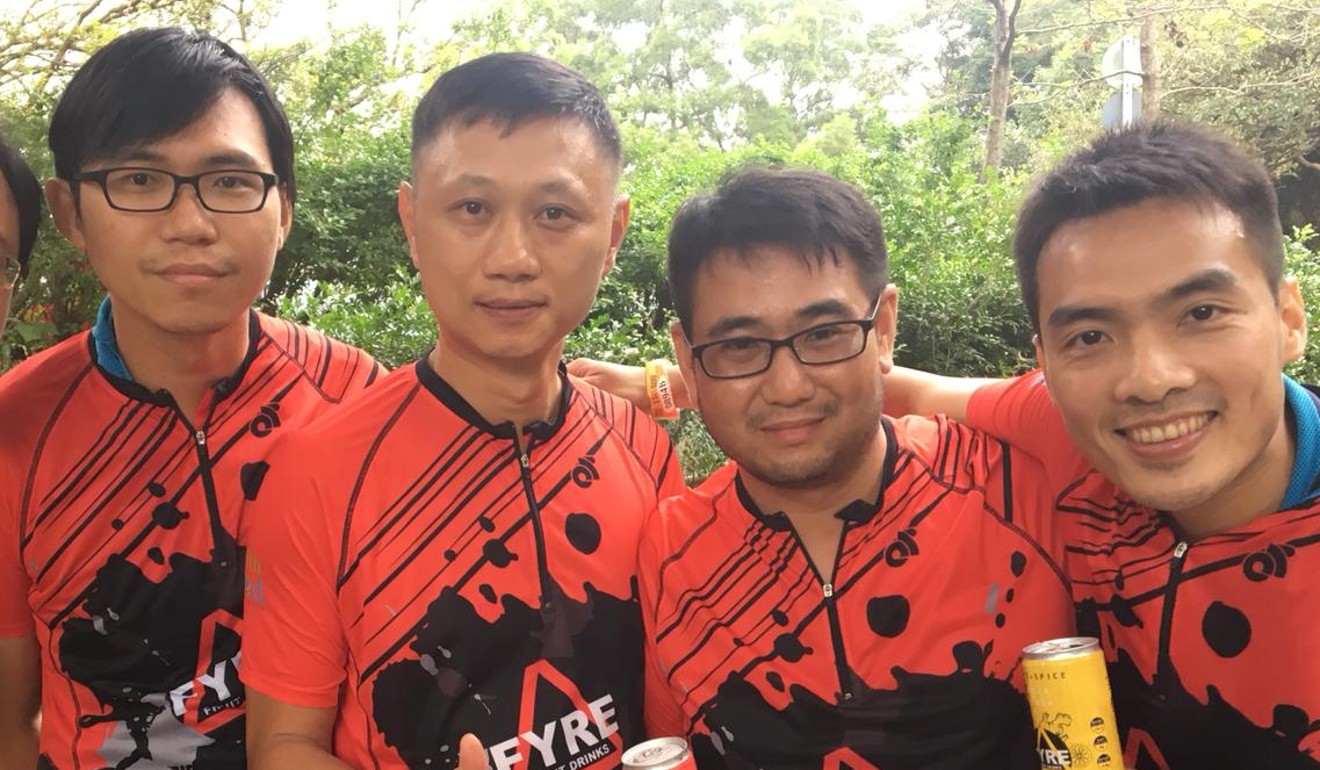 Rice, sushi and eggs were the food of choice for debutants Team Fyre, who began preparing in May and completed nine training runs of between 10 to 20km each.
"It is very tiring as this is my first time. The weather was really bad on the first night as there was a lot of rain around Ma On Shan and the visibly was very low even with a light," said Chris Lam Wai-man.
"I wanted to challenge myself, although I will need to think if I will do it again."
Oxfam Trailwalker: 'It's like giving birth' says runner, as thousands line up for famous race
Lam had convinced friend Tsui Ka-kit to join the team for the city's oldest trail race, which was won this year by Hong Kong's Gone Running-Joint Dynamics in 11 hours, 53 minutes.
"I am very sleepy and want to go home. It was very foggy last night; the visibility was very low after the rain. It was also then too muddy after the rain," said Tsui.
"It requires a lot of collaboration and team work. It was similar to what was expected even though it is longer, although it is better to think of it in sections rather than a whole race."