The great outdoors is right here in the city, too.
When you think of the great outdoors, what first comes to mind?
For many, it's soaring mountains, lush forests and winding trails – terrain much like that which 5,000 competitors journeyed through in Hong Kong's iconic Oxfam Trailwalker last weekend.
The runners and hikers went up and down many of the city's highest peaks, climbing a total of about 4,500 metres – roughly the equivalent of ascending Malaysia's Mount Kinabalu, and then tacking on Hong Kong's Victoria Peak for good measure.
But the great outdoors can also be in the thick of the urban fabric. The city can be just as exciting a playground for the senses as the greenery of the countryside.
That, in any case, is one of the key messages that a new exhibition by ESKYIU, a multidisciplinary architecture studio co-founded by Marisa Yiu and Eric Schuldenfrei, wants to get across. The interactive and transformable exhibition, titled Playkits, opened over the weekend and runs until next Wednesday, November 28.
At the core of the exhibition is an attempt to explore a new definition of play. Can work be play, and can play be work? Can a space be both a workspace and a playground?
At the cavernous multi-purpose ArtisTree space in Taikoo Place where the exhibition is set up, Yiu and Schuldenfrei have laid the surfaces with Nike Grind, created from recycled materials like the midsoles of old shoes, and surplus manufacturing scraps from factory floors.
They have also made chairs, hurdles and a ping-pong table using Nike Grind. The result is a huge and transformable indoor playground at the heart of a commercial building, where people can gather and play basketball, football and table tennis.
I visited Playkits for a preview ahead of its official opening. I watched kids run around, shooting hoops and ducking under the hurdles, and I watched adults play an energetic doubles game of ping-pong.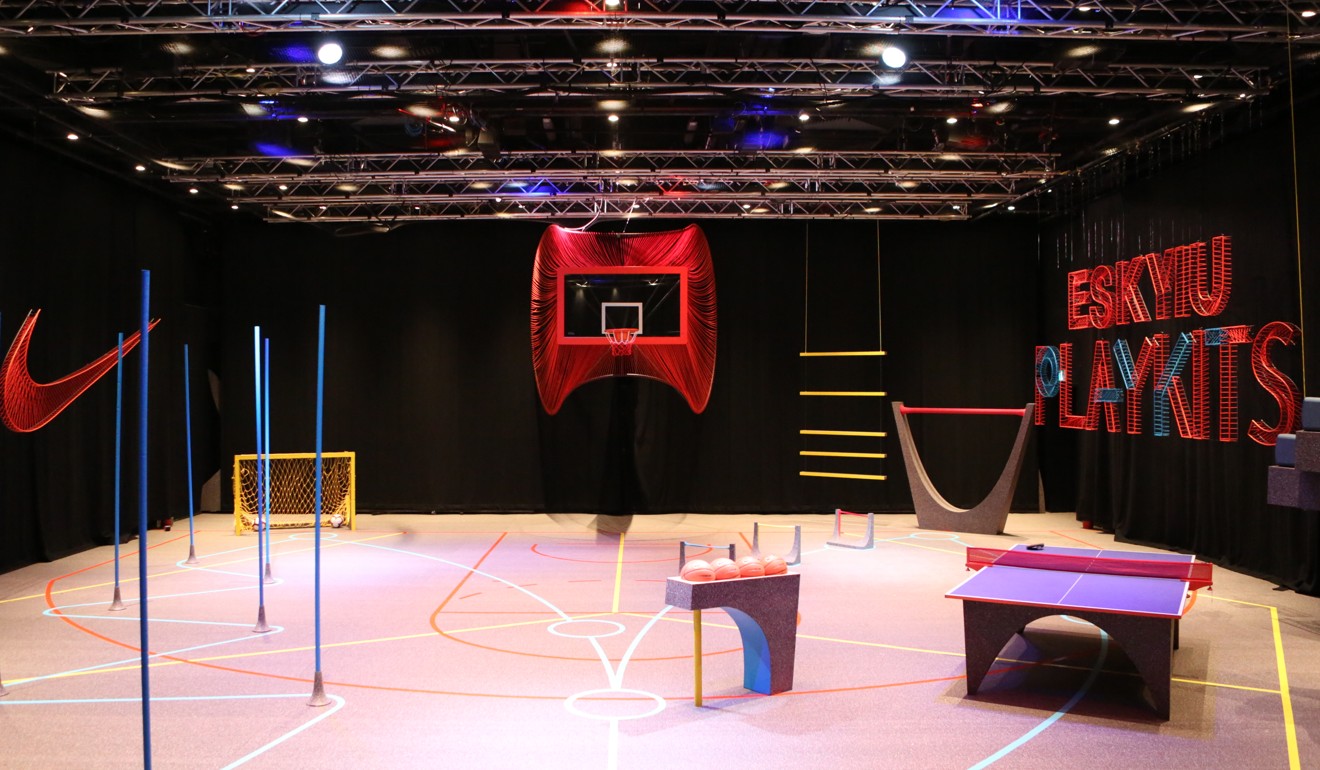 The next morning, I found myself out in rural Sai Kung for the Oxfam Trailwalker, running along trails while trying (and largely failing) to keep up with the team that I was crewing for.
These were two very different sporting experiences within hours of each other, but it drove home an important reminder: the adventures of the great outdoors can found in the throbbing heart of the city, too.
One evening earlier last week, I took a visiting friend up to Victoria Peak for a walk along Lugard Road. As we looked down in awe at the city below us, illuminated and sparkling against the backdrop of the harbour and the mountains in the distance, she wondered aloud: does looking at the Hong Kong cityscape give you the same mental benefits as looking at beautiful natural landscapes?
Research has shown that exposure to nature makes us more creative and better problem solvers.
Oxfam Trailwalker: Putting teamwork to the test where strength comes from the weakest link
Sweeping vistas of nature also induces a sense of awe, which has been shown to lead to creative boosts by promoting "expansive thinking".
But it's not just nature that inspires awe. As psychologists Dacher Keltner and Jonathan Haidt wrote in their foundational 2003 paper on awe, people also feel awe "in response to objects with infinite repetition".
From high up on Victoria Peak, we were looking down at exactly that: thousands upon thousands of small windows office and apartment buildings lit up in the dark, all blending into a large twinkling mass.
I felt a sense of vastness, but also a lightness of being – the exact sensation we usually get when looking at expansive natural landscapes.
Interpret as you will, but for me it's this: the great outdoors is out there in the wild, but also right here in the urban jungle.