Meet Vlad Ixel, the man who decided trail running was a healthier addiction than cigarettes and alcohol.
"When I was 24, the only running I would ever do was to the liquor store before it closed to make sure I had enough bottles," said the 31-year-old Ukrainian, who has been based in Hong Kong for the past four years. "I couldn't sleep without my six beers."
Ixel, who came second in the North Face 50 behind Chinese phenomenon Yan Longfei on Saturday, decided to quit alcohol, cigarettes and meat two days before his 25th birthday. Later that week, he decided to run his first-ever marathon.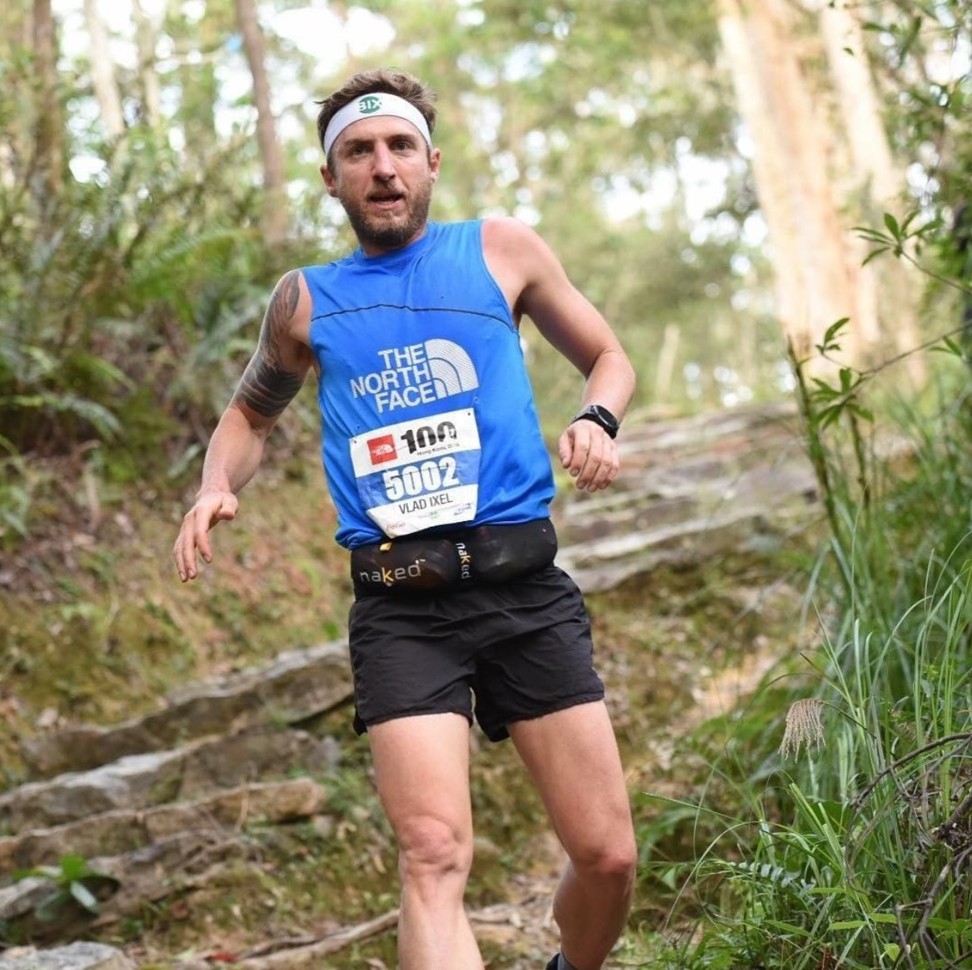 "The high I got from crossing the finish line was far greater than anything I felt on a night out with drugs or alcohol, and with my addictive personality it just began to snowball. Since then, I've literally never stopped running," Ixel said.
He's not exaggerating. Ixel quickly became one of Hong Kong's most active elite runners. He is sponsored by North Face and runs roughly 30-35 ultra-marathons a year.
In addition, Ixel has quickly developed a strong presence as an online running coach and motivator, having accrued over 20,000 Instagram followers.
Ixel moved to Hong Kong from Perth, Australia for his running career.
"When I was living in Perth there was maybe only two or three races a year. So when I started racing in Asia I met some friends who told me I should come down to Hong Kong for race season. I ran the 2013 Northface 100 and I thought 'Wow this place is awesome, this is where I need to be.'
"I was only meant to come to Hong Kong for a couple of months, and it ended up being five years."
But contrary to what one might think, Ixel says the life of a full-time runner is much busier than working a standard nine-to-five.
"I train five to six hours a day, if not running then working on strength, balance and flexibility work," he said. "And then I spend five to six hours a day coaching my clients. Recently, I've started working with North Face on designing some shoes, and now I've started working with different race organisers. It's a huge, growing industry and there are a lot of opportunities. It's a non-stop grind, seven days a week."
Still, Ixel wouldn't trade his busy schedule for any other job in the world.
"My girlfriend is really surprised that I'm not sick of running by now, she asked me: 'How do you keep doing this?' I told her when you love something, you don't really think of it as work," he said. "I look at a lot of my friends and they live completely different lives from me, going to an office every single day, while I get to travel and run in some of the most beautiful places in the world and I just continue my coaching business online."
'I battle with myself': Vlad Ixel sets Action Sprint record on his journey of self-discovery
Vlad Ixel wins ultra-marathons fuelled by a vegan diet
Although running is a much healthier addiction than those he had previously, Ixel knows when he needs to tone it back.
"Too much of anything can be a bad thing, especially with my personality. I ran seven 100-kilometre races in the span of a year and a half, and a 100km race is really hard on the body," said Ixel on why he elected to run the 50km this year.
"After I did that my body felt really terrible, so I decided to tone it back. I have never had a serious injury in my running career and I want to keep it that way.
"I've seen a lot of people who do really well in 100km races don't have long careers, their bodies breakdown and their performances become inconsistent. To me, being consistent is more important than winning one or two races and being injured for a year."
North Face 50 face-off: the Hong Kong trail running head to head we've been waiting for
Ixel has spent a lot of time refining his training and race approach to ensure longevity, for both himself and his clients. In addition to running, he incorporates strength, balance and flexibility work into his training.
"Running is a simple sport, which is why I like it, but there is a lot more to it than meets the eye," he said. "The more you sacrifice the better you do, and if you train harder, smarter, and get your sleep, diet, and recovery in order, there is no limit to how well you can do.
"I'm proof of that; I had no running background whatsoever, and look at me now."