Dolly Vargas Salles will be running farther than she has ever in a race this weekend. In fact, more than two and a half times as far.
On Saturday, the 40-year-old mother of three boys will compete in the 75-kilometre MSIG Ultra @ Tai Po, organised by Green Race. The next day, she will return to the start line to run the 44km distance, completing a total of 119km.
She is one of 12 participants who will be competing in both races across the two days.
The longest distance Salles has previously completed is 45km, which she ran earlier this year in the MSIG Braemar Hill race, also hosted by Green Race.
"As a domestic helper, it's really hard to get a proper training," said Salles, who is originally from Cataduanes Island in the Philippines and moved to Hong Kong in the summer of 2017 after several years in mainland China. She works in Discovery Bay.
"I always grab the opportunity every time I've got a chance to run, whether it is short or more than an hour-long, especially on working days," she said.
For example, recently Salles' employer told her to take a break from work from three o'clock to five o'clock. Salles' idea of a break was to bolt straight out the door, onto the trails, and up to Tiger's Head, above Discovery Bay.
"Every opportunity, I grab it for running," she said. But it is still a delicate task of balancing her different responsibilities.
"I have to balance myself as a mother, as a worker especially. I need to prioritise my job. My [running] habit comes second," she said.
Salles aims to run at least an hour every day. "So I can feel tired, so I can feel the burn," she said. Without getting in her run, her day feels incomplete.
Her objective for this weekend's race, Salles said, is to finish with a chilled and relaxed mind, and to stay injury-free.
"As a new ultra participant, the only thing I can do is to race with my own pace," said Salles. "I'd enjoy every single stomp of my feet without rushing."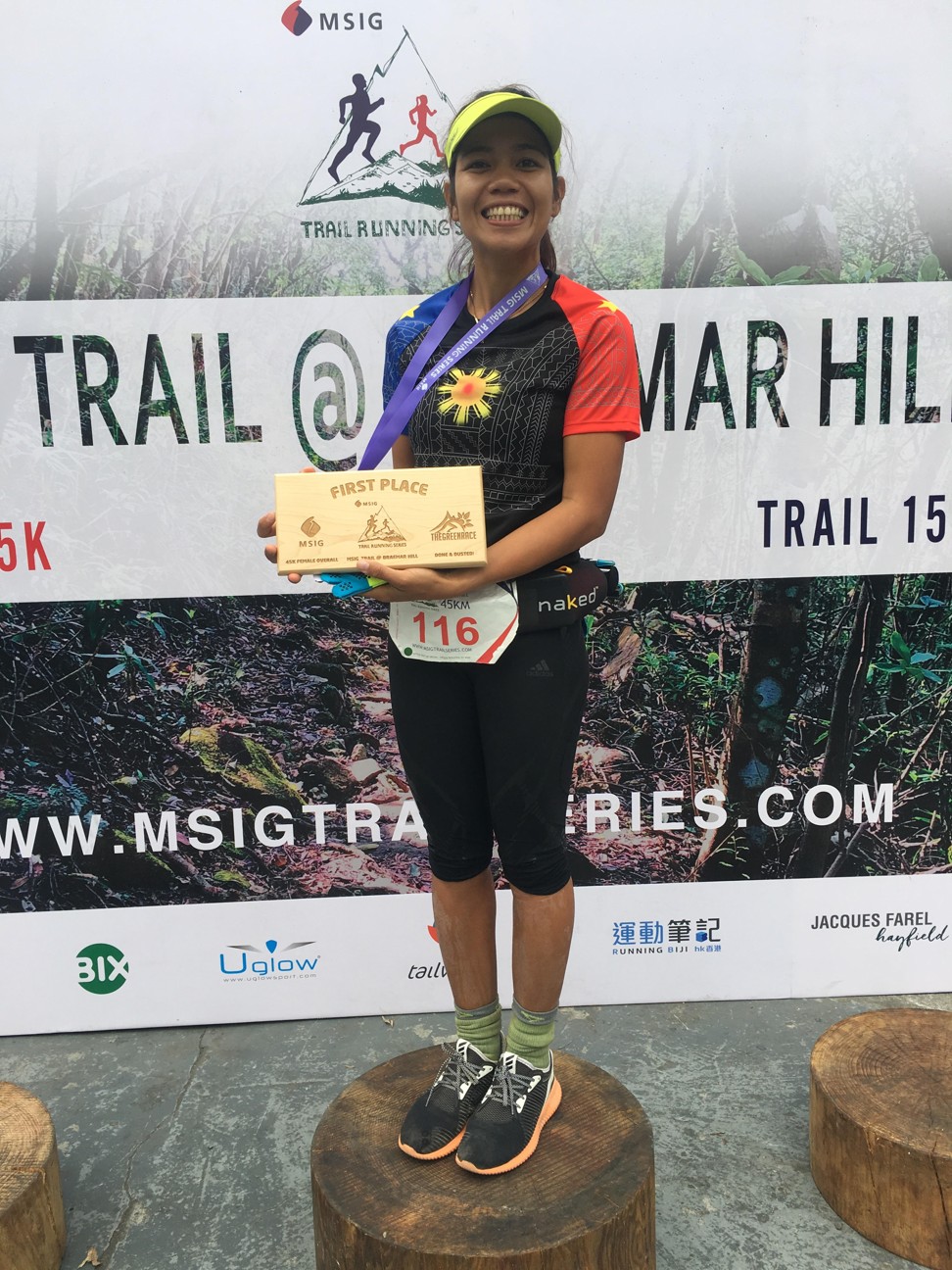 Salles ran her first race, Victoria to Peak Challenge, in Hong Kong in October 2017, just two months aftersetting foot in the city. The steep climb from sea level to the highest point on Hong Kong Island came as a rude shock to her body, accustomed as she was to flatter road running and eight years of playing softball as a catcher and pitcher.
April 2018 marked the beginning of her first ever trail running season, and since then she has racked up a long list of race appearances, both as a competitor and a volunteer.
She regularly works at checkpoints and especially likes taking on forerunning duties – running the course ahead of competitors to make sure the route is clear and properly marked – because it's a training opportunity but also a way to be part of something larger and contribute to runner's safety.
"It's my privilege and pleasure to serve," she said.
Hong Kong domestic helper hits home trails of the Philippines for first time and finishes fifth
Last July, Salles also surprised herself when she finished on the podium at the Kerry Sports Manila Vertical Run, up the 250m, 59-storey Shangri-La at the Fort building. She was the fifth woman across the finish line, and came third in her category. It was another affirmation that she had natural talent for the sport, Salles said.
These days, Salles clocks about 70km to 80km a week, which she squeezes in before and after work. A lot of her mileage comes on weekends, too, when she has more time to hit the trails. One weekend this month, she ran about 52km over two days in back-to-back runs.
"I don't want to keep troubles in my head," she said, adding that the mountains are like a sanctuary. "I tell my friends, if I don't have troubles on mind you won't find me on the mountains."
Her stamping grounds are the trails of Lantau, especially Lantau Peak and Sunset Peak.
"I don't know where to go. Only mountains," Salles said. "Every weekend, those two mountains call out to me."