Alan Li had what looked like the perfect career. As a civil engineer, he was a project manager on various constructions sites around Hong Kong and making a great wage. But the Hong Kong University graduate was unhappy, stuck in a profession he found boring and unfulfilling. The 46-year-old left his stable job in 2012 after almost 15 years in the industry.
"I completely kicked the construction job that year, and at that moment my salary dropped 50 per cent," said Li with a chuckle.
Li had known for a long time that civil engineering wasn't for him.
"Once I started studying this field in university, I thought, 'I wasn't supposed to be in this field'. But in Hong Kong once you get into a certain subject you can't switch from one to the other."
He was a Hong Kong rowing champion in college, but found after graduation that his health took a back seat to long hours on construction sites. He did something about it, planting the seeds to what would be his second career and a major life turn.
A collection of Alan Li's best trail running photographs
"After I graduated I got fat and put on lots of pounds, and once I realised I couldn't live like that any more I joined a gym. After that I got a chance to take some fitness instructor courses."
By 2003 he was working part-time as a fitness instructor on the side, and had obtained certification in various disciplines. In 2008 he also got into photography, buying a Canon 40D, shooting friends out on their boats as they wakeboarded.
Li, who now works full-time as a personal trainer as well as running boot camps and fitness classes, also got into the world of trail running, completing a number of races including the HK100 and TransLantau. He started shooting some events on the side, and in early February found himself perched at the finish line of the Hong Kong Four Trails Ultra Challenge.
Li had been taking photos of racers since the event started some 60 hours earlier as a volunteer. He made the trek from the Maclehose Trail to Lantau and ended up right beside the famous green post box in front of the ferry terminal in Mui Wo that participants touch to signal completion. Li had gotten word that Hong Kong trail runner Nikki Han was about to become the first female to "break 60" and complete the gruelling, 298km race which has a 14,500 metre total elevation climb.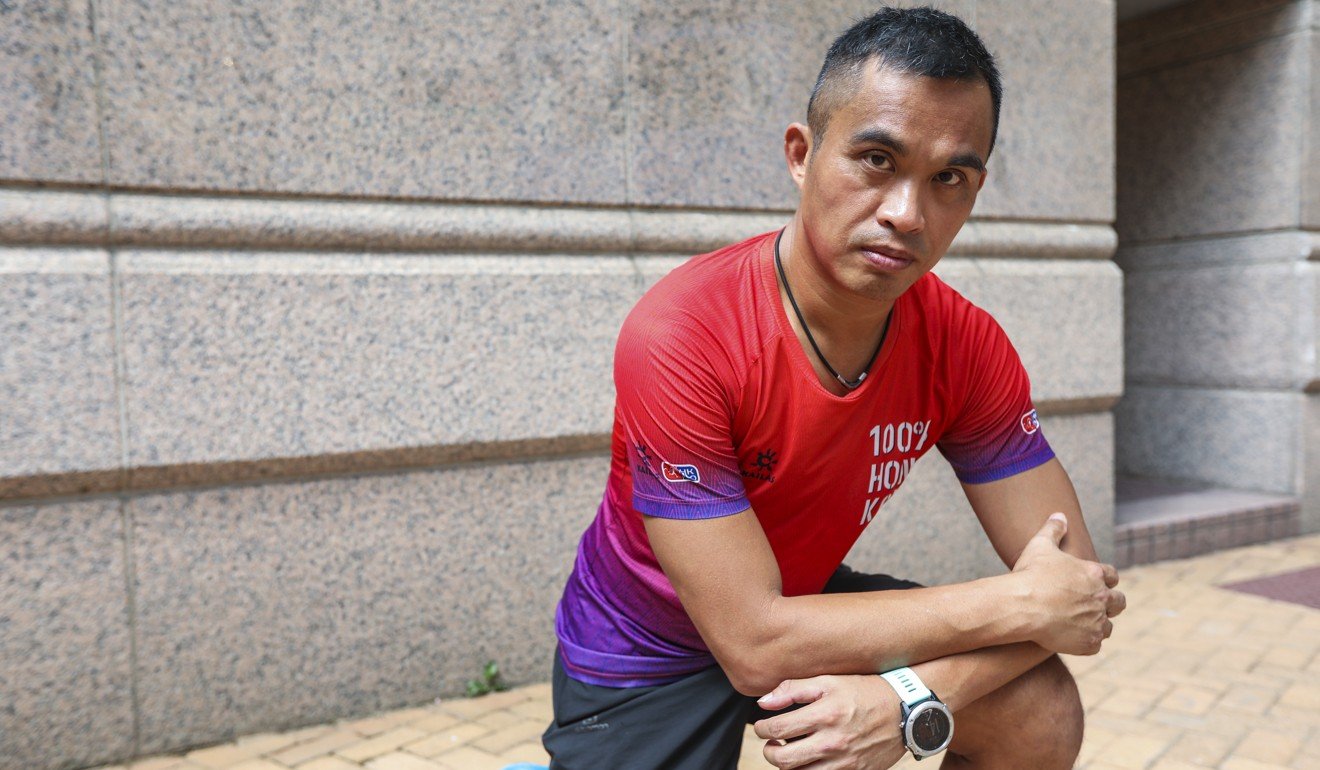 Han's completion was monumental, given she completed the first leg about an hour behind what is seen as a projected cut off time, then missed a key ferry at 3am to Mui Wo, and she also became the oldest finisher at 48 to complete the race.
"I love to capture moments and I just got lucky," said Li about the shot. "I was at the post box waiting with a few other photographers and videographers, and just got the shot."
The picture, which won the 2018/19 Hong Kong Trail Running award for best photo, shows Han letting out a war cry after completing the race in historic fashion.
I love to capture moments and I just got lucky. I was at the post box waiting with a few other photographers and a cameraman, and just got the shot.
"I'm so honoured to have captured that moment," said Li, "and it is funny because, in terms of photography theories, it's not really a good photo, but it really captured the emotion of that moment."
Now that he can add award-winning photographer to his resume, would Li ever consider going back to work as a civil engineer?
"No way, no way, no way. I'm 46 so it's probably too late to switch back to construction now anyway, and I really enjoy the lifestyle I have now."