Runners are taking to the streets to show solidarity with protesters and to make their voices heard in a peaceful manner, by connecting 19km of Lennon Walls across the city.
Almost five years ago, in October 2014, two runners in Hong Kong set off on a 102-kilometre ultramarathon around the far-flung corners of the city, tracing a route the shape of a massive umbrella.
Dubbed the "umbrella ultramarathon," it was not a race, but a journey with a message: support for the Occupy Central movement, also known as the umbrella movement, which had started just over a month beforehand.
Now, another massive protest movement has swept Hong Kong, as millions have taken to the streets in waves of demonstrations in recent weeks. What began as fierce opposition to an extradition bill has since evolved to encompass broader demands for democracy, echoing the 2014 umbrella movement. And just as in 2014, running became a way to show solidarity with the protesters.
Last Friday, a group of runners set off from Siu Sai Wan, coursing along the coastline of Hong Kong Island as they made the roughly 19-kilometre journey towards Kennedy Town, with pit stops at more than a dozen Lennon Walls along the way.
Lennon Walls are Post-it-covered walls that have sprung up all over Hong Kong, where people stop to write messages and exchange ideas and reflections. The original Lennon Wall was born during the umbrella movement in 2014, when protesters covered the concrete staircase near the local government headquarters with colourful Post-Its, and was so-named in honour of the John Lennon Wall in Prague, Czech Republic, itself created by Czech youth following the assassination of Lennon in December 1980.
John Ellis was one of two runners who completed the 2014 umbrella ultramarathon, together with fellow ultra runner Andrew Dawson. Ellis had earlier taken part in a four-kilometre run at the Admiralty Occupy site, and found inspiration from doing the short jaunt.
The 102km umbrella ultra "was a combination of ideas", he told the SCMP in 2014: "I joined the umbrella runs from the Lennon Wall and was amazed at just how much even a little run could help lift the spirits of the protesters out in Admiralty, who have been camped out there for a month now."
Fast forward to 2019, and Ellis has once again laced up his running shoes to combine political activism with athletic activity.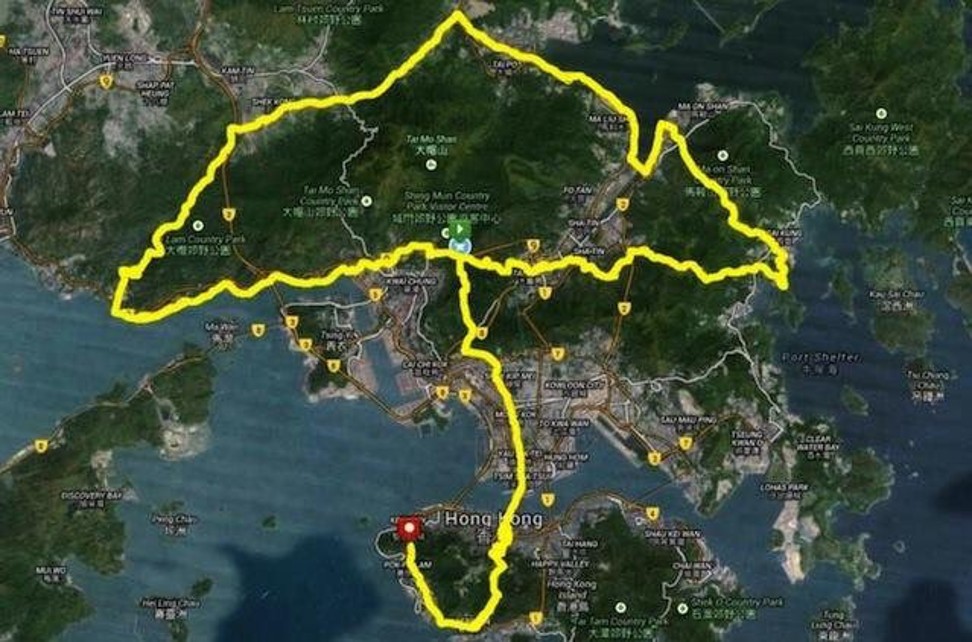 "Like many others, I feel the Hong Kong government only takes orders from Beijing and doesn't listen to the people, so we have to express ourselves in other ways," said Ellis, who has also taken part in several of the major marches of the anti-extradition movement. "Hopefully, it's creative and non-violent, and for an avid runner like myself, making a statement through running is perfect."
Even though the Lennon Wall run this month was only a fraction of what Ellis ran during the umbrella ultra in 2014, the spirit of spreading a political message through running rings as true as ever for him.
"The Lennon Walls Run was a way to support the multicoloured outpourings of dreams and hopes" including against the extradition bill, he said. "Back in 2014, the umbrella ultra was a way to help tell the world about Hong Kong's struggle for democracy, while also reminding ourselves that we are not alone in this fight."