With the rise of the internet, so too has come opportunities for even non-elite athletes to make their sport their career, just as Turkish YouTube star Fatih Topcu has done. Recently, he ran Salomon Cappadocia Ultra Trail race and gave a glimpse into his world, and how he makes it all spin.
His sporting life started with media and the internet.
"I made a sports news website, the first in Turkey – a bit like Sky Sports. I'm a coder and graphic designer, and I learned to write and make the reports. It became very popular, and after many years I sold it to a bigger company and then stayed on to manage things," he said.
Topcu has always loved the outdoors. He was a rock climber and a mountaineer. And then four years ago he ran his first marathon in Antalya.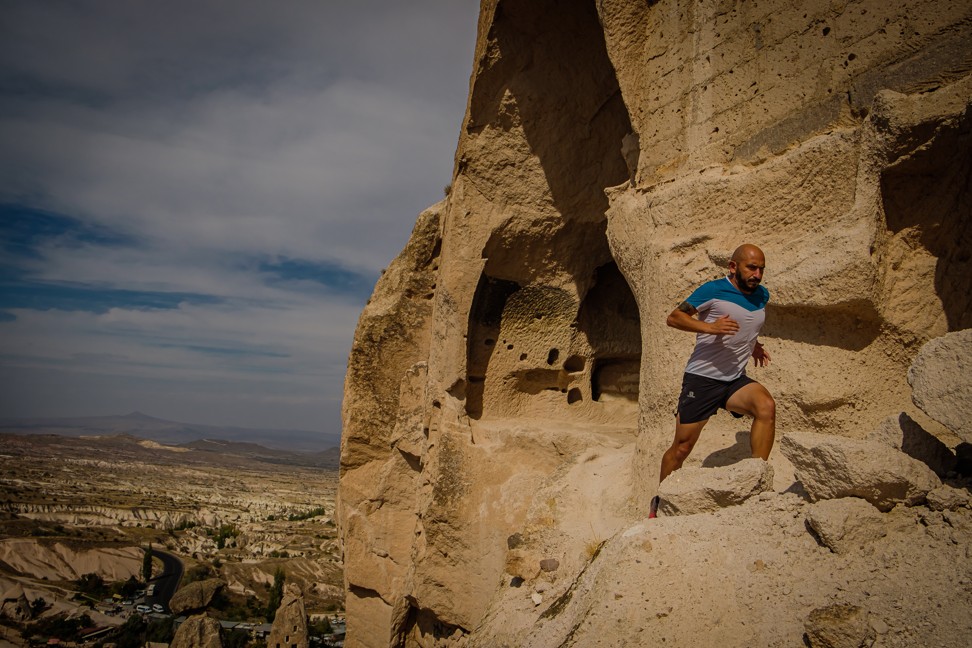 "I thought if I can do this then I can do an Ironman, that's where it really started," he said.
A year later, he decided to start producing YouTube videos and create his Asladurma blog, meaning never stop, with more than 50,000 followers.
"Triathlon was my main thing then, and I didn't really want to do any trail running, but I had already attracted sponsors and one wanted me to start ultra marathons," he said. "As I'd always been a climber and liked nature, I thought I'd try it, and as soon as I started running in these natural environments I knew it was for me."
The accompanying vlog style Asladurma YouTube channel was taking off, and he started mixing the content and disciplines too, like cycling, swimming, Ironmans, ultra-marathons, marathons and road races – 30 races a year, but trails are his favourite.
"I looked and researched a lot, and although there were many channels out there, they were all in English – nothing in Turkish," he said. His blog wasn't taking off, though. "I don't think people like to read here, so I did one or two vlogs about how could I start in triathlon, and people really liked them."
It took two years to make it financially viable.
"From YouTube there's very little income, it's mainly from sponsors and events. Some events contact me and pay me to come [and get exposure from my videos], other times it's partnerships with expenses that benefit both sides."
"I approach brands and ask them or show them how I can help them," he said, adding he does not directly promote shoes or bikes or tell his followers to buy a brand. . "I don't recommend specific products, I just use them, which works for all concerned."
Ultra running and cycling events only really started to take off in Turkey a few years ago, and are now thriving. Initially, there were very few channels about these sports in Turkish, as Aydin Guney, the promoter of the Cappadocia Ultra Trail and numerous cycling events, explained.
"Everybody was curious about these things, and wanted to hear about them in their own language [Turkish]. As he was one of them, and not a star with a big history in sport, that's why his YouTube channel got so much interest," he said. "There was a hunger for something like this in Turkey, and people like his style – which is very important for him and sponsors."
Topcu in-race coverage is also a huge part of the appeal.
"He always films with an action camera during the race," Guney said. "For example, he came to a gran fondo last year and made a report, and immediately he had 1,000 new followers from the event."
Appealing to the regular athlete on a level standing without the usual sublime big sell or ego has been paramount to his popularity, and to his value, Topcu said, adding it helps that he does not show off. "If I don't know something or things take a twist, then I'm open about it," he said.
"The most important thing is to be friendly and natural. Be yourself, and always tell your viewers to have fun in doing this, even if the sports can be tiring and tough at times," he said.
In such a new marketplace, putting a value on his services can be tricky. "I never announce a fixed fee or price, mostly I get travel and goods. I also have brands and events who pay, and the amount depends on the brand and situation."
But who knows how long it will last. As a result, Topcu is trying to diversify by adding coaching videos.
From the outside, being a YouTuber and following one's passion can seem like a dream scenario, yet anybody who has done video editing at a good level knows the amount of time it takes; "I make five videos a week – every weekday. Early in the morning, I train – running or bike, and I document this."
"Then in the middle of the day I spend around three hours editing and then upload the video," he said. On top of this comes the other promotional work, meetings and travel, which can mean up to two months at a time on the road travelling.
When it comes to content and popularity, ironically, it's not trail running that gets the most hits: "The race videos are the most popular, especially the cycling event videos."
Even with the heavy workload involved, Topcu is more than happy: things: "I live the perfect lifestyle, and nobody can beat that."