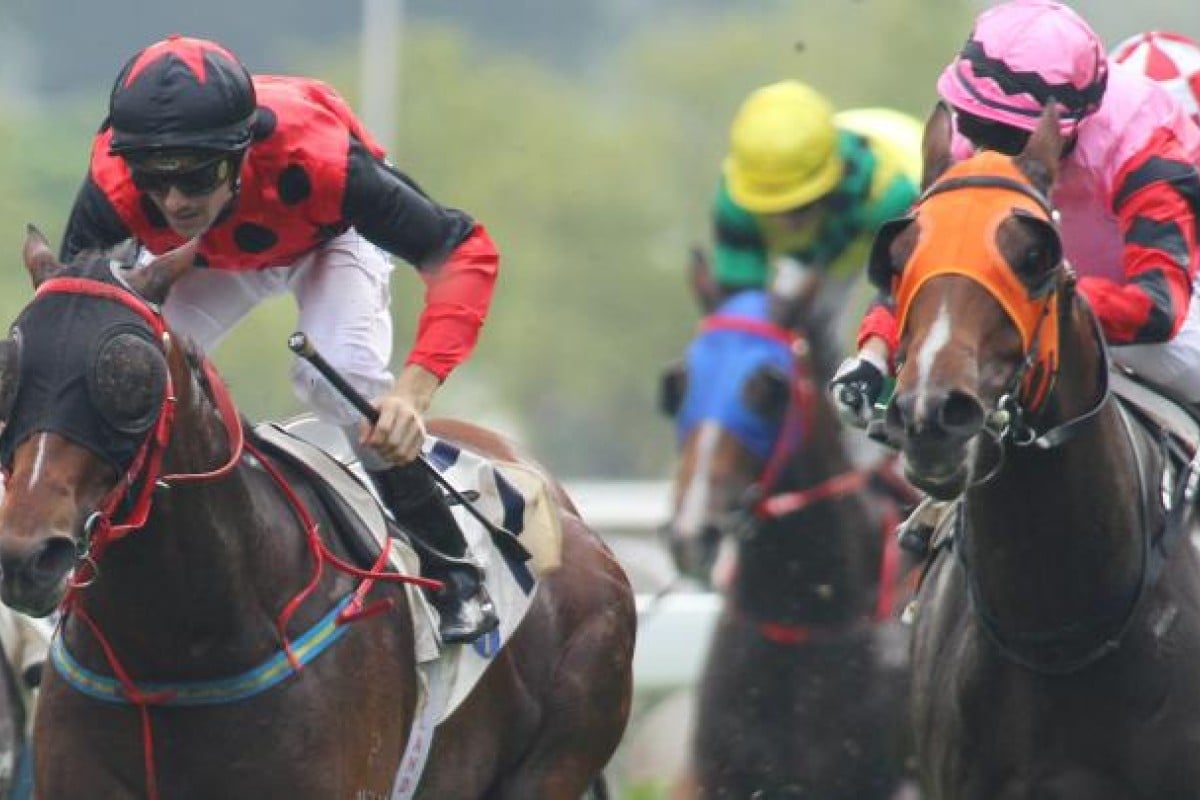 With horse trainers already hobbled in this part of the world by a race programme that tells them where their horses are running next, owners can then make the task nigh on impossible with a list of outrageous demands based on feng shui, family holidays and corporate concerns.
Trainers are dictated to in the ratings points-based system by the fact there are two meetings per week and three tracks, meaning they need to be creative and sometimes enter unwinnable races – but when meddling owners, sometimes with no horse sense, get involved it can become a nightmare.
After Hearts Keeper ran a slashing come-from-last second on the all-weather track a month ago, the logical next step for trainer Me Tsui Yu-sak would be to look for another race on the surface, like last night. But as one of the owners works for Panasonic, the horse was running on that company's sponsored day last weekend – rain, hail or shine. Maybe it turned out for the best, Hearts Keeper was a solid second to Holyangelholy on the turf, and the backmarker may not have been favoured by last night's leader-dominated, quarter-horse-style racing at Sha Tin.
Pleasing connections is usually a case of trying to jam a horse-sized peg into an unsuitably sized hole, as outlandish demands are made to get a horse ready to coincide with an anniversary, an owner's birthday, or even an owner's grandson named Garlic's first birthday.
"I have a friend who is visiting from overseas, that's the best one," one experienced trainer said last night. "Or, I need the horse to run on this day because I've got my biggest client coming in from overseas in two weeks … oh, and he must win."
This type of thinking comes down to "face" – we all want to be liked and look good, but it seems to take on a new level of importance in Hong Kong – ever notice how many people manage to cram into a winning presentation shot? They're not all owners, but friends, family and people to impress, all brought along to enjoy the occasion.
"The absolute worst thing that can happen is when a horse wins and you've told the owner you don't think it has a chance," another old-timer said. "Because they've told all of their friends, 'This can't win', they don't bother bringing anyone and it is extremely embarrassing for them."
At least when this happens, you get those awkward but wonderfully comical post-race moments after a longshot winner salutes, the desolate expressions on faces making what should be a celebratory occasion feel more like a funeral. A couple of dejected owners standing around, limply holding a lead, and a nervous trainer standing nearby as he envisions a transfer form arriving on his desk the following morning. What usually follows is the trainer frantically trying to explain the unexplainable – why a 50-1 shot got up.
Of course, the ease in which a horse can be moved stables and the leverage it gives owners underscores all of this. When the only logistical concerns for a transfer are getting a form signed, walking next door and leading the horse out of the gate, then it's pretty difficult to stand your ground and say 'No'.
Even the top yards are subjected to this sort of pressure, and they say there are trainers who always have a blank transfer form in their pocket at the races, just in case. Maybe they'll bump into one of those dejected owners at the bar – it's been known to happen.
So if you have a horse ready to run the race of its life, and if his "one day per year" is coming up – say a rarely run Class Five up the straight or a 2,200m event at Happy Valley – and the owner is away on business or holiday, you just have to suck it up and save it for another day.
Owners want to be at the track when their horse wins and there have also been occasions when horses have been inexplicably raced at just one of the venues, trainers revealing later "the owner only likes to go Happy Valley, Sha Tin is too far".
Of all the requests, the real backbreaker can be this one – not only "I need the horse to run on this day, and it needs to win", but "…can you enter the stablemate I own too?" It's little wonder the media are often more interested in what owners have to say post-race – because they certainly hold the whip hand when it comes to decision-making with horses.
The media also play their part in supplying critical pieces of information to the insanely superstitious betting public, feeding their insatiable appetitive for omens and perceived "sure wins".
The Chinese press was full of stories about trainer Tony Millard's birthday coinciding with last night's dirt meeting, even the Hong Kong Jockey Club website got involved, and as a result Millard's horses were considerably shorter than expected – at least in early markets, which do seem to be set by taxi drivers and out-of-work clairvoyants.
So, while the HKJC website is the best of its type in the world, and provides myriad information from race results to trackwork times, maybe a database listing birthdays of key participants and the travel schedules of owners would be more helpful to the poor old punter trying to make sense of it all.
Follow @KemblaCoxy on Twitter or email [email protected]