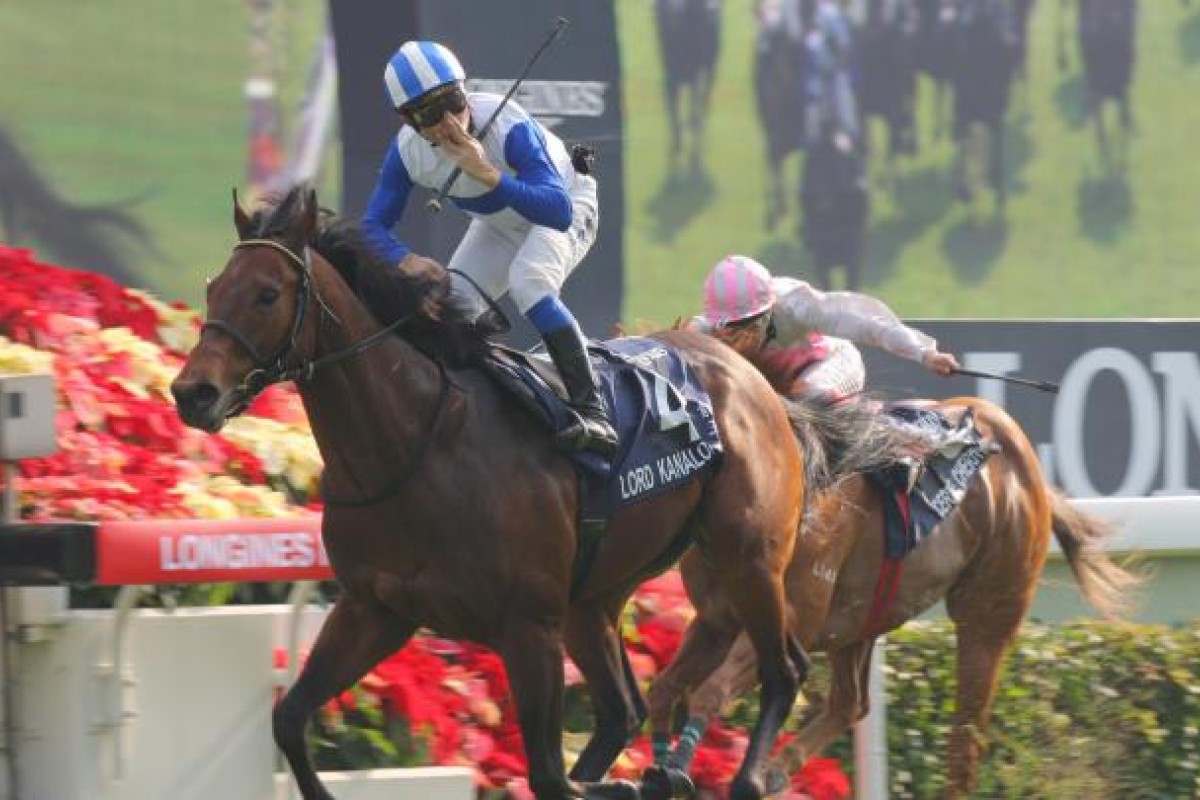 Like J J The Jet Plane before him, Japanese sprinter Lord Kanaloa might well have saved the HK$15 million Sprint yesterday, but the way he did it insisted he might also be the best active sprinter in the world right now.
Comebacks after injuries are imminent for Australia's great Black Caviar and her shadow, Hay List, but Lord Kanaloa's two-and-a-half-length romp at Sha Tin yesterday will do until something better comes along.
After years of no-shows from the Japanese sprinters that did front up now and again for December at Sha Tin, Japan's top sprint trainer over recent seasons, Takayuki Yasuda, managed to put things right and forecast that it would encourage his countrymen further.
"Lord Kanaloa is like a pioneer, I think other sprinters from Japan will target this race. It's a dream to win it and I really want to come back and do it again," he said. "I am sure he is the number one sprinter in Japan - maybe he is number one in the world now."
That will be music to the ears of the Jockey Club officials who attracted only four challengers this year and must have feared for the overseas appeal of the race - which didn't attract a single European or American horse - if the Hong Kong horses whitewashed the visitors yet again.
Japan has only two Group One sprints, in March and September/October, so Yasuda forecast more foreign forays for Lord Kanaloa in 2013 as he looks to capitalise on his fame.
"We would certainly look at Singapore and Royal Ascot is another option," he said.
Jockey Yasunari Iwata is unstoppable at the moment, adding the Hong Kong Sprint to his recent Japan Cup and a Sprinters Stakes in September on this same horse, who has yet to miss a place in his career.
Lord Kanaloa bounced out and tracked the speed set by Cerise Cherry and Leading City, then pounced in devastating style once they balanced up in the straight to put space on the field.
Cerise Cherry - one of three runners for Derek Cruz, who also finished fourth with evergreen Joy And Fun - held on for second just in front of Captain Sweet, and the disappointments lay further back.
"The barrier just did him no favours - if he draws in, he's up there travelling behind the leaders, like the winner," said Lucky Nine's trainer, Caspar Fownes, after he saw his sprinter charge late into fifth. "You know I don't think there's a lot between him and the winner, but the draw did us in."
Lucky Nine got well out of his ground from the outside gate and jockey Brett Prebble's disappointment was even more painful when the stewards handed him a two-day careless riding ban for his tightening of Super Easy at the 200m.
John O'Shea-trained Australian mare Sea Siren had her hindquarters buffeted sideways at the start by Curren Chan next door, and was badly unbalanced for the whole race, with jockey Jim Cassidy saying she never really got into her rhythm.
"You didn't see the best of her today that's for sure," he said.
Curren Chan, having her final start before a stud career calls, was slow out and notable only for her presence in an unusual objection by her jockey Kenichi Ikezoe - seventh against sixth-placed Admiration, which was soon dismissed.
THE JOCKEYS' VIEW
"I am very happy to win the race. I believed he was the best sprinter. He has lots of scope to compete well in the best sprint races in the world."
Yasunari Iwata
Lord Kanaloa
"I decided to go for the rail to avoid interference and the horse went all the way. Very brave."
Richard Fourie
Cerise Cherry
"He was not the most fancied of these horses but gave me a good run."
James McDonald
Captain Sweet
"What he did is simply amazing. He hasn't run since Britain and comes back in a Group One. What a great horse."
Gerald Mosse
Joy And Fun
"He was gone at the 600m."
Brett Prebble
Lucky Nine
"He finished well but it happened too quick for him."
Neil Callan
Admiration
"She was boxed in right after [the start], so she never showed her race."
Kenichi Ikezoe
Curren Chan
"I had a little trouble when Sea Siren dropped back but no real excuses."
Umberto Rispoli
Flying Blue
"She was very keen early and wanted to lay in. I can't say anything else other than that she was disappointing."
James Cassidy
Sea Siren
"The draw went against us." Joao Moreira Super Easy "He never really got competitive."
Matthew Chadwick
Leading City