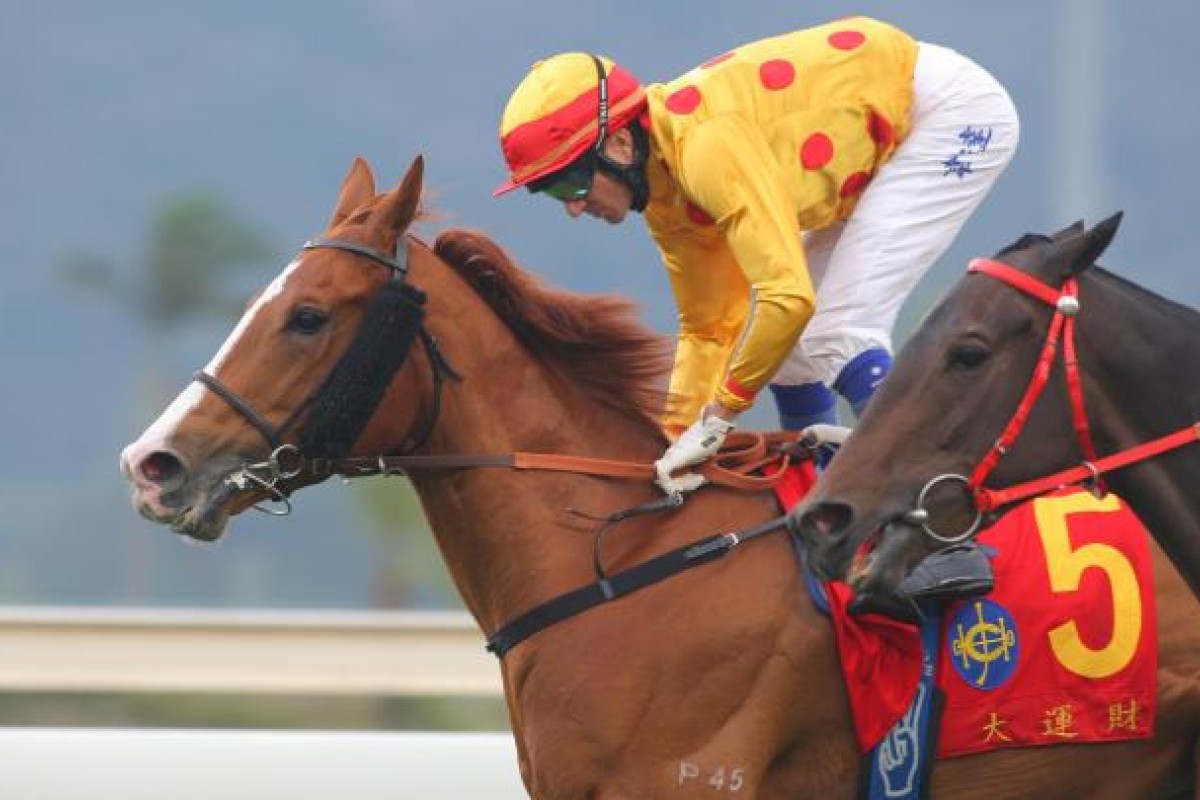 Ol' River Hong Kong Derby may have more water to flow under its bridge in the next two months, but anyone who witnessed the Classic Mile on Sunday as a showcase for the four-year-olds had to leave thinking the city's favourite classic is already over. And not in a good way.
Richard Gibson won the Classic Mile with Gold-Fun, but his 2013 Derby winner was at home, while one of the weakest "Group One" races yet contested here played out.
Group One is in quotes because, as we've stressed previously, the four-year-old classics are actually Class One-ish normally and absolutely Class Two on Sunday. But, for reasons to do with the prize money, the Classic Mile, Cup and BMW Hong Kong Derby are called Group Ones.
What do we care, really? Put 'em in a wig and bra and you can call them Dolly Parton.
With an average rating across the field of a tick over 89, and all rated between 81 and 97, the Classic Mile was a level weights Class Two.
That is a particularly low average in historical terms - the 2009 edition won by Thumbs Up was the next-lowest with an average of just over 93, while the last two averaged a rating of 99.5 and 100.5 across the field. We couldn't find another under 90, but will happily stand corrected.
To compare that with an actual Group One, the Stewards' Cup on Sunday had an average rating of around 120, illustrating the jump that the four-year-olds need to make to be legitimate Group One horses.
In truth, the same thing happens in other places. The world is full of three-year-old Derby, Oaks and Guineas races that go around under Group One disguises, but are just Class Two level, and frequently lower.
The underlying theory is that, since they are the best of their age, the top three-year-olds will step forward to take the baton in open Group Ones as they become the older horses, so calling the best of the age races Group Ones advertises the stars of the future. The theory has a hit and miss record but, since they are only three, there is quite a bit of scope for them to make improvements.
In Hong Kong, we are dealing with a more mature bunch, already four-year-olds and without the same scope, though many are only lightly-raced and may improve on that basis. Sunday's winner Gold-Fun and runner-up Garlic Boy are such horses and they are not performing so far behind previous Classic Mile winners that one would discount the possibility.
Last year, this column was dismissing the results of the four-year-old races because they were so slowly, farcically run and flattering to lesser horses.
Certainly Sunday's Classic Mile did not suffer the same illness, with an unofficial land speed record set by Wah May Star and one of the slowest final 400m sectionals of the last decade for a Class Two. For that reason alone, Gold-Fun and Garlic Boy do command some respect as they remained standing at the finish as all around were looking for a hammock.
But, historically, how does the "improvement for the future" argument hold up across the whole race? The 2009 Classic Mile field improved its average rating from 93.3 to 98.9 over the next 12 months - although only Thumbs Up made the natural progression to the Stewards' Cup in 2010.
That collective improvement by the 14 runners was more than accounted for by four horses: Thumbs Up (rose 28 points), More Bountiful (28), Legend Of Colour (18) and Unique Jewellery (12); of them only Thumbs Up was still active the next season.
A year later, Beauty Flash beat a Classic Mile field averaging around 94, which rose to just under 98 a year later, a total rise over the field of about 55 points, and two managed to make the Stewards' Cup field, including the winner, Beauty Flash.
Again four horses accounted for 70 points' improvement and throw in Beauty Flash (up nine) and the other runners averaged a three-point drop.
In 2011, the average rise was solid from 99.5 to 107.3 across 12 runners, although 58 of that came from three horses.
Last year's 10-horse field averaged 100.5 on Classic Mile day and that average now stands at 101.7 - Zaidan and Sweet Orange have been the major rises - with Zaidan and Fay Fay the only ones to make the Stewards' Cup.
And across the 50 runners in four years, 38 of them were the kinds of private purchases that owners seem to be hell bent on swapping for their first-born, and they were also not usually the horses, which made big steps forward subsequently.
The reality is that the PP horses largely arrived on or very quickly reached as high a mark as they were ever going to reach.
So when we look at Sunday's modest "Group One" and think about where they are going, the most likely answer is nowhere.
Which is important. Akeed Mofeed's overseas form looked a class above the next of the PPs this season, and, since it appears from his local debut that he is going to produce that form, they will need to find something to beat him.
On a wider level, that so few PPs improve from their Classic Mile rating underlines queries on the whole 85-rating permits system, which seems so supply driven.
Trainers reported that rising four-year-olds were harder to buy in 2012 than previously - even John Moore, often overburdened with these horses was able to secure only two he regarded as Derby-worthy: Ashkiyr and Poetic Justice. Perhaps there was some fallout from the new trend of Australian owners and trainers looking to buy European stayers as future Melbourne Cup horses?
Many failed the vets, perhaps a few just squeaked through, but they were no cheaper and many look, on paper, like somebody settled for second best to meet the 85-permit criteria.
It's a sobering thought that, with one four-year-old classic down, two to go, and Akeed Mofeed looking tough to beat in those, most of those hunted for these races at great expense are staring at questionable returns now and a future of drifting down the ratings.