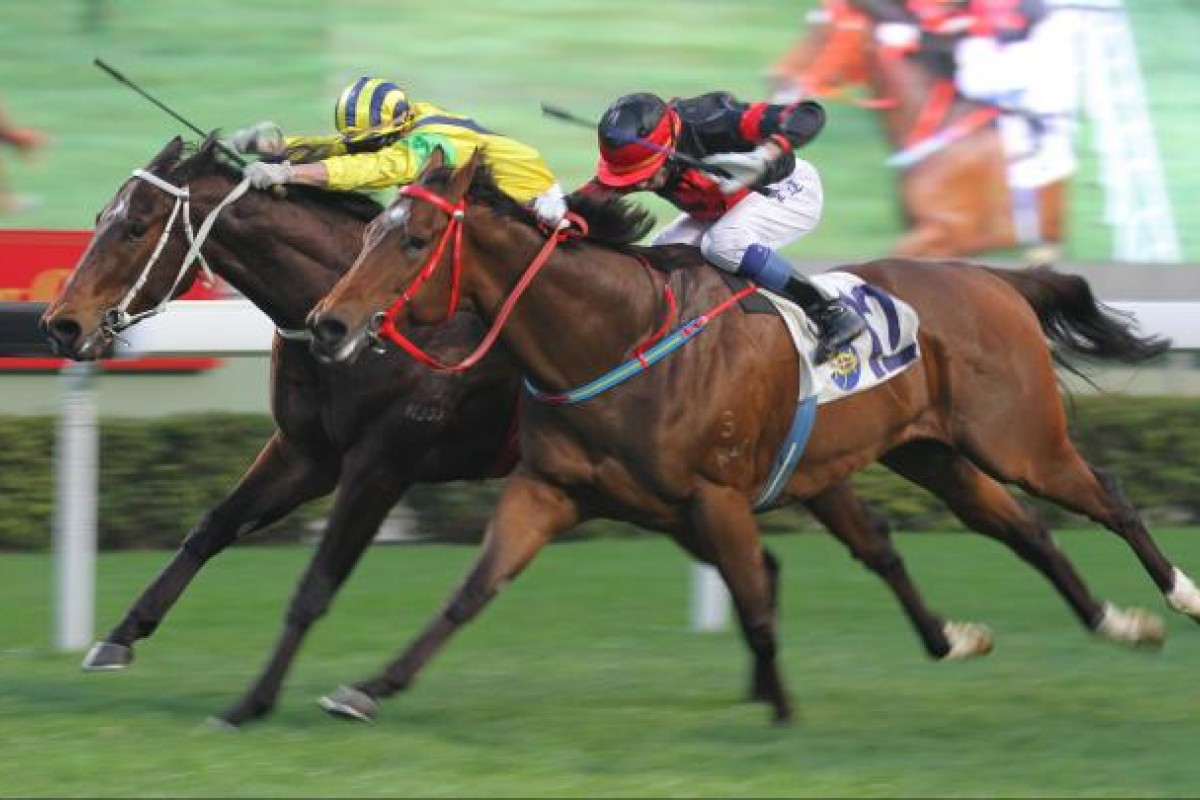 As he has done so often, champion jockey Douglas Whyte came roaring back from suspension to reassert himself with a treble and slash Zac Purton's jockeys' championship lead down to two.
Purton had edged away to a four-win gap during Whyte's absence but it didn't take long for the South African to make his presence felt in the Year Of The Snake, coaxing Victory Ide Say across the line in the second race for David Ferraris, before adding the John Size-trained Sight Lover and Sea Dragon.
"I usually go well fresh," laughed Whyte, seeking his 13th successive championship win.
Purton was able to hit back with Little Cow in the eighth race, but when Whyte pushed the promising Sea Dragon over the line in the last event to keep his unbeaten record intact, it was game on again.
Sea Dragon looks the one of the three winners going somewhere, finding enough to nose out the Tony Cruz-trained Bullish Friend (Matthew Chadwick).
"It was a better win than it looked. He got a bang from the second horse early, when Matthew heard Zac behind him calling and came back out two wide, and then when I went for everything in straight it was a new experience for Sea Dragon," Whyte said. "He was never off the bridle his first run, and when things got tough and I threw it at him today, he changed legs and hung out and I thought he might get beaten but he put his head down where it counted and the second horse is pretty good."
Size was also impressed, saying Whyte had to use the gelding early to cross from a wide draw.
"Had he been beaten, I would have thought it a terrific performance anyway - you couldn't ask for any more," he said. "He began brilliantly and when they do that you have to use it, but it also means you're under pressure from that point on. Tony Cruz's horses are very fit and hard to get past."
Whyte's other winner for Size, Sight Lover had the perfect run that he'd been looking for, though he just ground to victory over favourite Affection.
"He was dogged the other day after not having an easy run and Affection only got past him 50m out, so I was confident we could turn the tables from a better draw," Whyte said.
Size said a lower draw had been the difference but he felt the gelding might be looking for further than 1,400m after "looking quite one-paced".
But Whyte probably should get the best reviews for six-year-old Victory Ide Say's maiden win than for Size's two, young and willing gallopers.
"I watched a few of his runs before and he doesn't like being in front - when Brett Prebble rode him one day he came quickly, hit the front and didn't enjoy it," Whyte said. "So I used the inside gate, never went around a horse and I nursed and cuddled him and got there as late as I could. Three strides past the line, the second horse was already well by us."