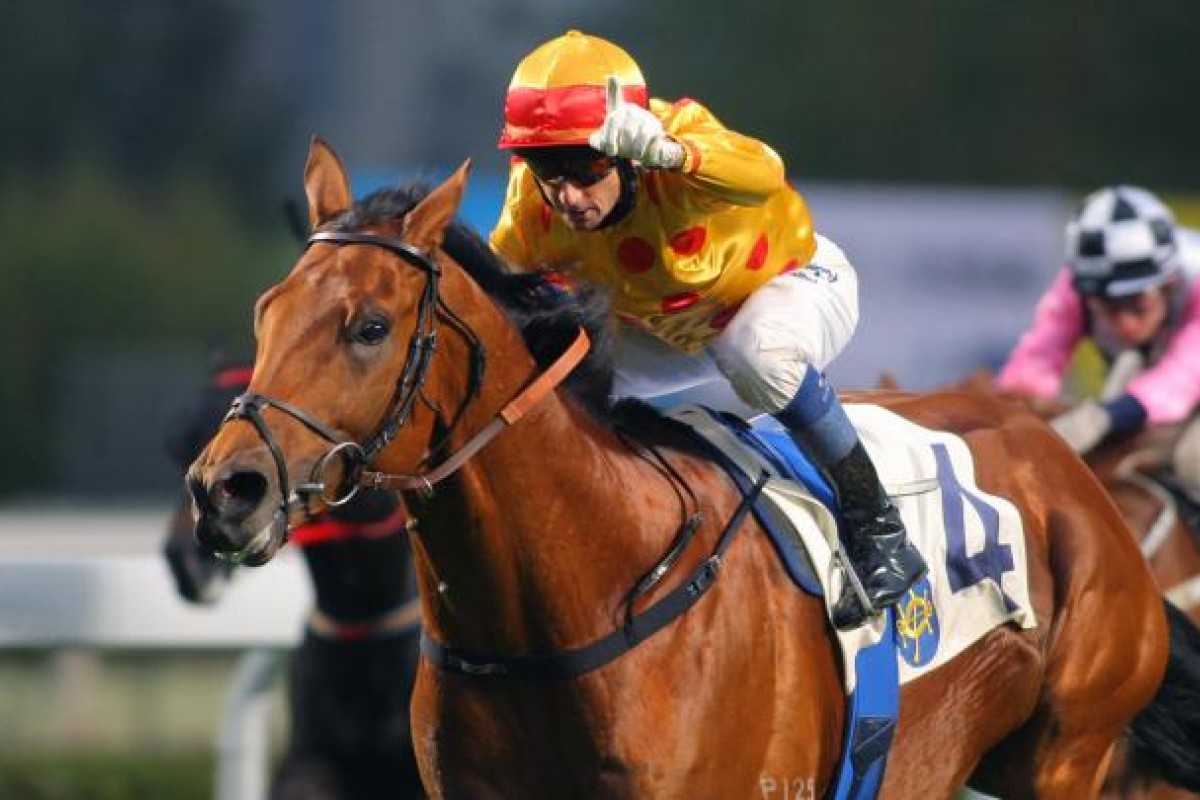 And so we have the BMW Hong Kong Derby favourite we had been expecting since September, and a worthy one, but Akeed Mofeed's ascension to the throne of expectation tells us much about this year's classic.
On Saturday he finally got a truly run event, he had the benefit of two recent races and he was a convincing winner of the race which has almost worn the unofficial tag of the Collection Handicap.
Readers will recall that the 1,800m Class Two a fortnight before the 2009 Derby was the subject of a plea from trainer John Moore to adjust the ratings band from 100-80 to 105-80 in order to give Collection a second start before the Derby.
Collection had arrived on a 96 rating, finished a nose second over 1,400m in a Class One on debut and was handed a five-point penalty which put him outside the range of the 1,800m lead-up race.
It was only fierce lobbying by Moore that saw the ratings band opened up to allow him to run and the rest is history - he produced a win by more than four lengths that made him a racecourse certainty to win the Derby two weeks later.
In subsequent years, that ratings spread has remained in the conditions of the race, in part to accommodate the last-minute Derby horses, though it has also been Waterloo for a few.
The following year Brave Kid didn't win by any fancy margin but made it six wins from his six starts in the same race and took his place in the Derby, finishing a non-stayer's third.
An older non-Derby contender in Sapelli popped the balloons of Derby hopefuls Victor Delight and Semos the following year, and last year it was Happy Guys at 50-1 who exposed Derby questions over Dan Excel, with Same World and Military Attack further back in the field.
So it was a race in which Akeed Mofeed's case could have been called into question or elevated, and it was the latter. Did he become a racecourse certainty for the Derby on the strength of it? No, although he did become an obvious favourite.
The performances of Collection and Akeed Mofeed were worlds apart.
On a track described as good to yielding, and racing a little slower than last Saturday's track, Collection ran one minute, 47.57 seconds for the 1,800m and broke 23 seconds for his last 400m sectional and carried 132 pounds doing it.
Akeed Mofeed, for his part, carried nine pounds less, ran about three-quarters of a length faster in raw times but on a firmer track, and his last 400m was not far short of a second slower.
All in all, chalk and cheese.
But as everyone is well aware, he won't need to be Collection to win the Derby this year anyway and you only have to beat what you race.
The lowest rating benchmark for the top-rated runner in the Derby in recent times was set by Hello Pretty on 106 in the 2006 Derby, in which Matiri King's 75 also set the mark for the bottom end. So whatever the bottom rating this year, Akeed Mofeed's 101 rating will still get him into Class Two races at this stage, thus he faces a set weights version on Derby day of what he did under handicap conditions on Saturday.