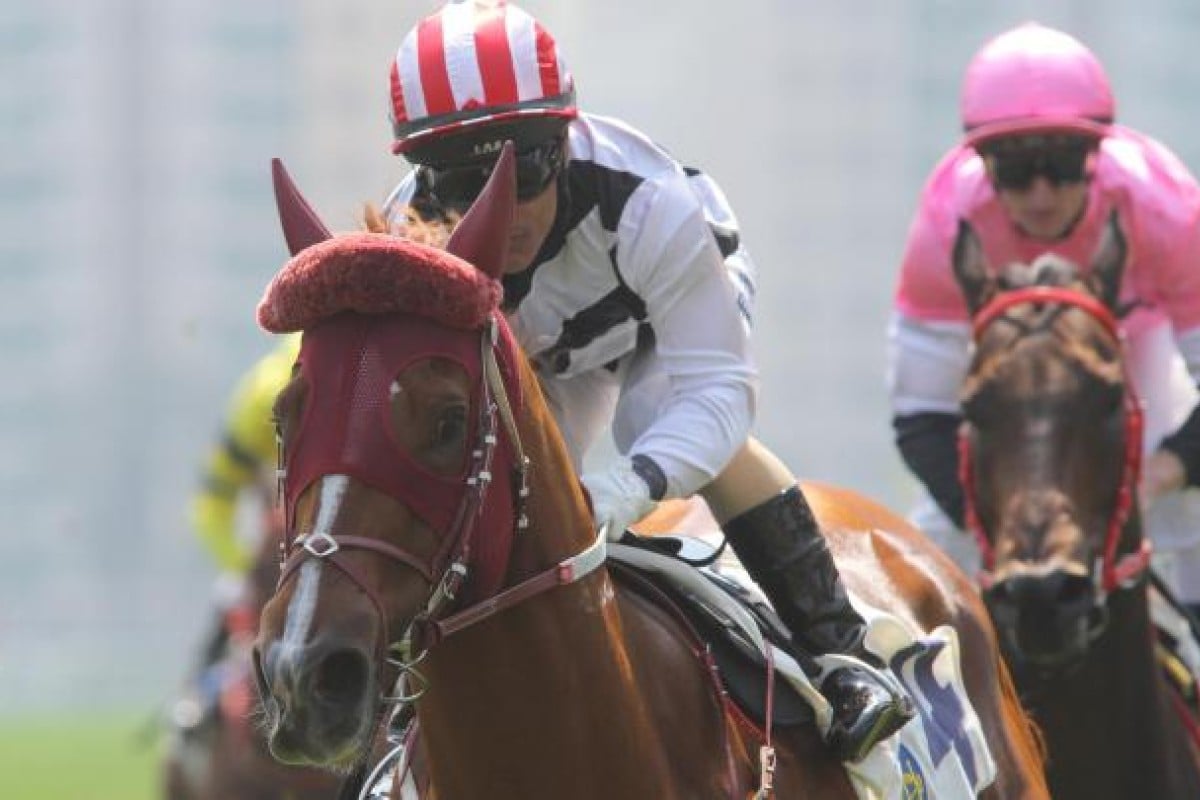 After Sunny Ying's win, John Moore may have been wishing the Group One Hong Kong Derby runners were declared last night not last Wednesday. But if the Derby decisions were made after yesterday's meeting, his third stringer Albiceleste would be an unlikely starter after a disappointing run at Sha Tin.
Sunny Ying was part of a treble for Moore, but left it too late to claim a spot in next Sunday's HK$16 million classic for four-year-olds, a race the trainer was adamant Albiceleste would still line up for despite finishing down the track in the Class Two race.
With Tony Millard's lower rated but in-form Jolly Victor waiting in the wings as first reserve, pressure is on officials to ensure that 14 competitive horses line up in the showpiece event.
"It won't be my horse dropping out … he will be running," said Moore, who also has Ashkiyr and Poetic Justice entered in the Derby. A post-race veterinary inspection found no abnormalities with Albiceleste, but the colt will still face another examination this morning to assess his fitness for Sunday's race.
"He just had a torrid run," Moore said. "You just throw that run out, there's nothing wrong with him, Weichong [Marwing] got into an awkward spot and got pushed off the track. He never got a chance to do anything and I think Albiceleste is just as good as Sunny Ying."
Nevertheless, Moore said Sunny Ying was headed for bigger things after he won off a mark of 80 and was philosophical about missing his chance at the Derby.
"It's a shame we couldn't get those ratings points earlier because he will stay all day and grind and Derby-wise he could have picked up a cheque, but you can't cry over spilled milk, he had his chance," he said.
"He will make his way into Class One, we know that, and he will be a good 2,000m horse."
Sprinter Straight Gold (Marwing) caused an upset when he rolled unplaced favourite Little Cow in a Class Two, with the trainer having addressed some bleeding issues with the strongly built chestnut. "He is aptly named because he is a straight-track specialist, that's two wins and a second now over the course," Moore said.
"He was much more relaxed today and that helped him a lot - his disposition and demeanor has improved out of sight, he has been half asleep at the track."
Some unusual looking headgear - a sheepskin brow band - has also helped the sometimes fractious Straight Gold stay under control when standing in the gates.
Douglas Whyte produced some magic in the last on Moore's Flagship Shine when he found himself perfectly positioned just behind the pace from barrier 14 in a 1,400m Class Three.
"It wasn't my plan to be in the first four," Whyte said. "When I watched him over this distance last time I thought he got there and had just had enough. So I was really concerned that with 133 pounds that they would make me work to get over if I went forward and they'd make me do the donkey work.
"But when the gates opened and we began a length clear, Adoration got there for free and no one wanted the box seat, I changed my plan. From there he went to sleep. I waited and saved everything and he kept giving me more and more."