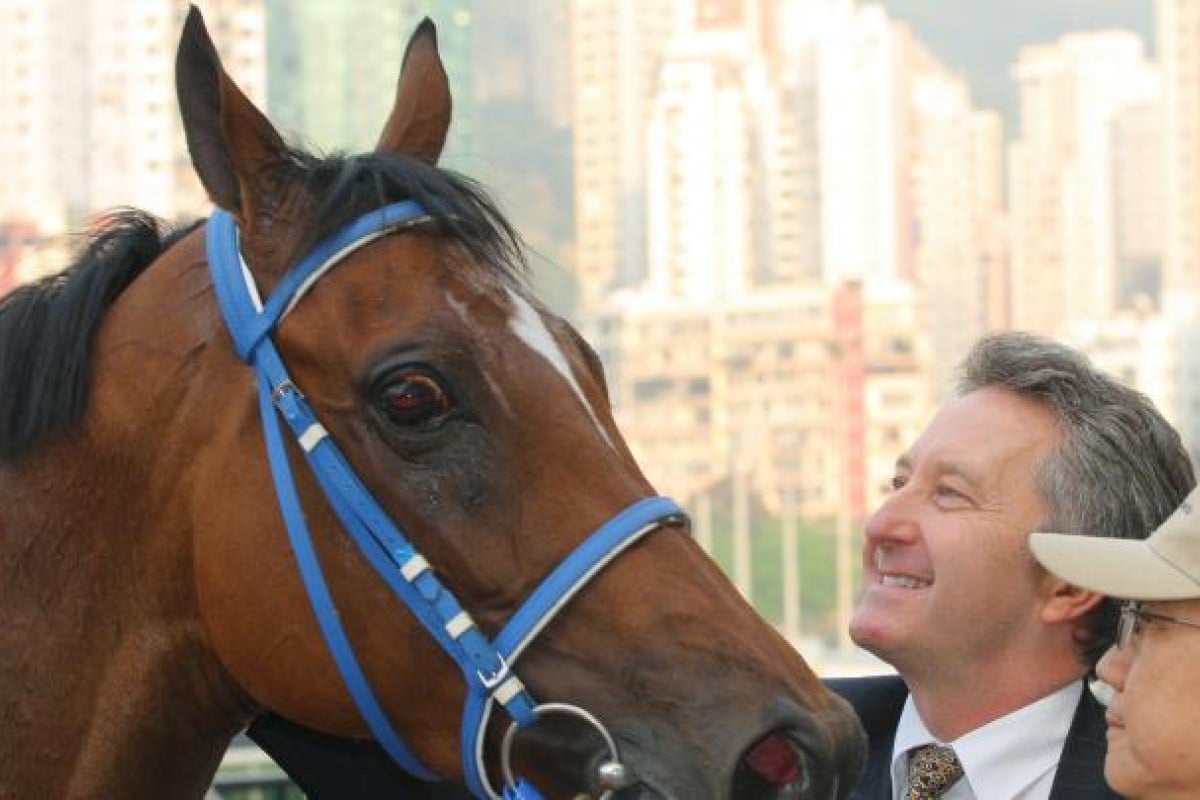 Trainer David Ferraris hopes he can keep a good season rolling with Happy Valley specialist Imperial Rome after the gelding produced another barnstorming finish to win the Hong Kong Exchanges Challenge Cup yesterday.
Coming off a short break, Imperial Rome and Weichong Marwing took up the usual spot towards the rear of the field in the Class Two feature, then unwound a brilliant sprint to claim a third Happy Valley 1,200m victory this season, his fourth overall.
Imperial Rome nosed out the John Moore-trained Charles The Great to give their sire, Holy Roman Emperor, another good result at the course where the stallion's stock in Hong Kong have come to excel.
There haven't been two Holy Roman Emperors imported, but these two sprinters who ran the quinella, along with five-time winner Legendary Dragon, have been Valley specialists, and lower-grade galloper Mr Award has also performed well.
"There weren't any races here for him, so I gave him a freshen up but I knew he was right on form for this - he trialled brilliantly here last week I thought," said Ferraris. "He's not a big horse, like most of this breed, but he's got a great engine. It hasn't been easy getting winners this season - it's been like pulling wisdom teeth, hard and painful - but it will change, it always does."
With Imperial Rome landing three of the stable's 10 successes for the term, the former Irish gelding has been one of the success stories in the yard but with his handicap rating now getting up towards triple figures - if he is not already there after winning off 93 - Ferraris is aware that he will have to find a new string to the gelding's bow if he is to keep him winning.
"He's at that point where there won't be many of these sprint races at Happy Valley for him any more and he just loves this track," Ferraris said. "His wins have been over 1,200m but I'm tempted to try him over 1,650m just to keep him at Happy Valley. If you look back at his form in Ireland, he never raced under 1,400m and he won two races over a mile on polytrack as a young horse. He's older and more mature now, so you wouldn't think there's any reason why he can't run further and it's definitely worth trying."
Imperial Rome has been a reformed character, after distinguishing himself at one stage by the distance that he was able to miss the start and still win and Marwing can take some of the credit for that as Imperial Rome jumps cleanly these days and the South African rider has been on board in all four wins.
"But it's getting hard for him now. Once they get to the top of Class Two, 100 points, it's tough and he's not the biggest horse and will have top weight," Marwing said. "When you look at his racing style, you'd swear he's better suited at Sha Tin, with a long straight and time to wind up, but we've tried him there and it doesn't work."