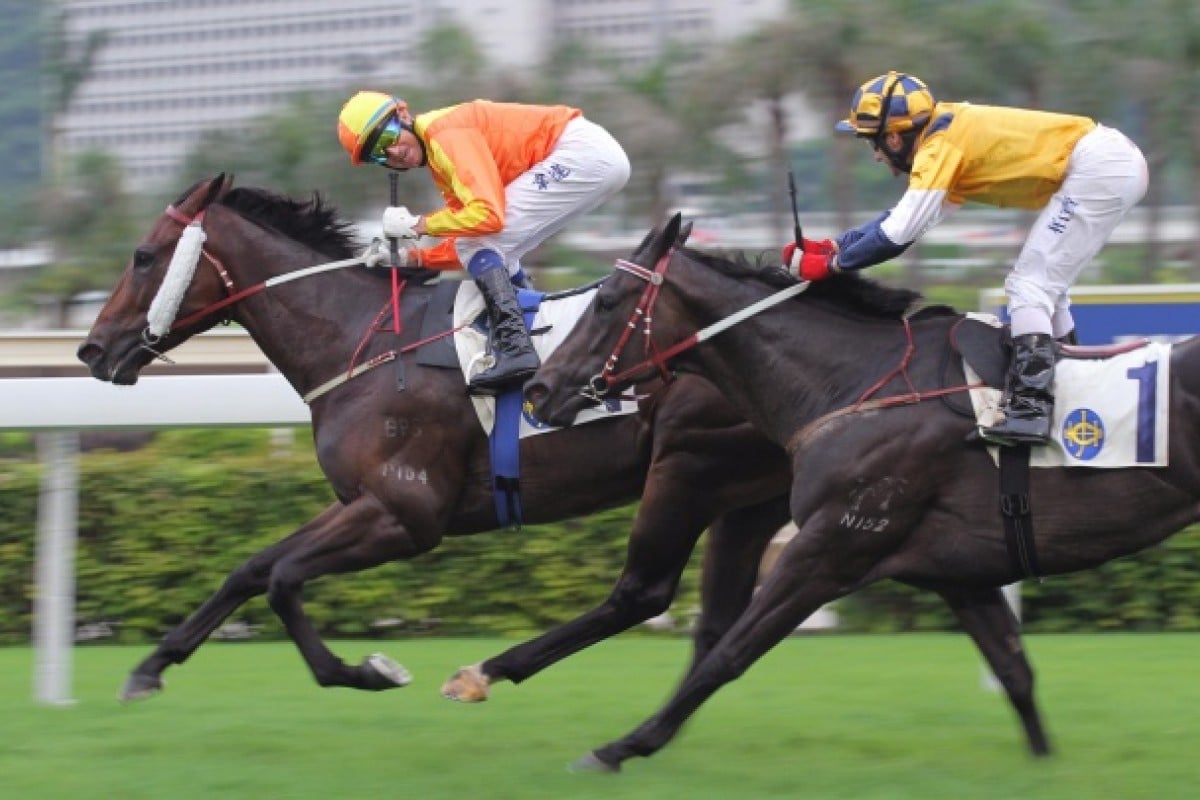 Four winners for four different trainers at Sha Tin yesterday pushed Douglas Whyte eight clear of Zac Purton, who was winless on the day, with 15 meetings to go.
But rather than add any more talk to the already much-discussed jockeys' championship chase, the 12-time title-holder Whyte was focusing on the here-and-now and labelling two of his winners bona fide stars of the future.
The John Moore-trained Flagship Shine and David Hall's Rad - both three-year-olds who should have plenty to offer next term - formed half of a four-timer for the Durban Demon, as he added lower grade wins with Danny Shum Chap-shing's Global Fame and Dr Good Habit for John Size.
It was back-to-back winner Flagship Shine who Whyte saved the most lavish praise for. A graceful moving and long-striding youngster, who made it three from five when he held off stablemate Sterling City.
"Last time he gave me a nice feel but he has just come on so much since then," Whyte said. "Everyone saw the trial the other day - he just floats underneath you and covers a hell of a lot of ground. He is a horse that is going places. He had got fantastic gate speed, the tactical speed to put himself in any position in a race. He is going to be a big horse next season."
On a stiflingly hot and humid day when many a race was lost in the pre-race parade ring, Rad - the shortest-priced favourite on the card - stayed as cool as a cucumber. Rad is now two-from-two up the straight after another dominant display and it was the gelding's professionalism in the testing conditions that impressed both trainer and jockey most.
"Some horses cope better than others and he didn't melt beforehand," Hall said. "That was a good thing we learned about him today, he paraded well and behind the gates he didn't lose it either."
Whyte added: "He is an exciting horse and his biggest attribute is his temperament and mental attitude. The first day he won he was an absolute gentleman and he was again. He was tractable."
Global Fame's win was his first in 21 starts and Shum didn't even want to enter the horse after an awful trial on the all-weather track nine days ago, but some reassurance from Whyte changed his mind. "When I saw that trial I thought 'Oh my God' - it was bad," Shum said.
"It was a terrible trial," Whyte confirmed. "But underneath me I could feel that the horse was fine and when he pulled up, he was full of himself, it is just that he resents the dirt. I gave him a few backhanders in the trial just to keep up his momentum to make sure he would come into the race as fit as can be."
Even by Size's meticulous standards, 11 trials is a lot leading into a first start, but according to Whyte, Dr Good Habit needed every one of them - as he had plenty of bad habits - and he ground to a maiden win like he needed every bit of 1,400m.
"He still does a lot wrong and is very mentally immature," Whyte said. "If you take a horse like that to the races after two or three trials when they are still so green, they can get knocked around and lose their confidence. Today he was a man among the boys. Those trials got that rawness out of him and taught him how to go forward instead of just fooling around."