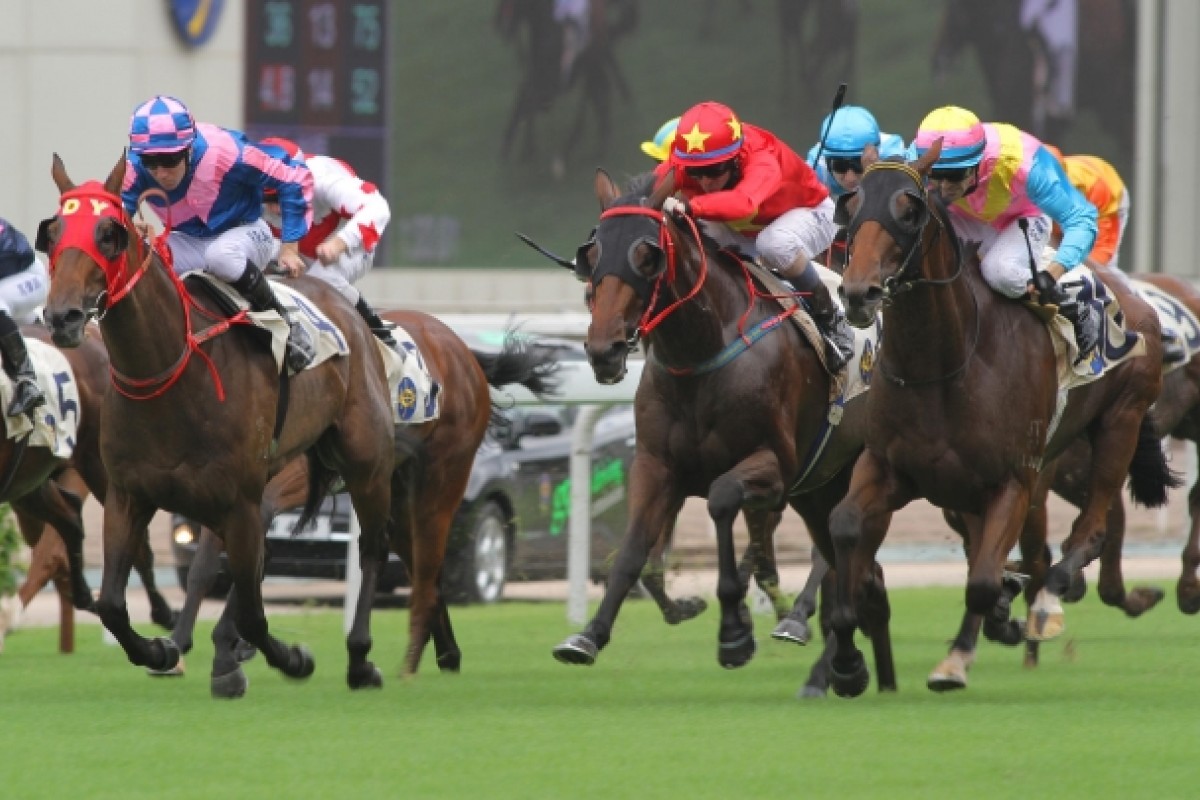 John Size needs everything to go his way if he is to repeat as champion trainer and, if two of the Triple Trio legs are any indication, he might just have a better chance than most are giving him.
Dennis Yip Chor-hong (68 wins) leads Cruz by two - and Size is four wins off the pace, meaning he needs at least four victories and for other results to go his way if he is to clinch his eighth crown in 12 seasons.
King Haradasun and Red Courage have been for the most part disappointing this term, but favourable draws make them safe bankers in the opening two legs of a TT carrying a $1.2 million jackpot and expected $4 million payout.
Douglas Whyte gets gate three on King Haradasun in a 1,650m Class Four against average-looking opposition. Even though this is King Haradasun's first time racing at the Valley, in typical Size style, at least the three-year-old has been there for a look at the trials.
Terry Wong Chi-wai is a surprise choice on Cruz-trained Bullish Boy, but drawn five and in good form, he must be included.
Also consider the Tony Millard-trained Danzulu (Richard Fourie), Shifachi Tradition (Andreas Suborics) and Twin Turbo (Alvin Ng Ka-chun). Really The Best (Matthew Chadwick) won four times in Class Five this season - which is a bit of a worry. You have to wonder how bad he was to get that low and how unimpressive he must have been to take that long to get back out, but drawn one he has to be considered a place chance.
Red Courage (Tye Angland) was a horse many expected to progress this season after he beat Bullish Friend and failed to miss a place in four griffin races last term. He lost his way in Class Three and has put in some shockers, but more aggressive tactics last start over the course and distance resulted in a short-head loss to China Power. Hopefully it was a turning point. From gate two he should get a cushy run and a similar effort will see him find the frame.
In the final leg, a 1,200m Class Three, Size may have his work cut out with Ensemble (Joe Moreira), but include him anyway. The one to bank is Bobo Dragon (Zac Purton) - one of the most progressive-looking winners this term. The problem is that he is first time at the Valley and drawn 10. Expect his ability to overcome the disadvantages.
Just below Bobo Dragon, this race has plenty of chances including Smart Man (Whyte), New Glory (Suborics), Genuine Leader (Tommy Berry), Mr Gourmet (Wong) and Prolific Champion (Chadwick).
Read Michael Cox's blog - Whyte has a sting in the tail. Go to: http://www.scmp.com/author/michael-cox-0
---
TRACK STARS
RACE 1:
(1) Empire City, (2) Winsome, (3) Mega, (6) Diamond Angel.
RACE 2:
(2) Nicku, (3) O'Reilly Magic, (4) Lucky Chevalier, (5) Dynamic Cross.
RACE 3:
(3) Loads Of Joy, (5) Jade Christy, (6) Flame Hero, (9) No Ties.
RACE 4:
(2) Bullish Boy, (4) King Haradasun, (6) Heart Wood, (7) Shifachi Tradition.
RACE 5:
(1) Ambitious Glory, (4) Red Courage, (6) Great Alexander, (10) Ocean Roar.
RACE 6:
(2) Bobo Dragon, (4) Smart Man (8) Prolific Champion, (12) Kids And Win.
RACE 7:
(2) Destined For Glory, (4) Imperial Rome, (5) Bullish Friend, (10) Talley Close.
RACE 8:
(4) Mr Medici, (7) Dr Good Habit, (11) Jolly Fine, (12) Distill.
RACE 9:
(3) Ride With The Wind, (5) Royal Partner, (7) Griffindor, (12) Flying Elite.