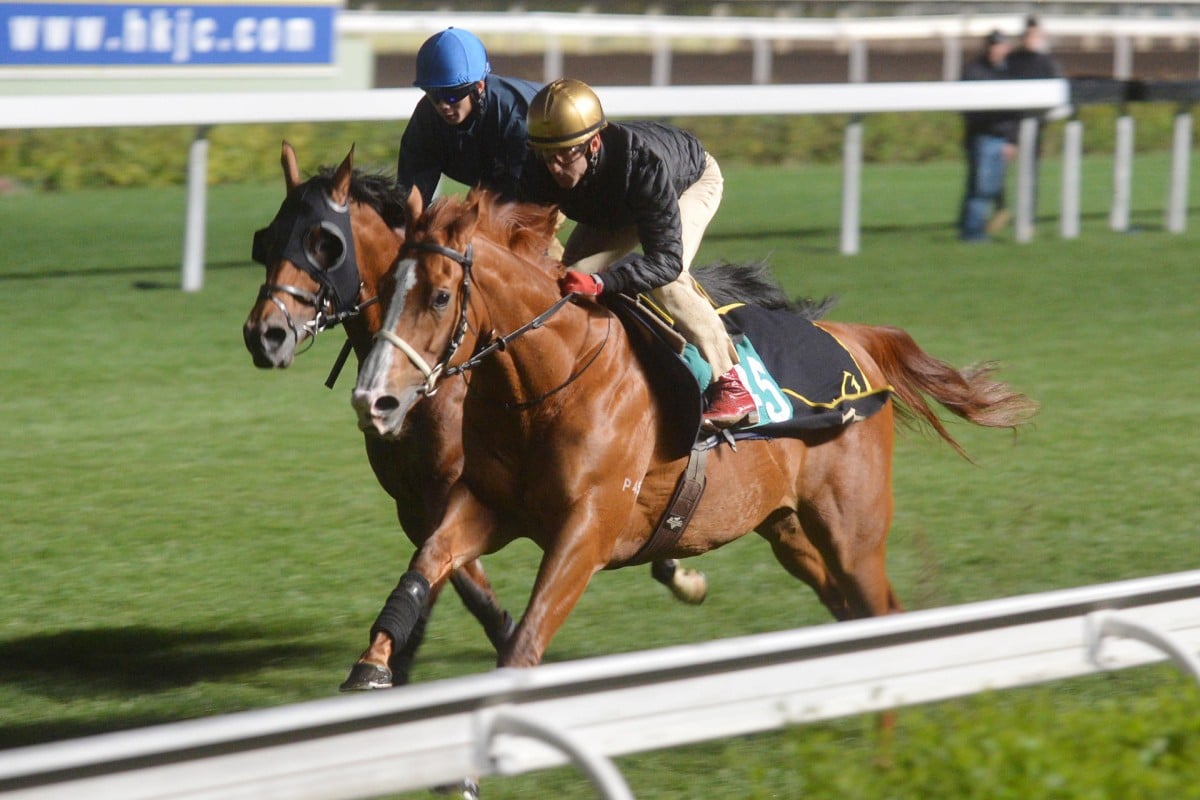 Opinions might not be exactly the same about Derby winner Akeed Mofeed's work leading into his biggest assignment yet in the HK$22 million Longines Hong Kong Cup on Sunday but trainer Richard Gibson and the clockers can at least agree on something - the big stallion is going to be a handful for the opposition.
"I thought his work on Saturday was the best he has done since he's been in Hong Kong," Gibson said on Monday.
"With Douglas Whyte away, Derek Leung [Ka-chun] rode him and he was excellent. He is right on top of his game - and needs to be because this is D-Day. I couldn't be happier."
Early in his preparation, Akeed Mofeed disappointed and his fitness was proving difficult for Gibson to manage, as he found it tough to get enough work into the powerful four-year-old.
His sectionals were so good that we don't want to risk using the blinkers now
He experimented with blinkers, with a view to using them in a race, but that seems to have been the trick to his training instead.
"The blinkers give him more focus and he puts more into it," Gibson said.
"He's had two turf gallops since his second in the Jockey Club Cup and I'm delighted with his well-being. As I say, the last workout was particularly impressive."
The blinkers have not been called on for his races, last time because Gibson and Whyte both feared using them first time over 2,000m from what is an unforgiving start with the risk of a wide barrier.
"And we were happy we didn't use them when he drew wide. But now we look at that performance, coming from last for second, and his sectionals were so good that we don't want to risk using the blinkers now for fear of not getting the same horse on Sunday," Gibson said.
Gibson has already won two internationals at Sha Tin, with Doctor Dino in successive Vase runnings, but he is in with live chances to get not one, but two more on Sunday.
"Gold-Fun has been exceptional all year and he doesn't need much to get ready," Gibson reported.
"He's won three from three this season in all the lead-up races and the trick has not been to make him better, but keep him in the same condition. These are two fantastic athletes, very straight forward. I've got the gear to win the races. I respect the very good horses we're meeting, but they will need to be."
And former Post racing editor, Murray Bell, clocking the Gibson horses in their work, both agreed and disagreed. Positively.
"On Saturday, Akeed Mofeed worked with Gold-Fun, 1200m on the course proper in 1 min 17.4s seconds," Bell said.
"They ran their last 400m in 23.6 seconds staying together. I thought Gold-Fun travelled the better and, if it is possible, he seems even better now than at any stage in this three-win preparation. Akeed Mofeed went really well, but Gold-Fun went even better."