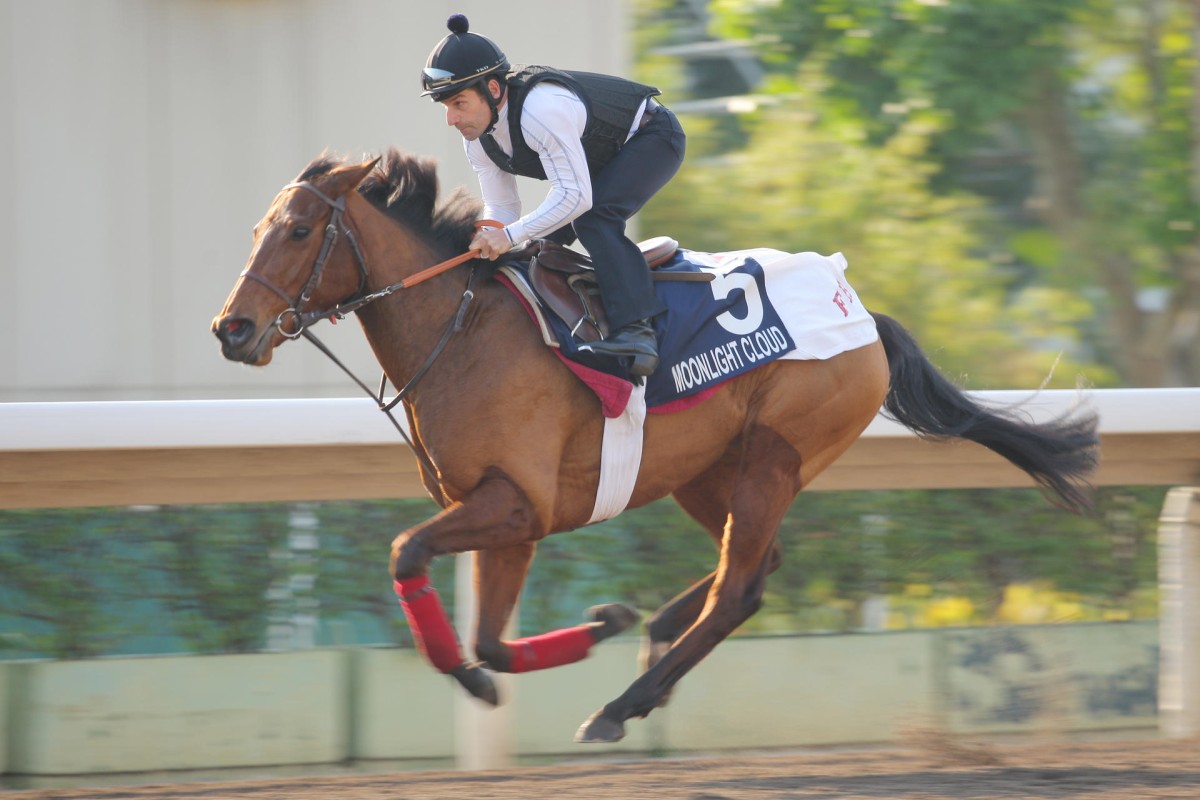 It's an unlikely juxtaposition of circumstances which has conspired to bring outstanding females Moonlight Cloud and Sky Lantern thousands of kilometres from home for a much anticipated face-off in the Longines Hong Kong Mile on Sunday, seen as a match race by many Europeans.
And both Richard Hannon junior, assistant to Sky Lantern's trainer, his father Richard, and Freddie Head who handles Moonlight Cloud, weren't straying too far from the script yesterday as each declared the other the one to beat.
"We're taking on a very good filly in Moonlight Cloud and we've bumped into Freddie Head quite a lot in the past - Paco Boy and Canford Cliffs both had great races against Goldikova," Hannon said.
"She's a worthy favourite, but we relish a challenge and our filly is very good on her day too."
Head for his part was just as complimentary of Sky Lantern, although he gave every impression that he favoured his five-year-old might have the edge on the three-year-old.
"It's tough for the three-year-old to compete against older mares but she's the one to beat," he said.
Perhaps it would have been more logical that this tale of two fillies would have played out at Ascot or Longchamp but the unlikely stage instead will be Sha Tin.
"Sky Lantern was always coming here as her owner Ben Keswick lives in Hong Kong, but she will like the fast ground and the turns," said Hannon of the four-time Group One winner.
"She was green as a two-year-old, though I always thought she was talented. I just didn't know she was as good as she has turned out. They're the kinds of surprises I like. I'm sure she's the best filly we've ever trained."
The back story to Sky Lantern's tilt at the Hong Kong Mile is that she will be the last big-race runner for Hannon's 68-year-old father, champion British trainer for the fourth time this season but yet to win in Hong Kong, who will retire and hand the reins to his son in the new year.
The back story to Moonlight Cloud's appearance at Sha Tin, where the six-time Group One winner will be looking to keep a perfect year intact and give her trainer his first Hong Kong victory, is her own retirement - this is expected to be her final assignment before the breeding barn.
There was another option, Santa Anita for the Breeders' Cup, but Moonlight Cloud's only failure, at that meeting in 2012, played a role in determining Hong Kong as her bow.
"It's the only time she has travelled, and the only bad race in her life and I suppose it's something you have to bear in mind," Head explained.
That he has found another outstanding, older mare so soon after Goldikova, doesn't surprise the trainer, who said mares were often tougher than males and able to race longer.
"And of course, the good males are often retired early because they are so valuable," he said. "These very good mares, they're that good that they don't go 100 per cent every race. They can save themselves a lot and so they can go on. I don't race them too much too soon early in their careers, and this mare was kept to 1,200m and 1,400m for a long time. Now she can handle the mile well."
And so, to your corners of a far-flung land.
"I'm optimistic, she's well. We'll see," smiles Head.
"She was a bit quiet when she arrived but she's fine now and she's good to go. We'd like to see some speed, which would play to Sky Lantern's strengths but if not she can be handier. Hopefully, she'll do my father proud - she has so far," says Hannon.