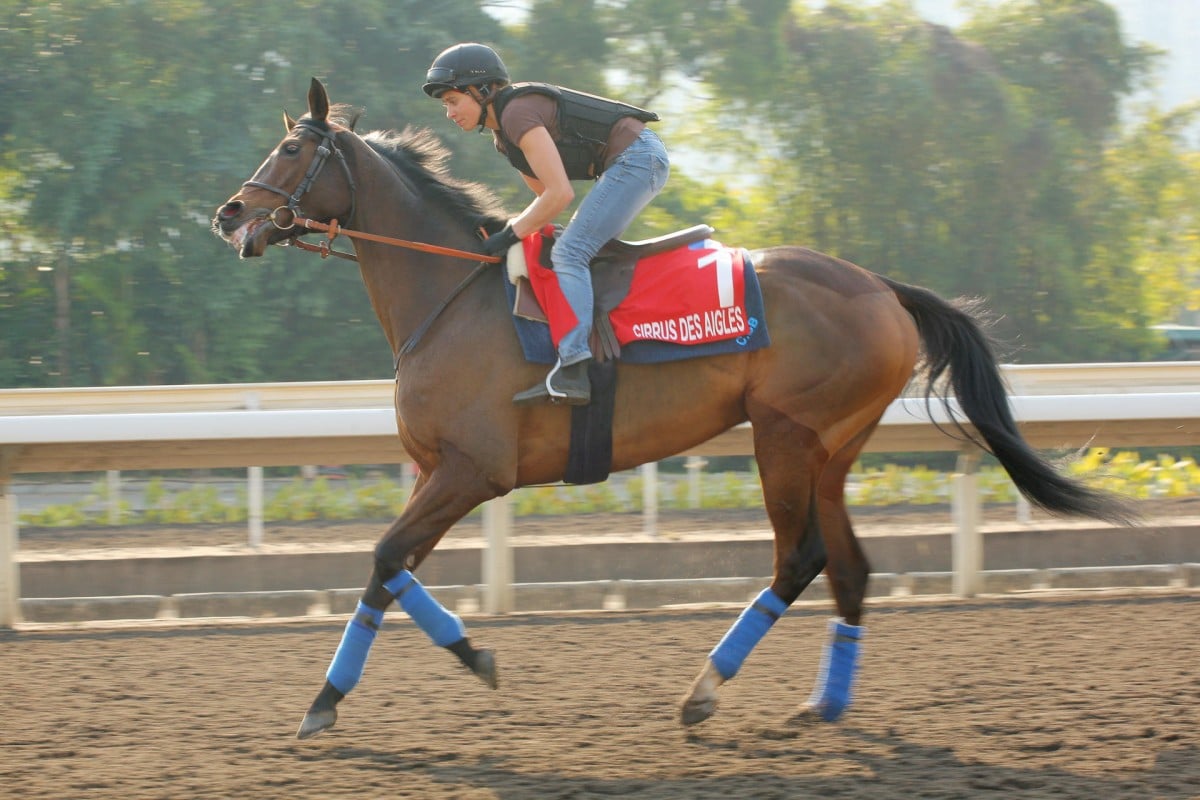 It was a fifth on international day back in 2009 that told French horsewomen Corine Barande-Barbe she had something special with Cirrus des Aigles, and while she has been proven correct since, there is still some unfinished business at Sha Tin.
It is the fifth trip to Hong Kong for the three-time Group One winner, now seven, although last season he was withdrawn in the lead-up through soreness.
After the Vase fifth, Cirrus des Aigles was seventh (2010) and fifth (2011) in subsequent Cup efforts, and heads into the 2013 edition of the race with a score to settle.
We came here as a gamble that time, but afterward we knew we were in the right place, now we will prove it
"We still have something to prove," Barande-Barbe said. "He was three years old back in 2009 and he had already raced 19 times. He was not very macho, but that was the day I saw he was a potential Group One winner," Barande-Barbe recalled on Friday.
"We came here as a gamble that time, but afterward we knew we were in the right place, now we will prove it."
"At his best form he should win. We have Christophe Soumillon, he knows the horse and the track. We have never had the horse better than today."
"It's just a matter of circumstances, he some needs pace in the race, but if he can improve again from his last few runs he will win."
Those last few runs have included a second to Farhh on British Champions Day at Ascot, and before that two consecutive wins - a Group Three and a Group Two - at home.
Barande-Barbe takes an unconventional approach with her 24-horse team at Chantilly, and admits to still having some "romance" when it comes to her horses.
As far as romance goes though, she clearly has a special place in her heart for the stable star and winner of more than HK$56 million.
"Cirrus" might be a character according to his handler, who says the big gelding transforms from being as meek as a lamb to as fierce as a tiger the moment his girth is tightened.
"Older horses, especially geldings, they have a lot of personality," she said. "When you put the saddle on, you must not stand in front of him, because he will bite you. He can change very quickly, from being 'hmm' and relaxed to 'grrr' and aggressive, but he always wants to work."
As far as how long Cirrus des Aigles can keep competing, the charismatic trainer will be relying on her horse whisperer techniques for any indication he might be reaching the end.
"I try to put myself in the place of the horse, I try and think, 'what would I think if I was a horse'," she said.
"You have to forget what you know, animals can sense everything - when it is going to rain, or sense your fear. He can race on for as long as he wants, he will tell us."